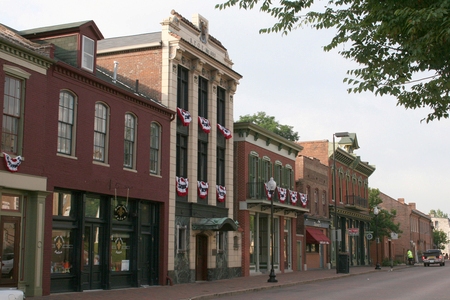 While many consumers bemoan the death of independent, brick and mortar bookstores–sadly, often while scanning their showrooming apps and placing their online book orders–one resident and author decided to take to crowdfunding site IndieGoGo to launch a campaign to save a local bookstore.
While Main Street Books in St. Charles, Missouri, isn't shuttering its doors due to a lagging marketplace or the inability to compete in the digital publishing and online retail era, its cause is even more common than that: the owners are simply retiring. Rather than watch the doors close on this two-story landmark, self-professed "author, wife, mother, book Lover" Brandi Schmidt decided that it was up to her to save the bookstore.
"The current owners are retiring," explains Schmidt on her IndieGoGo campaign page. "They purchased the business seven years ago, and they are ready to spend their years traveling and some well-deserved time with grandchildren…I heard that Main Street Books was for sale, and if they didn't sell by January 31st, they would close."
There are some interesting twists to this campaign, though. The first is that this specific venture takes advantage of IndieGoGo's Flexible Funding opportunity, in that the campaign will receive the donations even if the goal of $15,000 is not met; that's good news, considering that the campaign has not raised even a tenth of that amount with less than one month to go. The other very intriguing aspect of the crowdfunding is that Schmidt isn't trying to secure funding to purchase the business itself, and is still in negotiations on the purchase of the store.
Instead, the campaign is to revamp the existing bookstore into a model that can effectively compete in a retail climate where bookstores are closing. Schmidt has outlined new plans for the bookstore, which will continue to offer meeting space for its two monthly book clubs and the wealth of titles patrons have enjoyed, while also installing a coffee shop, video conferencing technology for virtual author events, study hall times for local high school and college students, and more.
Schmidt points out that should the purchase of the business fall through, all donors will receive a refund as their donations were intended for the upgrade and restructuring of the store itself. To learn more about the efforts to save Main Street Books, check out the IndieGoGo campaign page.
Mercy Pilkington is a Senior Editor for Good e-Reader. She is also the CEO and founder of a hybrid publishing and consulting company.