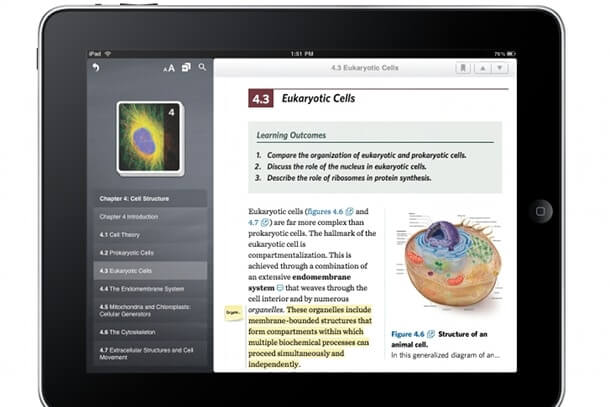 Inkling, a San Francisco based start-up, is best known for its digital textbooks that are optimized for the iPad. The company has fostered relations with McGraw-Hill and Pearson. Today Inkling execs have reached an agreement for digital distribution into 900 college bookstores with Follet. This deal currently makes Follett Inkling's largest distribution partner.
Inkling's interactive textbooks will be available to Follett students through any web browser and also on iPad, iPhone, and iPod touch devices. Inkling titles include numerous features such as video, interactive assessments, animation, music, slideshows, and 3D models.
Instead of buying the full textbook, you can actually buy specific chapters for only a few dollars. This makes tremendous sense if only a few chapters of the book are relevant to your course of program. Follett students, for the first time, will have the flexibility to purchase Inkling titles using multiple forms of payment, including financial aid or campus cards.
"Inkling has built an engaging, interactive experience that helps students succeed," said Matt MacInnis, CEO of Inkling. "Our partnership with Follett means millions of students will gain access to a unique, next-generation learning tool. This is a major step forward."