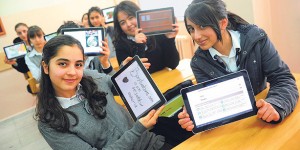 One of the anticipated major trends of 2013, at least according to the companies showcasing their platforms at last January's Digital Book World event, was supposed to be online retail stores branded specifically to publishers and authors, essentially letting publishers cut out the retailer altogether when it can to ebooks, audiobooks, and other downloadable content.  The move was targeted specifically to bring customers to the publishers' websites to make their purchases, instead of relying on retailers like Amazon and Barnes and Noble, costing the rights' holders a percentage of their sales.
But new data on how tablet owners actually consume content on their tablets may help publishers realize this isn't the right venture to channel their resources into. StatCounter has released information showing that tablet owners make up for less than five percent of total internet usage globally, falling behind even smartphones for internet activity. Desktop computers still hold the top position, and by an unbelievably wide margin.
While that information had little impact on reading activity on tablets, what it does demonstrate is that reading consumers may be reading within their e-reader apps, but they're simply not browsing the internet long enough to discover publisher-branded apps. They appear to be hopping over to their favorite book retailers' websites, making their purchases, and having them sent directly to their devices or tablet apps.
This should tell publishers that there might be some potential in developing their own e-reading apps, especially if they were able to offer incentives for in-app purchasing, but by and large, that would require readers to not only know the title and possibly author of the book they want to purchase, but even to know the publisher in order to search in the correct app. Unless publishers come together to create their own universally accessible ebookstore app, consumers most likely will not download and use different apps for each publisher.
Mercy Pilkington is a Senior Editor for Good e-Reader. She is also the CEO and founder of a hybrid publishing and consulting company.