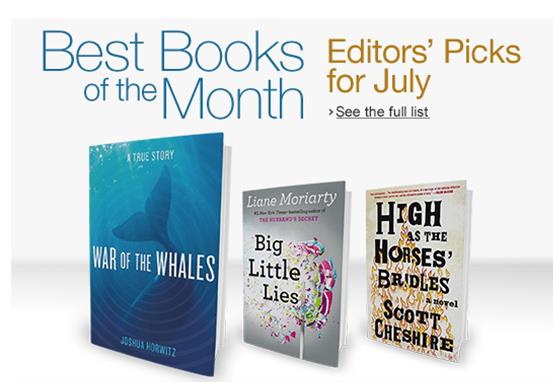 As the Independence Day festivities carry over for many people due to the long weekend, it's time to load up the e-reader with Amazon's list of best books for July. The titles are selected by the editorial team at Amazon Books, and just as with every other list the group produces for months or holidays, they're not based on book sales or ranking, but rather on the human input of the editors who are themselves readers who've enjoyed the titles.
The complete list of titles includes: War of the Whales: A True Story by Joshua Horwitz (July 1), California: A Novel by Edan Lepuki (July 8), High As Horses' Bridles by Scott Cheshire (July 8), Liberty's Torch: The Great Adventure to Build the Statue of Liberty by Elizabeth Mitchell (July 2), Flight 232: A Story of Disaster and Survival by Laurence Gonzales (July 7), The Fracking King by James Browning (July 1), Big Little Lies by Liane Moriarty (July 29), Landline by Rainbow Rowell (July 8), The Girls from Coronoa del Mar by Rufi Thorpe (July 8), The Mockingbird Next Door: Life with Harper Lee by Marja Mills (July 15), and Everything I Never Told You by Celeste Ng (June 26).
Links to the titles can be found HERE.
Interestingly, Amazon was criticized when the list came out for July as it includes a title published by Hachette Book Group, California, by Edan Lepuki. Due to the ongoing dispute Amazon is engaged in with Hachette, books by that publisher are not available for pre-order and many are listed as out of stock until further notice. Despite the downright nastiness that has been lobbed in Amazon's direction for what it claims to be its fight for its customers and low prices, Amazon has openly encouraged readers to purchase Hachette titles from other sources until a resolution can be reached.
But how can Amazon include California on its list of best titles if it won't even sell it? Good e-Reader reached out to Amazon for comment, and this was their reply:
"Amazon's editorial team chooses their book recommendations independent of other teams. California will be available for customers to order on its publisher designated on-sale date of July 8."
Regardless of what critics have to say about a retailer and its business practices, it's hard to find fault with an organization whose own editors have the ability to promote a book based simply on its merits as a great read, even if the parent companies involved are still battling it out. It would be not at all unheard of for a corporate official to order California off the list due to the politics involved, but that isn't the case here.
While the arguments rage on, one group of nearly thirty indie authors has shown its support for Amazon and the good work that it has done in revolutionizing nearly every aspect of the publishing industry. A petition at change.org has been established to show Amazon that it does have friends in the business.
Mercy Pilkington is a Senior Editor for Good e-Reader. She is also the CEO and founder of a hybrid publishing and consulting company.