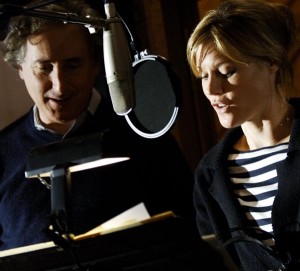 Emmy Award-winning actress Julie Bowen, a star of ABC's comedy Modern Family, has lent her voice talent to the narration of an enhanced ebook aimed at educating readers on the dangers of deadly food allergies, especially in public schools. Bowen, who plays Claire Dunphy on the series, has a special focus on anaphylaxis awareness as she is the mother of a child with life-threatening food allergies.
According to a press release, "As part of her work to support the Get Schooled in Anaphylaxis health initiative, Julie has lent her voice to narrate an online book to raise awareness of and preparedness for life-threatening allergic reactions, or anaphylaxis. This issue is personal for Julie because her oldest son is among the estimated one in 13 U.S. kids who live with a severe food allergy.
"The e-book, titled The Adventures of Ana and Phyl: The Carnival, follows brother and sister duo Ana and Phyl Axis as they work with parents, teachers and other children to plan an allergy-friendly event at their school. Through the story, readers learn about the importance of avoiding people's allergens, knowing the signs and symptoms of anaphylaxis, having access to two epinephrine auto-injectors, and being prepared to respond if anaphylaxis occurs."
"As the mother of a child with life-threatening allergies, I know how important it is to talk frequently with my child and the people who care for him about this topic," said Bowen, whose oldest son is allergic to peanuts, tree nuts and bee stings. "This e-book offers a great, new way to continue the conversation about the seriousness of anaphylaxis and the importance of avoiding known allergens. The Adventures of Ana and Phyl provides us all with a good reminder of the steps we need to take to be prepared if anaphylaxis occurs."
The ebook and other instructional materials are available for free, and serves a guide to help parents and educators understand how to speak to students about this condition. For a free copy, go to Anaphylaxis101.com.
Mercy Pilkington is a Senior Editor for Good e-Reader. She is also the CEO and founder of a hybrid publishing and consulting company.