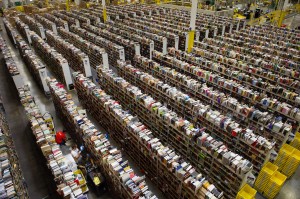 With new contract terms up in the air between Amazon and some publishers, readers may be the one to feel the frustration. Today, word came out that Amazon was delaying the delivery of certain titles by specific publishers, namely Hachette Book Group, in an effort to encourage a speedy contract renegotiation.
In statements issued today, Hachette's spokesperson explained quite openly that the titles were available, that Amazon had them, but that Amazon wasn't shipping them. This is despite the fact that some of those same titles are available immediately from other retail distributors, and despite the publication date, as some titles are brand-new releases and others are classics.
Before the Amazon bashing begins–and while Good e-Reader in no way condones preventing consumers from having access to reading material–it should be noted that this is not an uncommon tactic between publishers and retailers. During the intensity of negotiating better stocking fees, better shelf space visibility for brick-and-mortar retailers, and other fine points of the bookselling business, many retailers have engaged in a reduction in stock and sales times. Barnes and Noble notably had a dispute with Simon&Schuster in the recent past, and Amazon has already squabbled with more than one publisher, resulting in removing their titles from its retail space.
If it's not too soon to revel in the madness, it's worth noting that ebooks are unaffected by the tension over contracts, quite possibly due to the fact that Amazon also sells an e-reader line and a tablet line. The last thing the retailer wants to do is to give customers an excuse to take a look at a shiny new device from a different manufacturer or supplier.
Mercy Pilkington is a Senior Editor for Good e-Reader. She is also the CEO and founder of a hybrid publishing and consulting company.