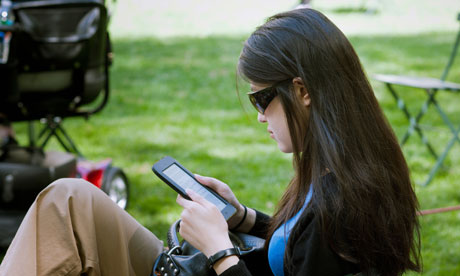 There's a fun throwaway scene in the iconic climate change movie, The Day After Tomorrow. Two intellectuals who are holed up in the New York Public Library to ride out the next ice age are gathering books to burn. One of them grabs a copy of Nietzsche's works, but they argue over the implications of burning such an important thinker's book. The nerdy high school student calls up to them and says, "Guys? There's a whole section on tax law down here that we can burn."
The humor is that tax law is not only good for kindling, it's plentiful because it could fill the first floor of a library with its droning minutia. It also changes each year, and the surprising results of those changes have left more than one consumer irritated. Just ask anyone in the US who filed this year and had to provide proof of health insurance or risk facing a $500 fine.
But that's nothing compared to the head-scratching that the EU's highest court has caused when they upheld the ruling this week that ebooks were not books, and therefore would be taxed at a higher VAT rate than their print counterparts. How much higher? As much as 20%, where print books are more typically in the 3% to 6% range. Two countries, France and Luxembourg (who, coincidentally, have strong agreements and corporate locations with Amazon) have been skirting the ruling for quite some time, and have actually been sued by the EU for only collecting the lower VAT rate on ebooks. Those governments have been eating the rest of the tax cost, leading some to accuse Amazon of paying hefty incentives to the governments to offset that burden.
Fortunately, this is an issue that may not be over. The reason the court gave for calling ebooks a separate product than a book (and therefore subjected to a different tax rate) is that a separate device must be used and presumably purchased in order to read the ebook. That statement threw the door wide open to punish the film and music industries, since their end products also require some other forms of technology to use them. By that logic, anything could fall suspect: sure, you can eat an apple straight from the tree, but flour must be mixed with other ingredients and then cooked on another implement. Will there be separate taxes on different types of products within the same category, and will consumers have to prove how they actually consume the product in order to avoid the additional taxes?
That is obviously a fairly ridiculous example for the purposes of illustrating where industry watchers already fear this precedent could lead, but what is clear is that the tax structure surrounding the entire book industry has been called into question in Europe for some time, largely with the advent of corporations like Amazon having one set of rules, and local booksellers being subjected to another.
Mercy Pilkington is a Senior Editor for Good e-Reader. She is also the CEO and founder of a hybrid publishing and consulting company.