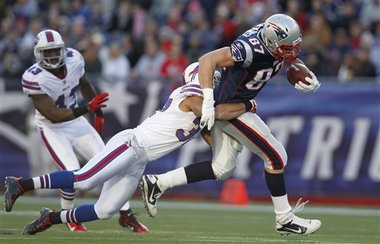 There's a seedy underbelly to the world of digital self-publishing, and it's best if we all just walk away. If you look too closely in the darkened corners of the Amazon Kindle store, you may be the next victim of titles like A Billionaire Dinosaur Forced Me Gay and Taken By The Haunted HDMI Cable (we promise, unfortunately, that both of these titles are all too real).
So when author Lacy Noonan decided to have some sexy, satirical fun with a book more in line with this sphere of the internet, she wrote what promised to be the first book in a series of Gronkerotica titles. Yes, there is a forthcoming series of erotica featuring New England Patriots' own tight end (no tasteless jokes, please) Rob Gronkowski, otherwise known as Gronk. Noonan's title, A Gronking to Remember, well…go look it up for yourself.
Unfortunately, Kindle fans of bizarre sex play featuring NFL players will be disappointed to know that–despite tonight's 35-31 win over the Baltimore Ravens–Gronk's sexscapades are no longer available in ebook format. Was it because it was too steamy for e-readers to handle? Was it just too much for 50 Shades fans to swoon over?
No. As it turns out, the NFL is actually serious about copyright issues. Noonan's cover features an image of Gronkowski that not only did the author not have permission to use, but also dips so far into the realm of low-class as to have a patch in honor of the team's owner's recently deceased wife located prominently on his jersey. That's not to say that the NFL would have overlooked the copyright issue if the "MHK" patch was not front and center, but it certainly didn't help the author's case.
For her part, Noonan has stated she didn't realize it would be a problem, and has apologized. Amazon removed the self-published ebook, but the paperback is still available as that is a CreateSpace title, which is a separate entity within Amazon's platform. For those of you who mourn the lost opportunity of reading the ebook, don't worry, the reviews are still online and they're even more fun than any Gronkerotica could ever be.
[ad#After Post]
Mercy Pilkington is a Senior Editor for Good e-Reader. She is also the CEO and founder of a hybrid publishing and consulting company.