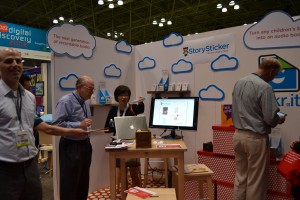 BookExpo America is still one of the premier publishing events in the world, and it has many facets. Authors will be on hand to autograph their books, publishers will display advanced copies of their upcoming titles, and even very real business meetings will take place between publishers and booksellers or librarians. It's an all-encompassing showcase for everything book related.
In the last few years, this event has grown to include ebooks, and one of the most interesting sections of BEA is the Digital Zone. While ebook mainstays like Amazon and Kobo will set up massive eye-catching booths and have featured authors drop by, it's really the smaller, out of the way booths from the new startups that can be the most interesting to watch.
This year's event saw two particularly interesting startups bring their concepts to the event. The first, Red Shelf, was born out of a virtual document storage and sharing concept, Virdocs. The business model isn't really all that new a concept. It's a cloud-based ebook retailer that lets anyone read anywhere, on any wi-fi capable device.While the company isn't only aimed at authors but actually caters to any business that has documents to store and share, it's publishing concept is profound.
At first glance, it's tempting to think, "Do we really need another ebook retailer?" But just as the current movement of indie authors decided to take more control over their work and publish their own books, Red Shelf enables authors with the right know-how to sell their content on the Red Shelf platform or the authors' own websites at a fairly unheard of royalty. With plans ranging from free with a 20% cut, to as much a $199 per month with additional features and benefits, it just might be the answer to major ebook retailers and the lack of control over pricing that authors and publishers have felt.
The second was a company that GoodEReader has been watching eagerly: Story Sticker. This company creates QR code stickers in the shape of a darling teddy bear, and sells the stickers. Each sticker is activated by the Story Sticker app, allowing parents, grandparents, teachers, everyone to turn any book into a read-aloud story. The purchaser of the book and sticker records his own voice via a smartphone or tablet (Android coming soon), and gives the book to its recipient. Now, when the recipient of the book scans the QR code bear with his device, he hears the voice of the person who recorded it for him.
Story Sticker might seem like a sweet way to make a treasured keepsake, but the educational implications of this company are staggering. Apart from the very obvious applications of this product for low ability level readers or small children, the possibilities it presents for special education and ESL (English as a Second Language) students are vast.
Interestingly, this year's BEA Digital Zone also featured a few startups whose products were still in development, but who had come to the event to display their "coming attractions" for ebooks and digital publishing. Part of the discovery aspect that makes major events so enticing is the ability to envision what's coming next, especially in the world of publishing.

Mercy Pilkington is a Senior Editor for Good e-Reader. She is also the CEO and founder of a hybrid publishing and consulting company.