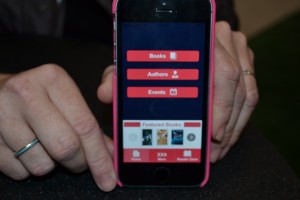 One of the top issues plaguing authors and publishers alike is book discovery. Everything from a glut of content to a lack of understanding of metadata has been blamed for lagging sales and author anonymity. But one organization representing a branch of publishing that has always been at the forefront of digital publishing innovation has announced a product that stands to change all of that.
The Romance Writers of America has developed an upcoming app that will help its readers find new titles, stay on top of what books are soon to be released, and connect with authors who load their content through the app. Called Novel Engagement, the app will send push notifications to readers who indicate that they want the reminder of when a new book by their favorite author is to be released. RWA's team members demonstrated the app's capabilities for Good e-Reader at their BEA booth.
"You can click on books and search by author, book title, subgenre, keyword, and then you can prioritize your search. The app allows a number of keywords within the genre search, as well as offers the ability to search by publication date."
When books in the app are already available for purchase, the app will actually take readers to a number of different retailer platforms to purchase the book. For ones that are pending, readers can determine whether or not they wish to be reminded on the date of purchase.
Perhaps most intriguing is the ability for readers to connect with authors through their social media channels, as their account links are embedded within the app and allow users to engage at the press of a button.
The romance writers and publishers have driven much of the innovation and risk-taking in the industry with things like the first ebook-only imprints, unheard of author royalties, and social media networking surrounding titles. Now, RWA's app demonstrates once again how the romance industry is addressing needs in publishing that other so-called experts are still musing and worrying about.
The free iOS and Android app monetizes from a subscription fee that authors pay to include their content in the app, which some 1,000 authors have already done, resulting in the inclusion of over 4,000 titles already. Good e-Reader will post a video soon of the full-featured app in action.
Mercy Pilkington is a Senior Editor for Good e-Reader. She is also the CEO and founder of a hybrid publishing and consulting company.