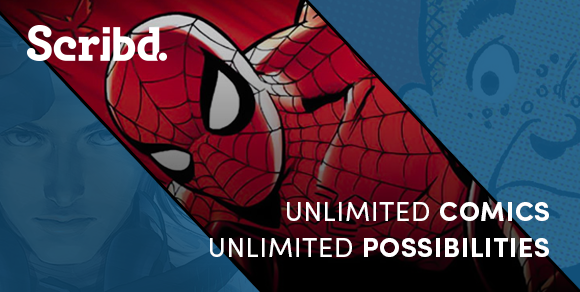 Scribd is likely the largest e-book subscription website where users pay $8.99 a month to read as many books as they would like. Lately, the company has been on a rampage adding audiobooks and now comic books in order to appeal to a new demographic of users.
Starting today, 10,000 single issues and graphic novels will be available a month after they are published. This will keep the Scribd library feeling really current and relevant. You can start reading modern comics from Marvel, Archie, Boom! Studios, Dynamite, IDW/Top Shelf, and Valiant.
The most recognizable publisher in this list is Marvel, whose line of movies is bringing in an entirely new audience to the comics. Scribd is launching their comic catalog with about 20% of Marvel's entire catalog. This includes classic runs of the Avengers, the X-Men, Daredevil, and Spider-Man; YA titles like Ultimate Spider-Man and Runaways; and current series like Mark Waid's Daredevil. They also got fan favorites like Captain America, Iron Man and Thor.
The one interesting thing that Scribd is doing with comics is incorporating the entire binge concept that Netflix made famous. Scribd CMO Julie Haddon said "One feature we're excited about is what we're calling the "binge button," which allows readers to advance to the next issue or volume in a series without having to leave the reading experience to search for the next installment. We love those moments when you're immersed in the world of a series and devouring issue after issue. We designed this feature to facilitate exactly those kinds of moments for our readers."