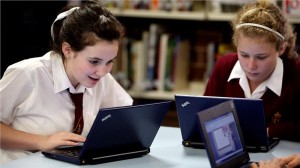 Earlier this year, digital content distributor OverDrive partnered with publisher Sourcebooks in an experiment aimed at establishing concrete data on how readers respond in terms of book borrows and book sales to digital titles they check out from their libraries. Sourcebooks made one of its titles available to OverDrive's member libraries for a predetermined period of time with unlimited simultaneous access in order to track the book's sales, the author's social media connections, and more. This experiment provided what many supporters of ebook lending have known: readers like to borrow ebooks and they often purchase a borrowed title or its sequel after checking out the ebook from their local libraries.
Now, OverDrive is partnering with HarperCollins on a second installment of the project, this time using a children's book and including school libraries in the experiment. In addition, the audiobook of this title will be available as well at no-cost and with multiple checkouts, just like the digital title.
Participating libraries will feature the title, Jane O'Connor's Nancy Clancy: Super Sleuth, on their homepages and invite patrons to borrow the digital edition. Patrons must have a valid library card in order to borrow the title.
According to a press release on this second installment in the Big Library Read, "Based on the success of the first Big Library Read in May, schools were invited for the first time to join public libraries to enjoy the benefits of no-cost, simultaneous access to a popular children's eBook. Also for the first time, the downloadable audiobook version will be available for simultaneous access. The 2nd Big Library Read is off to a fast start: The first two days saw thousands of checkouts of the title worldwide, circulating more than OverDrive's top three most downloaded combined. The program will conclude on September 30."