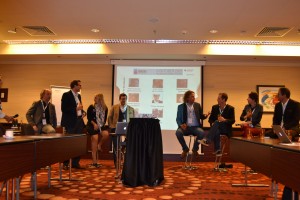 In a standing room only panel presentation at CONTEC, a fact that is very telling about how the traditional publishing industry is beginning to view self-publishing, nine industry professionals participated in an interactive panel on how self-publishing is affecting authors and traditional publishing.
Some of the panelists included authors, literary agents, publishing platform CEOs, and journalists who have followed self-publishing since the early days of its current status as one of the fastest growing concepts in publishing today.
Florian Geuppert, CEO of Europe's Books On Demand, shared a few of the results of a survey they conducted with their self-published authors. The results of the survey were fairly astounding, with 30% of those authors responding that they did not attempt traditional publishing first. Of the respondents, 75% consider themselves to be hobbyist writers, that is, not full-time professional authors. The top three reasons for self-publishing were creative control, ease and fast time to market, and just the fun aspect of being able to produce their own works. The one thing the authors almost unanimously agree upon is they missed out on the marketing aspect that many perceive traditional publishers to provide for authors.
Matthias Matting, an author who has followed the European self-publishing market, shared that 60% of the authors he interviewed were interested in pursuing print. Many of the authors would consider traditional publishing in the future for the reason that they want their books in physical book stores, a market that is still difficult for indie authors to penetrate.
A survey conducted by The Bookseller further demonstrated that only about one-third of self-published authors surveyed stated that they would consider a traditional book deal.
Kristin Nelson, literary agent, shared a story of a traditionally published client whose publisher declined to publish the remaining books in the series due to her mid-list status, but who turned to digital self-publishing due to high sales in foreign markets. Her series continued to grow due to her existing fan base and are selling quite well. Her client, Hugh Howey, added the concept that self-publishing is a long-term model, not a short-term bestselling moneymaker.
"We don't appreciate yet the long tail of self-publishing. Your books are available forever. They have the same availability forever," said Howey.
According to Johnny Gellar, "I think publishers will succeed in the long run because it's too much self-publishing if you're a career writer."
Vancouver-based LeanPub's Peter Armstrong spoke to the model that lets authors follow a lean start-up model by publishing a book before it's even finished, which grows a fan base as the author is still creating the book.
"Because we've made it very easy for authors to self-publish, we have a lot of quantity but we've lost some of the quality. Authors can actually raise money to pay for that editing to get that quality," explained Amanda Barbara of PubSlush. "People need to know the book is coming, and treat it like your business. But it can't be rushed."
The panel of nine speakers from across the spectrum of the self-publishing landscape was moderated by Porter Anderson of Writing on the Ether.
Mercy Pilkington is a Senior Editor for Good e-Reader. She is also the CEO and founder of a hybrid publishing and consulting company.