Consumer reaction in the US to the complete gluttony of shopping following Thanksgiving is often mixed. With some cities seeing shoppers literally camping out on the sidewalks in order to be there when the doors open on Black Friday, other parties take a more reserved stance, opting to shop online to take advantage of the steep discounts, and still others boycotting the shopping frenzy altogether. A movement to encourage shoppers to stay home on Thanksgiving Day in order to send a message to retailers about requiring their employees to work on a traditionally family-oriented holiday has also gained a lot of ground.
In recent years, the Saturday after Thanksgiving has been dubbed "Small Business Saturday," a PR campaign intended to help consumers remember to support the locally owned businesses in their communities. This year, that concept has been extended to independent bookshops, due in large part to the efforts of author Sherman Alexie.
Alexie, the author of the bestselling and award-winning Absolutely True Diary of a Part-Time Indian wrote an open letter to authors through the American Booksellers Association, encouraging authors of any type to support bookstores by pitching in on what is traditionally the busiest shopping weekend of the year.
"I was a bookseller-for-a-day at Seattle's Queen Anne Book Company when it reopened this past April," explained Alexie. "Janis Segress, one of the new co-owners, came up with this brilliant idea. What could be better than spending a day hanging out in your favorite hometown indie, hand- selling books you love to people who will love them too and signing a stack of your own? Why not give it a try? Let's call it Indies First."
Partly an effort to help the shop owners with extra manpower and partly to draw consumers to the stores to meet authors they've read, Indies First has grown to stores around the country. Authors like Alexie and James Patterson will be in independent bookstores, ringing up customers, gift-wrapping books, and more. Of course, it also stands to be a win for authors whose sales have been shown to increase while they are on location.
"This is a great way to fight for independents—one that will actually help them. It'll help you as well; the Indies I've talked to have told me that last year Small Business Saturday was one of their biggest days of the year, in some cases the biggest after the Saturday before Christmas—and that means your books will get a huge boost, wherever you choose to be."
Click HERE for a complete list of authors and bookshops who will be participating in Indies First.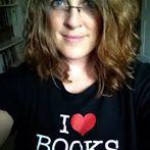 Mercy Pilkington is a Senior Editor for Good e-Reader. She is also the CEO and founder of a hybrid publishing and consulting company.