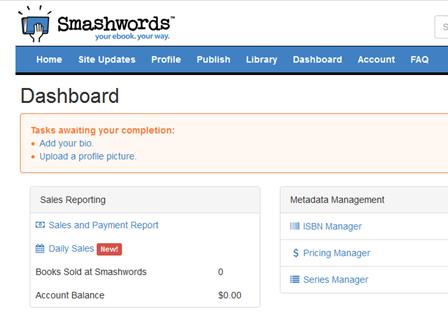 With so much emphasis and recent news on authors and what they truly earn, the industry as a whole is taking a good look at how this information is shared with the content creators. Traditional publishers have long issued quarterly sales reports to their authors, often distributed three months after the fact, and that's one of the many reasons authors cite for trying to go it alone. Now, eBook distribution and self-publishing platform Smashwords has added a whole new level of author service to its already streamlined yet dynamic platform: daily sales reporting.
Smashwords, who sells author content as well as distributes that content to major retailers of authors' choice, gives authors the option to sell their ebooks through Smashwords at Amazon, Barnes and Noble, Kobo, Apple, Flipkart, and a few other retailers, as well as to distribute their work for lending to OverDrive, Oyster, and Scribd. The company announced last night in a blog post that it will begin daily reporting to authors of sales that happen at iBooks, Barnes & Noble, Kobo, OverDrive, and the Smashwords store.
"The reports provide authors and publishers unprecedented insight into recent sales performance across the largest Smashwords retailers," wrote CEO and founder Mark Coker in the post. "Authors can use the reports to gain rapid feedback on the effectiveness of marketing and promotion campaigns.
"You can view your aggregated performance over the prior seven day or 30 day period, with drill-down views by retailer, title or series. There are also one-click filters to view priced books, free books, all books and accumulated preorders (iBooks only). Publishers and literary agents who manage multiple authors can drill down and view author-specific performance."The information provided to authors in these reports is updated round-the-clock, with same-day daily updates every three hours for Barnes & Noble, next-day daily updates for iBooks and Kobo, and same-day daily every 30 minutes for the Smashwords store. This constant data checking for authors joins Smashwords' already in place method of submitting new content to these retailers several times a day, meaning work distributed through Smashwords makes its way to retailers' online catalogs even faster than before.
Mercy Pilkington is a Senior Editor for Good e-Reader. She is also the CEO and founder of a hybrid publishing and consulting company.