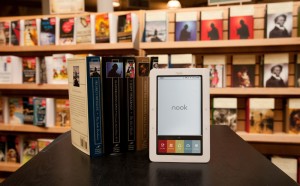 One of the truths we've been hearing from forward-thinking publishing industry experts, namely where Amazon is concerned, is that we have to stop trying to compete. There are enough readers for every genre and every retailer, but offering an identical product in the same cookie-cutter way will drive consumers to go where the price is cheapest if all other factors are the same.
But a new post from Smashwords' founder and CEO Mark Coker explains that authors have an option that gives them a leg up on booksales and bestseller rankings, one that Amazon only makes available to select indie authors and publishers: pre-orders.
"In a nutshell, here's how the dynamic works at B&N, Apple and Kobo: Let's say your book is listed on preorder for 60 days in advance of your official onsale date. Let's say that at B&N (or iBooks or Kobo) your book accumulates 15 orders per day. After two months of order accumulation, you'd have 900 orders. These 900 orders would credit all at once on the first day when your book goes onsale.
"Since every retailer's bestseller charts are based upon unit sales, and all charts give greater weighting to sales credited during the most recent 24-hour period, it's like selling 900 copies in a single day. And that's before counting the additional sales that come once the book goes onsale. With 900+ sales at any retailer in a day, you're going to land near the top of your book's genre or category list, and probably also within the store's top-10 or top-20 store-wide bestseller list.
"You don't need to accumulate 900 orders to receive a boost from preorders. Even 10, 20 or 30 accumulated orders will give you an incremental discoverability advantage."
That advantage that Coker mentioned has been in place since Smashwords launched its pre-order feature, but until now it wasn't understood that all three of those major retailers could incorporate the pre-orders as sales rank on the day of the book's release.
With the ease of launching a pre-order platform for a specific title, there's no reason not to take advantage of the potential for discoverability and the possibility of increased initial sales ranking as a way to stand out.

Mercy Pilkington is a Senior Editor for Good e-Reader. She is also the CEO and founder of a hybrid publishing and consulting company.