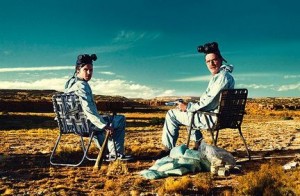 One of the best-loved and most highly acclaimed shows currently in production for audiences is Sony Pictures' series Breaking Bad, the good-guy-turned-bad story of a terminally ill teacher who turns to selling meth with a student to make money for his family. The show originally aired in 2008, and the remaining eight episodes of the final season of the show will kick of next month.
To offer something more to fans, Sony Pictures is releasing a comprehensive, interactive ebook filled with interviews, behind-the-scenes footage, and add-ons like the depictions of ill-fated characters and what went wrong for them. The book, titled Breaking Bad: Alchemy, is available exclusively through iTunes.
"Breaking Bad: Alchemy is a comprehensive anthology that will allow viewers to experience and interact with the show in unprecedented ways," says Chris Van Amburg, Senior Vice President, Marketing for Sony Pictures Television, in a press release. "In the creation of the Breaking Bad book, we wanted to deliver to fans a unique and dynamic experience and unparalleled access into the production of the series that they will enjoy long beyond the final season."
Taking advantage of the capabilities of a fully-interactive enhanced app book, the version that readers purchase now is not the final version. As the series wraps up its final season, new content will be added to the book, so that readers will simply download an update to their book, much as they would with any app or game. This content will focus on the material and concepts of the show that take place in the final eight episodes.
Breaking Bad: Alchemy is not the first offering that the shows creators have made available to fans of the series. According to the press release, further content is available, including content directly related to the as-of-yet unaired episodes: "The digital book is the latest in exclusive offerings from Breaking Bad available on iTunes which also includes deluxe editions of TV seasons one through five featuring over 40 hours of bonus content. Fans can get a Season Pass for The Final Episodes now, plus music, podcasts, and apps. Visitors can access Breaking Bad: Alchemy and all things Breaking Bad at iTunes.com/BreakingBad."