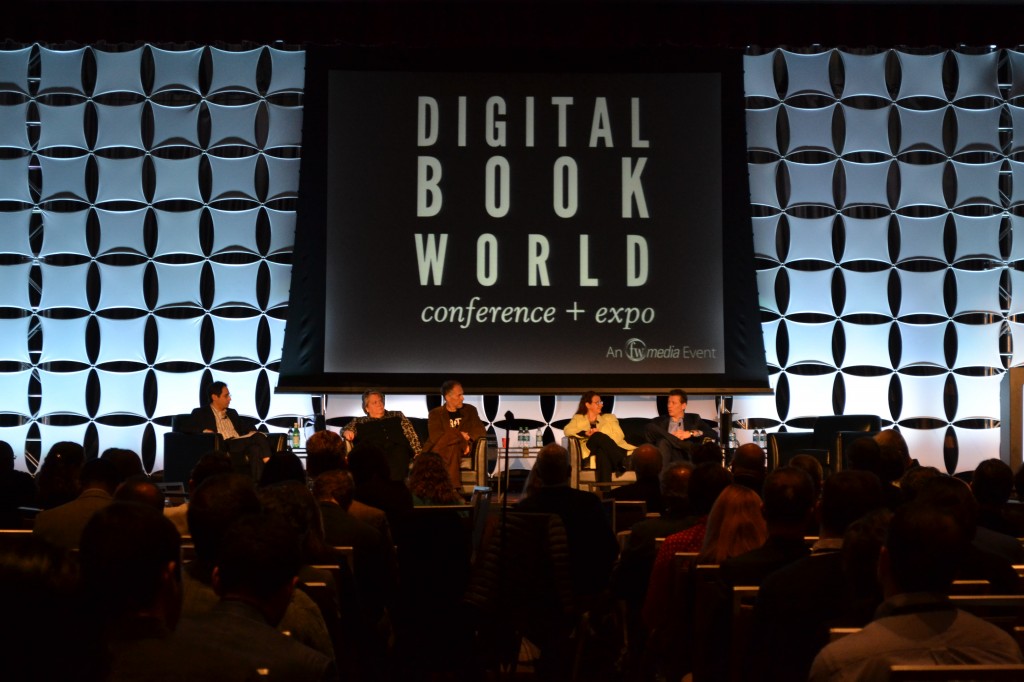 A long-standing tradition at Digital Book World's conferences is to start with a panel of publishing CEOs for a roundtable discussion of where the industry is and where it's going. This year's first morning panel included names such as F+W Media's David Nussbaum, O'Reilly Media's Tim O'Reilly, Sourcebooks' Dominique Raccah, and Simon & Schuster's Carolyn Reidy.
Reidy's discussion involved the expansion of books into a global market, announcing that S&S sold a book in over 200 countries last year, including–to the laughter of those present–a copy of The Sun Also Rises to a consumer in Antarctica.
"There's a potentially bigger market in English if you did some marketing to engage with the English-language books," explained Reidy of the process wby which booksellers are realizing their readership doesn't only buy books in the local language; she went on to explain that there are bigger considerations involved in global sales, including how to price books in other markets.
Raccah explained some of the basis for the news this morning that Sourcebooks had a tremendous year in 2013: "We grew a lot of physical book sales last year, which was a surprise to us, and a lot of that came from our kids' books. We expect that to grow this year. Part of that is the implications of Put Me in the Story. It provides us a lot of great content. Some of that is going through that site, and some of it is growing through our…reference products that we are translating into digital products."
Tim O'Reilly: "Probably the most exciting things we're doing is taking the lead from Amazon. We're building a digital distribution business that lets us put out ebooks in multiple formats, which contributed to our international growth. We're selling ebooks as a bundle that lets you pick your format…it all comes from one source file, with a push-button solution. We're expanding the idea of what a book is, and we're very excited about the way that video and books come together in our products. We're also looking at our primary goal, which is teaching people, or helping people learn. We have a lot of different ways that we can make information available."
"I think we keep hearing that the rate of change is slowing down, but that's not the experience for me," said Raccah.
"Books are competing with an array of information, people have the expectation that with the app they're using, the update just appears on their phones. Books are timeless works, but we are being up-to-date with the latest is a real challenge. We're constantly building a set of tools to keep our products up-to-date," answered O"Reilly.
"The loss of shelf space, and the discovery mechanism that keeps consumers going to books, and the explosion of digital has always been a challenge, but now it's an easier challenge. The biggest need is to strengthen where books are. Bookstores could decide they don't want to carry books any more, but the other outlets can decide they don't want to carry books anymore. The biggest challenge is making sure your organization is organized to meet the challenge," explained Reidy.
"With shrinking shelf space, we need new discovery mechanisms, but it is the authors who are showing the publishers the way to explore the possibility space," O'Reilly. "You have to take what one author learns and transfers that to another."
Mercy Pilkington is a Senior Editor for Good e-Reader. She is also the CEO and founder of a hybrid publishing and consulting company.