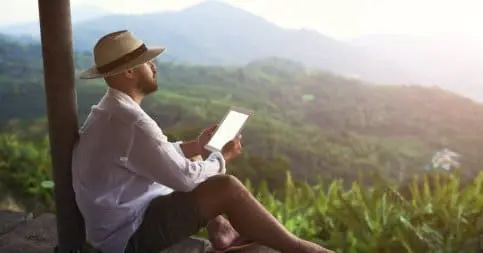 The European e-book market has been growing since 2007 when Amazon started selling the original Kindle. Over the course of the next ten years many companies have started to sell digital books, magazines and newspapers. Have you ever wondered what EU markets have the highest e-book penetration and how much the format is generating in revenue? Welcome to the state of the European e-book market.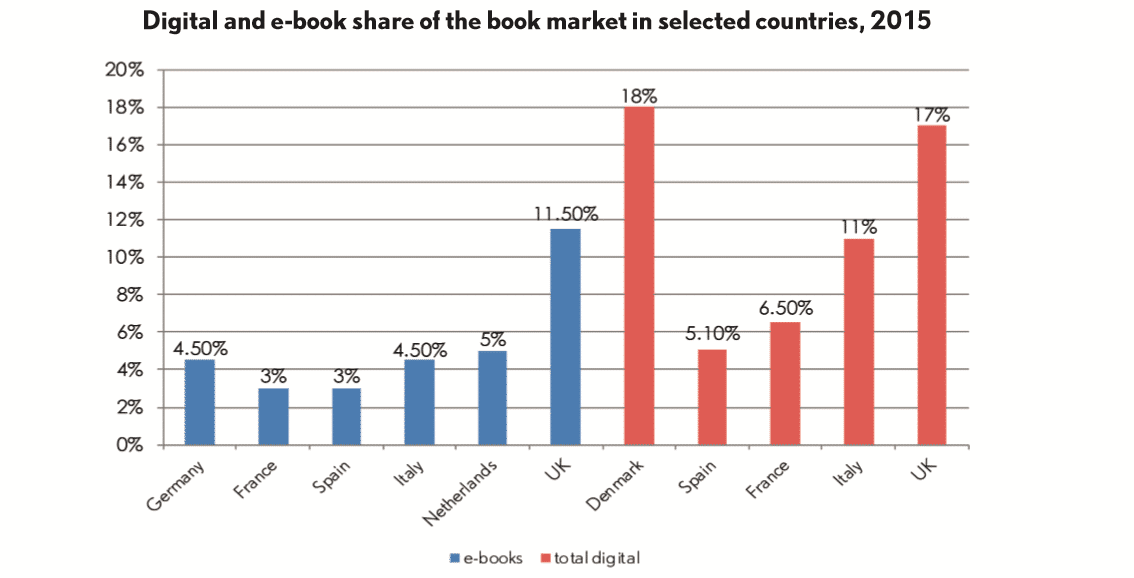 It is estimated that e-books now account for 7% of the total publishing market in Europe, with significant differences between countries. The graph above shows the proportion of digital sales in the overall book market in some selected countries; in some cases the figures distinguish between the sales of e-books as such and the broader sales of digital products from publishers (such as databases and subscriptions). E-books have gone a long way since 10 years ago, when they were little more than an interesting novelty, or even since 5 years ago – in 2011 they represented no more than 1% of the book market everywhere (except in the UK, where e-book sales were 4% of the total and digital sales were 8%). It is however hard to predict how the e-book market will develop in the coming years, as we have passed several dates at which the demise of paper had been predicted: what is sure is that a lot will depend on the readers' preferences and that different supports, formats and business models are most certainly going to coexist for the foreseeable future.
On average there are 500,000 e-book titles published in Europe and the vast majority of these titles are sold in the United Kingdom where Amazon has a stranglehold on the market. Tim Walker is the president of the UK Booksellers Association recently lamented "I do a have a concern that Amazon's dominance is causing problems. We estimate Kindle has a 95% market share of e-book sales in the UK and this is having a damaging effect… Consider the struggles of Barnes & Noble and the Nook platform, the problems of the established Txtr in Germany, and the decision here of Tesco to pull out of Blinkbox Books."
The Bookseller magazine says that each of the five biggest general trade publishers in the UK – Penguin Random House, Hachette, HarperCollins, Pan Macmillan and Simon & Schuster – saw their ebook sales fall in 2015. At Penguin Random House, the UK's largest trade publisher, ebook totals slipped by 0.4% in 2015, down from 16.17m to 16.1m. At Hachette, they were down 1.1% to 14.5m, while at HarperCollins, when sales from Harlequin Mills & Boon are excluded (the company was acquired halfway through 2014), ebook sales were down 4.7%. The slip at Pan Macmillan was 7.7%, and at Simon & Schuster it was 0.3%.
Italy is a market that is on the rise, in the last twelve months 8.2% of the entire population has read at least one e-book, which is the equivalent of around 4.5 million people.
The e-book market is growing in France. In 2014 digital sales represents an estimated 6.4% of book sales in France, up from 4.1% in 2013. France's e-book market totaled 161.4 million euros in 2014, up 53.3% from the previous year.
Germany is one of the most lucrative e-book markets in the entire world. In 2014 e-books accounted for 4.3% of all book sales and generated 24.8 million euros.
25% of Germans read e-books on a day to day basis and this figure has slightly increased from 2014. What is very surprising about this market is that the hardware that people employ to read e-books is more varied than North America. Statistically, 41% of Germans use laptops to read, followed by smartphones 38% while everyone else seems to use e-readers such as the Kindle, Kobo or Tolino.
Alexander Skipis, Managing Director, of the German Booksellers and Publishers Association said "Germany is a nation of readers. As the second largest book industry in the world, the German market functions as a role model for both quality and diversity, and market performance is generally stable. We are eager to maintain and expand this state of affairs."
Meanwhile in Spain, preliminary data suggests that ebook sales will account for 10% of the market, up from around 6% from 2015. Many Spanish publishers have reported that more than 60% of their digital sales are made internationally. Half of those international sales are coming from Latin America, with the US market and Europe accounting for 20% and 10%, respectively.
The Polish e-book market has been growing by strong single digit figures since 2013, when it rose 28%. Despite the strong growth, digital does not mean dollars. Biblioteka Analiz research says e-books only account for $16.3 of the entire publishing industry.
On a consumer level, one of the barriers of e-Book adoption is the VAT. Currently in Poland if you buy a digital title you are paying 23%, meanwhile print books are only taxed at 5%. The lower tax bracket on physical titles might be one of the deciding factors when libraries, schools and academia are establishing book acquisition budgets, their dollar simply stretches further with print.

Michael Kozlowski has been writing about audiobooks and e-readers for the past twelve years. His articles have been picked up by major and local news sources and websites such as the CBC, CNET, Engadget, Huffington Post and the New York Times. He Lives in Vancouver, British Columbia, Canada.