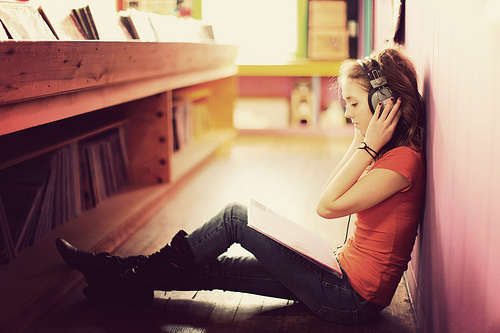 The Audiobook industry has certainly grown up in the digital world. The rise of audio publishing is directly proportionate to the rise of digital distribution. In 2007 a paltry 3,073 titles were available and rose exponentially to over 20,000 published titles in 2013. The entire industry is said to be worth over two billion dollars, which is a huge jump from $480 million in retail sales in 1997.
There are hundreds of audiobook apps listed on the Google Play, Amazon App Store and Good e-Reader App Store. Some of them have hundreds of solid reviews that gush over the excellent features, but have not been updated since 2012. Others have a terrible design and are not very intuitive for your average user. In the end, for this top 5 list, we had to test over 37 different apps just to find the cream of the crop.
You can click on the name of any of these apps to download them directly, using the Good e-Reader App Store. There are a number of screenshots and video, so you can see the app in action.
This app has a solid design and boasts a catalog of over 50,000 titles. They have a subscription service for $14.95 a month, where you get one audiobook title for free and save 75% off everything else. You cannot buy an audiobook individually, unless you subscribe.
The thing I like about this app is the way they curate the audiobook discovery experience. You can browse for New York Times bestsellers for Fiction and Non-Fiction, and elect to checkout new arrives or browse by genre. I also like the fact you can listen the books offline, once you have downloaded them to your phone or tablet.
What I don't like about this app is the inability to load in your own audiobooks. You have to do business with the folks at audiobooks.com, which might limit the appeal.
Amazon owned Audible is the market leader in audiobook technology and has an expansive ecosystem of over 150,000 titles. If you pay 14.95 a month you get one free audiobook and save around 30% on everything else. Incidentally if you have an Apple device, such as a iPhone or iPad and visit the audiobook section on iTunes, all of the content is sourced from Audible, which gives you an indication on how expansive their library is.
One of the strengths of Audible is the synergy with Amazon e-readers and tablets. One of my favorites is the system called Whispersync for Voice, it baically syncs your Kindle book and Audiobook positions to the cloud. This allows you to switch back and forth between reading on the Kindle or Kindle app and listening to an audiobook on an Audible app, Kindle Fire tablet, or Kindle E-reader without ever losing your place. As long as your Whispersync for Voice-ready device has access to the Internet, the playback position, bookmarks, and notes will be kept across devices without any action required.
There are a few things I like about the Audible app. It can connect up to your car via Bluetooth, so you can browse your collection and start listening right away, it also has compatibility with Android Wear. The player itself is designed really well, and has solid options for skipping chapters or just a few seconds.
The thing I don't like about Audible is the lack of previews unless you register. New users cannot really get a sense on what this system is all about, unless you go through a complicated registration system that calls your phone and entails you to enter all sorts of payment options. I also have a disdain for their whole badge system, where you earn X-Box style achievements for listening to books. If you earned discounts or something based on your volume of purchases or earning all rewards it would be fine, but sadly you do not.
This app will appeal towards people who love the classics. This is an audiobook player exclusively geared towards the audio editions of royalty and copyright free titles. You will find everything from Rudyard Kipling, Lewis Carroll and Jack London.
This app is great for people who always intended on reading that classic novel, but never found the time. The audio edition features around 5,000 titles and each one ranges in cost from $2.99 to $8.99. I like the fact they are all really affordable and might be solid for schools that want to adopt audiobook into their curriculum.
I like the fact you can instantly sample books, without having to load the full audiobook player. It gives you a sense on how the narration is done and if the book might be a good fit. The full audio player is rich with options and gives you the ability to quickly scroll forward and backward if you missed a spot.
The downside of this app is many of the audio editions that they charge for, are free on the internet. So, in effect you are paying to use the app and enjoy ease of use.
This is one of the few apps on our top list that actually is designed to allow you to load in your own audiobooks. I love this app and when you start it up for the first time, it does not bog you down in complex setup and registration like Mort Player Audiobooks does.
In order to load in your own audiobook the files must be copied to your device and stored in a separate folder. The book folder may consist of audio files or sub-folders with audio files. If a book folder or its sub-folder contains an image file, it will be a first choice for a book cover, though you can use any image from your gallery for this purpose.
The audiobook player itself is really unique. It has 3 scroll bars that allow you to see where you are in the recording and also adjust the pitch. Apparently there are a number of people who like to listen to the book on a faster setting, but not have the voice sound like Alvin and the Chipmunks.
This is a great indie audiobook player that has no advertising and extensive options. The one thing I really loved about it when firing it up for the first time was to exclude all of the root Android file tables from being viewed when looking for new audiobooks. This might not seem like a big deal, but it certainly cuts down on the time you are spending navigating directories to find your book.
To find audiobooks on your phone or tablet, it will simply scan your entire device whenever you fire up the app. So if you used another app to purchase content, you can listen to it within Smart Audio Player. You can add or remove books from your library or shutoff the auto scan for those of you with big collections.
The thing I really liked about this app is that it shows you a preview window of the audiobooks cover art. I also liked the sleep mode option, where you can have the player automatically stop the audiobook after a certain amount of time. You can established the cutoff in five minute intervals.

Michael Kozlowski is the Editor in Chief of Good e-Reader. He has been writing about audiobooks and e-readers for the past ten years. His articles have been picked up by major and local news sources and websites such as the CBC, CNET, Engadget, Huffington Post and the New York Times.