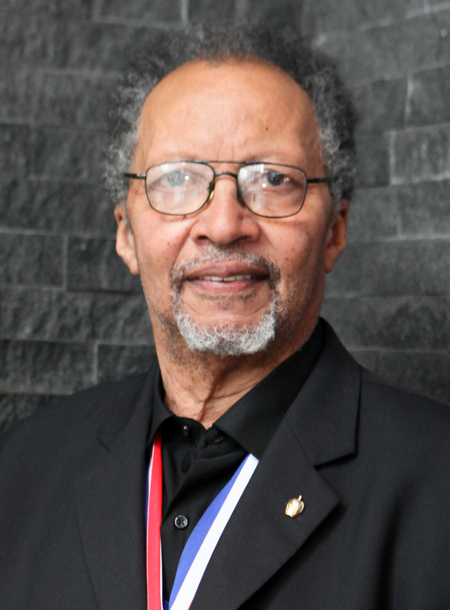 The literary world is a little darker this week after the passing of one of the greatest and most prolific modern writers of books for young people. Walter Dean Myers, a force who arguably changed the face of children's literature with powerful and gritty story lines, passed away on Tuesday at the age of 76.
Myers was one of the most highly decorated authors of this era. According to a press release from publisher HarperCollins, "Walter Dean Myers wrote more than 100 books for children of all ages. His impressive body of work includes two Newbery Honor Books, three National Book Award Finalists, and six Coretta Scott King Award/Honor-winning books. He was the winner of the first-ever Michael L. Printz Award, the first recipient of the Coretta Scott King-Virginia Hamilton Award for Lifetime Achievement, and a recipient of the Margaret A. Edwards Award for lifetime achievement in writing for young adults. In 2010, Walter was the United States nominee for the Hans Christian Andersen Award, and in 2012 he was appointed the National Ambassador for Young People's Literature, serving a two-year tenure in the position. Also in 2012, Walter was recognized as an inaugural NYC Literary Honoree, an honor given by former New York City Mayor Michael Bloomberg, for his substantial lifetime accomplishments and contribution to children's literature."
More important than the expanse of his body of work, though, was the author's willingness to bring difficult subjects to young people. His themes have included inner city life, the horrors of war, criminal activity and the resulting conviction to correctional institutions, and much more. One of his titles explored the rise of gangs from their early days as neighborhood "social clubs," expressed through both text and pen-and-ink illustrations crafted by his son, Christopher.
Authors like Myers brought reality to readers in such a way that it wasn't so much like gawking from the sidelines as it was experiencing aspects of life that most readers will never see firsthand. He often painted a dark picture of life while focusing on the beauty and history of the setting and telling the story through the eyes of people you really wish you knew in person. His ability to make microcosmic stories speak to a vast audience of readers is something that literature won't repeat soon.
"Walter Dean Myers was a compassionate, wonderful, and brilliant man. He wrote about children who needed a voice and their stories told. His work will live on for generations to come. It was an honor to work with him for so many years," said Miriam Altshuler, Walter's literary agent.
Fortunately for fans of Myers' work, three new titles were already in production and will be released soon.
"His upcoming books include Juba!, (HarperCollins, April 2015) a novel for teens based on the life of a young African American dancer, and On a Clear Day (Crown/Random House Books for Young Readers, September 2014). A graphic novel adaptation of Monster (HarperCollins) is also forthcoming."
Mercy Pilkington is a Senior Editor for Good e-Reader. She is also the CEO and founder of a hybrid publishing and consulting company.