WattPad is one of the most popular online self-publishing platforms and they have over 45 million monthly users, with over 2.3 million writers who've shared 15 million chapters in the last 30 days alone. The company has experienced explosive growth since they first opened up their virtual doors in 2006 and the CEO of Wattpad talked with Good e-Reader to reflect upon the past year.
How many authors are currently on Wattpad?
Every month, more than 2.3 million writers share at least a chapter on Wattpad.
How has this changed since 2015?
The same time last year (November 2015), we had 1.8 million active writers.
How many books/chapters/content is on Wattpad and how is that different from 2015?
Collectively, the Wattpad community has shared over 300 million original story uploads. In the last 30 days, over 15 million original story uploads were shared.  If we print these stories on paper, every two weeks we would create a stack of stories as tall as Mount Everest.
At the end of last year, there were approximately 175 million original story uploads shared on Wattpad.
Every year there is a new trend in digital publishing. I noticed this year was serialized fiction, do you think the success and growth of wattpad is encouraging the publishing industry to emulate you?
It's flattering to think the traditional publishing industry is trying to emulate Wattpad. Wattpad has developed strong relationships with every major publisher in North America, and many others around the world. These publishers use Wattpad to connect their authors to existing and new fans and promote their works. Publishers have also used Wattpad to discover new writers through writing contests. We are certainly very complementary to the traditional industry.
A year ago or so, Wattpad begun taking the most successful writers and publishing them in e-book form. How has this initiative been going? Can you tell me about the journey in doing this and some of the hurdles you had to overcome?
You may be referring to the promotion we did with Kobo. The ebooks surfaced on Kobo were already on the market (either self-published or traditionally published), but we didn't publish the books ourselves. In some cases, the story may have been published as a result of one of our strategic partnerships i.e. After by Anna Todd. We've done another similar promotion with iBooks.
Every year Wattpad is growing in terms of users, people using the app and overall growth. How do you sustain it?
We've been fortunate in that all of Wattpad's growth has been organic and through word of mouth. The ability for storytellers to share their works with a global audience and the opportunity to build a mobile library of free books is something many people around the world want. We continuously refine the product experience to come up with new ways for writers to earn rewards and recognition and for audiences to immerse themselves in an engaging story experience.
Wattpad stories are unique and diverse, and at the end of the day, people keep coming back to Wattpad because they see themselves in the stories they read.
How is Wattpad profitable? Almost all of the content is given away for free to users. What is the revenue model?
On Wattpad, writers can  get paid to do what they love. Wattpad's business is composed of two main offerings, Wattpad Studios and Wattpad Brand Solutions.
This year, we announced Wattpad Studios. Through Wattpad Studios we will co-produce Wattpad stories for other platforms. Wattpad writers will see their stories turned into books, films, and tv shows.
All brands are eager to connect with millennial and Gen Z consumers. This is our sweet spot. We've been ranked as one of the top ten apps with highest concentration of millennials by Comscore. Through Wattpad Brand Solutions, we connect brands like Kraft and General Electric with influential writers. These writers create entertaining stories that weave in a brand's message in a subtle way.
Wattpad is based in Canada, can you tell me about what it means to be Canadian in the digital publishing industry?
Being based in Toronto is essential to the continued growth of Wattpad around the world. Wattpad has an audience of over 45 million people because it's based in Toronto. The city's cultural diversity gives us a huge advantage. Our employees are multi-lingual and understand the trends, customs, and cultural nuances of international communities.
Can you tell me about the most popular publishing genres of 2016 and if it has changed since 2015?
Romance, Teen Fiction, and Fanfiction continue to be the top three categories on Wattpad. The Horror category is growing in popularity, partly due to our partnership with Turner Networks. Turner is relying on our community and data insights to find new horror content and storytellers to adapt for television.
What is going on with the wattpad cover creator app for Android, are you going to kill it?
Nothing has been decided, but we may phase it out. Storytellers today have a multitude of options to help them design eye-catching story covers. For example, Canva's Wattpad cover maker makes it easy for anyone to design their own cover, even if they have little design experience. Canva is a Wattpad community favorite.
What is the biggest secret of wattpad that nobody knows?
Wattpad is often labelled as a teen platform. While it's true that the majority of the community is under 30 years old, we have many older people in the community who are just as active and engaged on the platform.
What are your goals for 2017?
Next year we will continue to build on our success. In 2017 and beyond, we'll focus on the following:
Discover more great stories
Turn these stories into great movies, TV shows, print books, etc.
Create new forms of entertainment based on these stories
Distribute and monetize them on and off Wattpad, earn money for storytellers
Check out my Master Plan for more detailed information about the overall vision for Wattpad.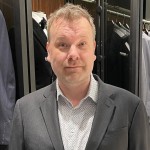 Michael Kozlowski has written about audiobooks and e-readers for the past twelve years. Newspapers and websites such as the CBC, CNET, Engadget, Huffington Post and the New York Times have picked up his articles. He Lives in Vancouver, British Columbia, Canada.