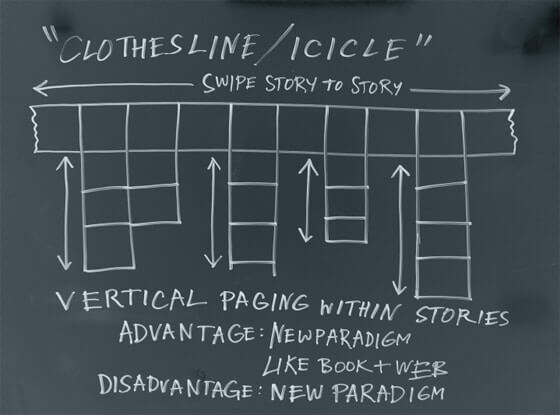 Zinio is one of the most successful online digital magazine companies in the world! We caught up with Matthew Davis the VP of User Experience at the recent E-Reader Conference in San Francisco! At Zinio Matthew is principally charged with evolving the utility, form and beauty of Zinio's international newsstand and bookstore. Matthew served at Zinio from almost the very beginning and was instrumental in the inaugural iPad launch that substantiated the company and thrust it into the limelight.
Zinio is one of the preimier magazine companies and they have relationships with some of the largest companies such as Conde Nast. The success of Zinio is attributed to the sheer amount of iPad sales which propelled the app into the top selling news app on the App Market. The entire time is passionate about the art form of the magazine and Matthew has been a fan of magazines and used to decorate his walls with clippings from old skate zines.
Before the iPad launch the company had a few early prototypes of the tablet that were chained to the desk and surrounded by indestructible glass to protect them and prevent theft. The challenge facing the company in February 2010, six weeks before the iPad launch was to build a fully functioning app, port over 2400 titles and make 7 of them flagship quality. The initial team of 24 people had their work cut out for them and the entire team lived in a small office for the duration of the entire six weeks.
Some of the early challenges the company faced was a common language barrier so the programmers could understand the designers and everyone could be on the same page. There is a deep lexicon of jargon in both the magazine and publishing world and it was a challenge getting everyone to speak the same language. After this process they had to laugh at big companies and publishers such as Wired where the coders and designers have never even spoke before.
Designing the application was fraught with challenges because it was a new frontier and the entire gesture system had to be done from scratch but also be intuitive and beautiful. There was a new paradigm with touchscreen navigation with both portrait and landscape mode. Some magazines wanted different ways to scroll through the magazine. For example for Wired they wanted to scroll down to go through different pages within the same article and to gesture left and right to go through the different articles.
During the conference speech Matthew talked about some of the challenges the company has faced during the entire iPad process and how it has changed the company. They went from a small design firm to having 2 major company headquarters in North America and Satellite sales offices all over the world.