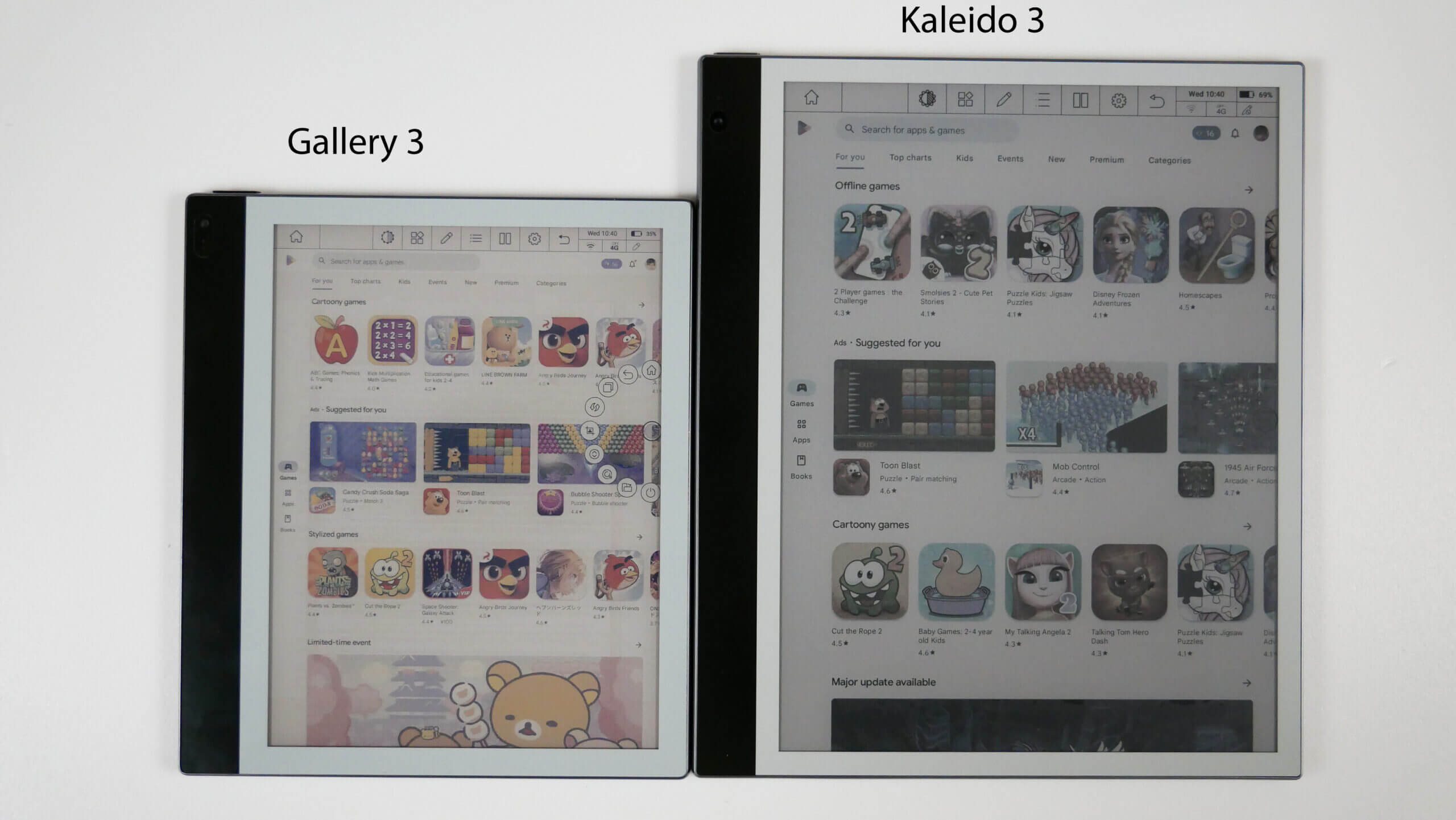 Good e-Reader is continuing our coverage of the latest e-paper technology. There is a lot of buzz in the e-reader industry with colour e-paper. It is poised to revolutionize the way we draw, view and edit PDF documents and read digital books and magazines. The latest generation E INK Gallery 3 and Kaleido 3 are vastly different e-paper, and both have their pros and cons.  When it comes right down to it, I believe Kaleido 3 is the best e-paper technology for reading, while Gallery 3 is best for drawing and using apps.
E INK Gallery 3 has its roots in Advanced Color E-paper. This technology has been around for the past four years and was originally developed for digital signage, such as sandwich boards or menus. E INK really wanted to use existing e-paper for consumer products, such as e-readers and e-notes. After years of research and development, the first products started to employ the screens and reach the public. The Bigme Galy is the first product to be released, while the Pocketbook Viva is coming out in April. iReader, iFlytek, Onyx Boox, Fujitsu and Sharp will develop their own products sometime this year.
Gallery 3 can display over 50,000 different colours, which is achieved through a four-particle ink system: cyan, magenta, yellow and white, which allows a full-colour gamut at each pixel. The first size in MP will be 8". Other sizes will be launched in the future. Gallery 3 can, in theory, be applied to any sized TFT.  However, E INK's launch plan focuses on the most requested panel size from market research. All of the upcoming Galery 3 panels are all 8-inches.
In Gallery 3, the black and white update time has been improved to 350 milliseconds (ms), the fast colour mode is 500 ms, the standard colour mode is 750-1000 ms and the best colour is achieved at 1500 ms. This is a substantial improvement over the first generation of E Ink Gallery, which had a black-and-white update time of two seconds and colour updates of ten seconds. In addition, Gallery 3 will have an improved resolution of 300 pixels per inch (PPI) versus the earlier 150 ppi and an operating temperature of 0-50 degrees Celsius, on par with black and white e-readers. To increase the speed of the colour transition, there can be tradeoffs in the intensity of the colours. Therefore "best colour" has the longest transition time to move the pigments as close to the surface as possible. In contrast, "fast mode" may be slightly more muted as the pigment's movements are constrained by the time of the update.
One of the downfalls of Gallery 3 is the refresh rate. There doesn't seem like there is an easy way to make it as responsive as a traditional black and white e-paper panel. Even with an e-note with 4 different speed modes, navigating around creates problems, such as things taking just a little bit of time to load properly. There also is a ghosting problem, with the fast refresh systems. Eventually, the software will solve all of these issues, but considering there is just one device on the market right now, I don't really know if this issue can be solved. The Bigme Galy is using Android, while the upcoming Viva is using Linux, maybe Linux will be faster since the OS is more stable and can be optimized better.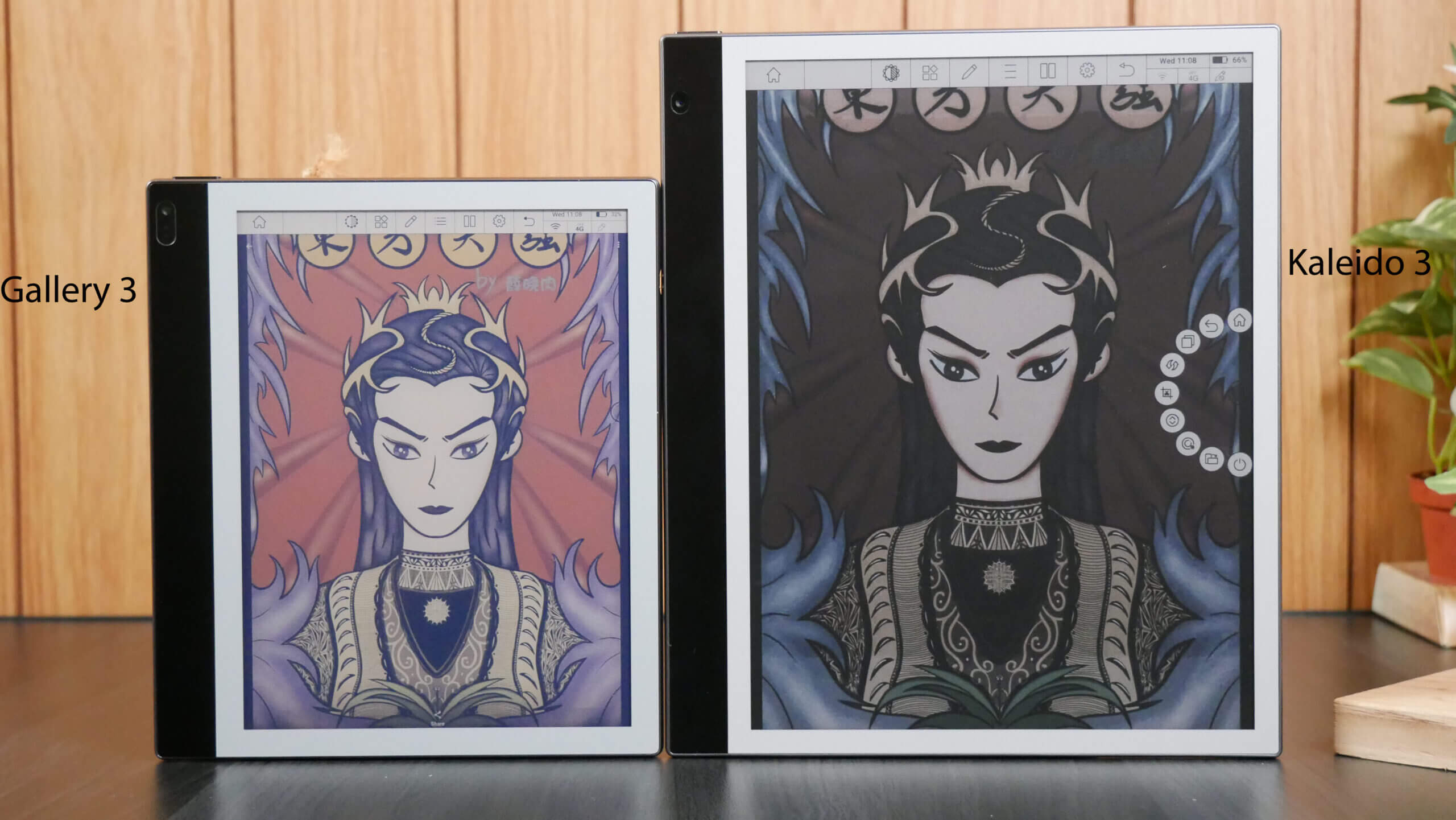 E INK Kaleido 3 seems like the way to go, since the technology is not a screen, but a color filter array. You can think of it has a small gel layer that sits just under the capacitive touchscreen displays and the front-lit display, that used to have LED lights, but is now a gel layer too. Kaleido 3 can display 4,096 colors and uses RGB. This latest e-paper can display color in 150 PPI and black and white panels at 300 PPI. Kaleido 3 can work on any screen size, from a smartphone to a 13.3.
Kaleido 3 also supports E Ink ComfortGaze, a new front light technology that reduces the amount of blue light, with a reduced Blue Light Ratio (BLR) and Blue Light Toxicity Factor (BLTF) by up to 60% and 24%, respectively. BLR is the ratio of toxic blue to total blue light output, and BLTF is the brightness to hazardous blue ratio. Additionally, the responsiveness of the ink means that Kaleido 3 can play animations and videos. It also supports On-Cell Touch, which Gallery 3 does not support. E Ink's On-Cell Touch see a 30% increase in the contrast ratio of black and white content, providing readers with clearer text content. When used with E Ink Kaleido 3, the color contrast ratio and color saturation increase by 40% and 15% respectively, providing an enhanced display for color eBook and eTextbook content.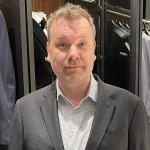 Michael Kozlowski has written about audiobooks and e-readers for the past twelve years. Newspapers and websites such as the CBC, CNET, Engadget, Huffington Post and the New York Times have picked up his articles. He Lives in Vancouver, British Columbia, Canada.