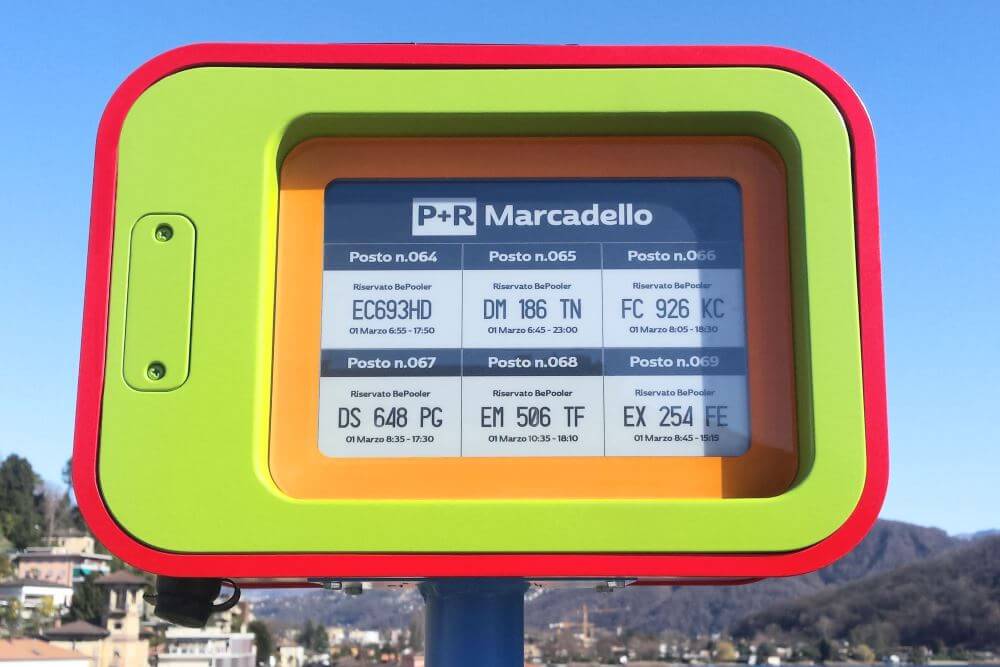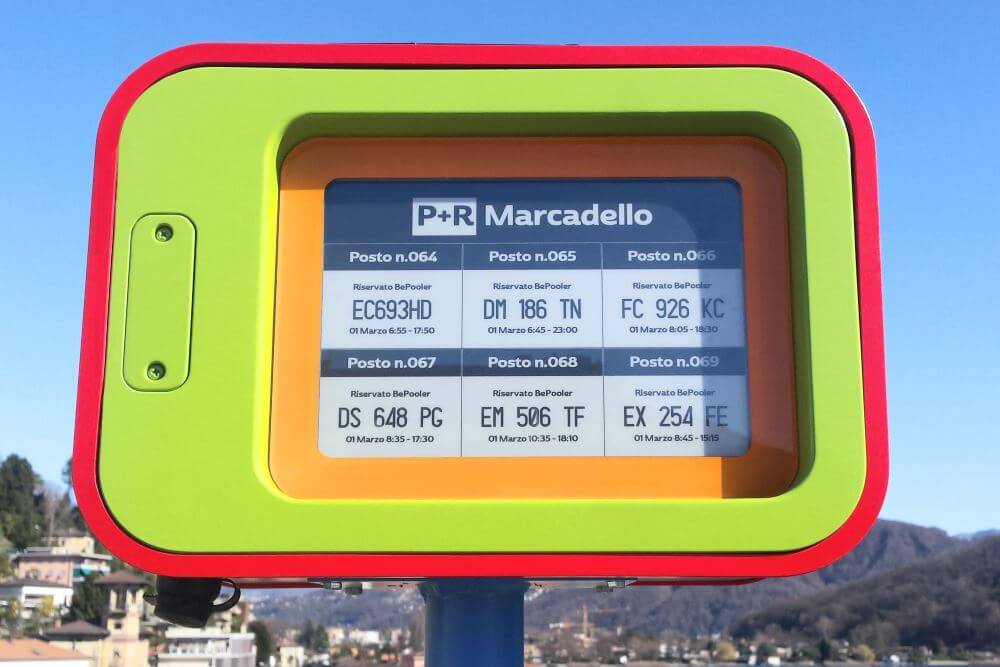 Anyone who has ever been stuck in traffic first thing in the morning can tell you that mobility from home to work is a huge problem.
What might not be as clear is the fact that it is an enterprise that comes at a huge cost to the environment. Motor vehicles can collectively cause as much as 75% of a country's carbon monoxide pollution, with a mid-sized car emitting 1.3 tons of CO2 per year just by driving you to your job. Practical public transport options are not always readily available around the corner.
BePooler knows these facts all too well. An innovative Swiss-based carpooling service, the company has partnered with Visionect in promoting sustainable mobility through ride sharing. The company is providing free parking spots to commuters carpooling to work, an important advantage in areas where parking is scarce. For the first time anywhere, these pre-booked parking spaces are clearly marked through the use of real-time, solar powered epaper signs running on Visionect technology.
Streamlining travel
Commute share cuts travel expenses and reduces carbon emissions, decreases traffic congestion and limits the need for parking spaces. In 2009 as much as 10% of Americans reported carpooling to work. The numbers are on the rise in Europe as well, with a quarter of Europeans believing that travel within cities could be significantly improved by creating incentives for car sharing.
Promoting intelligent mobility, BePooler's online platform and free app connect neighbours and colleagues in daily ride sharing. Catering to both municipalities and private enterprises active in Corporate Social Responsibility initiatives, the service can help individuals streamline their travels and assist companies in observing employee mobility needs, providing different inducements for smart and sustainable transit to work.
Currently in use by 15 European companies, the BePooler carpooling service generates over 300 shared trips per week and offers preferential parking spaces booked for those who join the service, an important advantage in areas where parking is scarce or costly.
For the first time ever, these parking spots are clearly marked in real-time, displaying the licence plates of the vehicles participating in the scheme on off-the-grid electronic paper displays.
Parking spots reserved on electronic paper
At the moment, BePooler's P&R parking allows commuters to carpool to Switzerland's Ponte Tresa station and have a reserved parking space waiting for them when they continue their journey by train. A selection of reserved parking spots is available also to visitors of the Gambarogno sports center.
"By facilitating ride sharing we are creating carpoolers and partial transit riders of people who used to drive alone the whole way into work. Our goal is simple: to promote smart mobility," explains Andrea Moglia, general manager of BePooler. "It would have been an impossible feat without the right technology partner. Visionect proved a perfect fit, opening the door for even the most demanding use case."
The Park Smart Signs are powered by Visionect electronic paper technology, tried and tested in numerous demanding outdoor applications, from eink traffic signs in Australia to bus stops in London.
Developed to be independent from the electrical grid, the signs use as little power as possible and support impeccable sunlight readability, connecting via 3G to receive content updates. Users can securely book the parking spot through the BePooler App wherever they are, with the licence plate of the car allowed to park showing up on the parking sign mere seconds later. The result, says BePooler, can be savings of as much as €120 ($130) per employee in a month in fuel and other travel expenses, with the ability to monitor usage in real time through comprehensive reports on trips made, costs shared and CO2 emissions reduced.
Implemented in collaboration with the communities or Lavena-Ponte Tresa, Italy and Ponte Tresa, Switzerland, the project is now making its way to France.

Ursa Primozic is the Communication Manager at Visionect,
developers of an ultra-low power electronic paper display platform
which enables the use of digital displays in environments before not possible.
She is directly responsible for creating the content for Visionect, which
includes case studies, news releases and anything related to the public persona of the company.