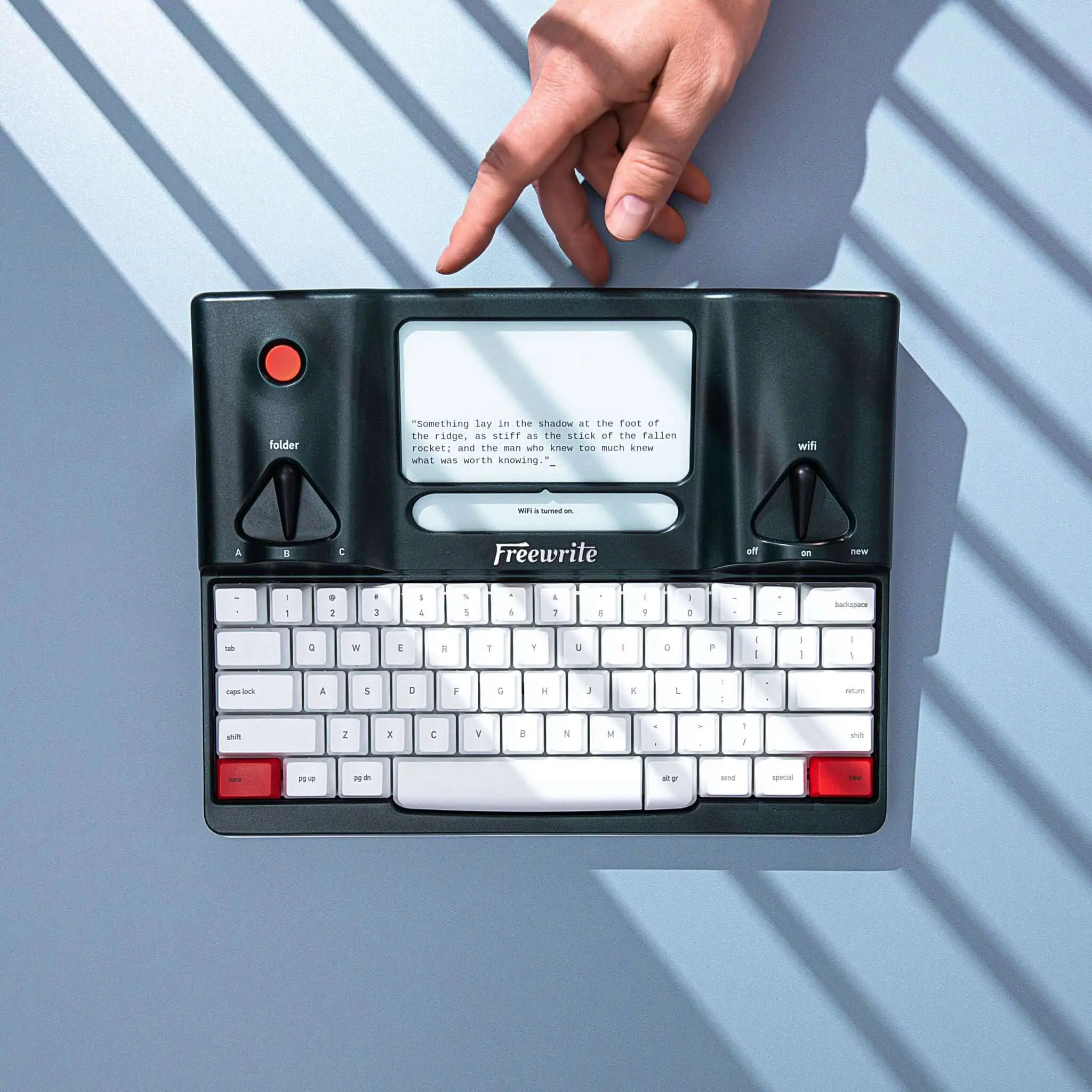 Image credit: getfreewrite
If you enjoy writing, you may find yourself in situations when you want to write on the go, in a coffee shop, or other places away from your desk. Of course, you can't carry your entire workstation with you. So, you may have to carry your laptop or tablet with or without a wireless keyboard. Sounds pesky, no?
Freewrite's dedicated drafting tools are the answer to this problem. Unlike a laptop with easy web access, notifications, and other avenues for distractions, Freewrite devices encourage focused writing.
Two of the key highlights of these devices are a mechanical keyboard and a little E Ink display, which lets you type conveniently anywhere you go.
The E Ink Screen
The Freewrite is a digital typewriter that looks like an electric typewriter. It features an E Ink screen that has two parts:
4.8-by-2.7-inch rectangle space for writing
4.5-by-0.7-inch readout bar below
The readout bar shows status information like the date, your email ID, current working folder, etc.
According to Astrohaus – the company behind Freewrite, these devices can last for weeks on a single charge. This is because the E Ink screen of these devices consumes very little power. But it can consume more power when Wi-Fi is turned on, and you want to sync or send your drafts.
The Mechanical Keyboard
The E Ink display makes the upper half of the Freewrite. The lower half is a mechanical QWERTY keyboard with a full set of letters, numbers, and special characters. But it doesn't feature a number pad, special buttons, or arrow key for cursor control. That's why it's called "a digital typewriter."
Astrohaus brings you multiple Freewrite devices to choose from as per your preferences. For instance, Freewrite Traveler is best suitable for travelers who love to write or vice-versa. The Signature Edition is a stylish product from Freewrite, and it features a hand-polished aluminum chassis and green keycaps.
Navkiran Dhaliwal is a seasoned content writer with 10+ years of experience. When she's not writing, she can be found cooking up a storm or spending time with her dog, Rain.