In a stride towards redefining vehicular access, automotive titan Ford has recently unveiled a groundbreaking patent application. As NFC World reported, the patent introduces a revolutionary concept—a contactless vehicle access card equipped with an integrated E Ink display. This card employs cutting-edge RFID or NFC technology, not just for unlocking and starting the vehicle but also for providing real-time updates on its status, location, and other pertinent features.
Ford envisions this innovation as an answer to the limitations found in conventional card-based solutions. The proposed "improved vehicle access card" boasts a lower-power, flexible E Ink display. This feature aims to deliver unique functionalities in a more compact and cost-effective package, distinguishing itself from the bulkier and pricier key fobs adorned with LCD or OLED screens.
The patent meticulously outlines the diverse range of information that the card's E Ink display can showcase. This includes vital details like the vehicle's year, make, and model, user-access permissions, maintenance requirements, card expiration dates, real-time vehicle status (covering fuel level, battery charge, and diagnostic information), parking location, and even instructions for tap-based gesture commands directly accessible on the card.
Among the patent's disclosed embodiments is the ability to link multiple vehicles to a single access card, opening up possibilities for seamless and user-friendly management. Moreover, the card is designed to be compatible with rental vehicles, facilitating the provision of relevant data for a hassle-free experience.
One of the standout features of E Ink displays is their versatility. The patent highlights that these displays come in various sizes, effectively covering significant portions of the card. Their thin and flexible nature ensures minimal bulk when incorporated into the card, allowing it to seamlessly fit into wallets, pockets, bags, and more.
Additionally, the efficiency of E Ink becomes apparent in its minimal power consumption, especially when displaying static information or images that do not require frequent updates. This makes it an ideal choice for a card with limited or no internal battery capacity.
Ford's visionary approach to enhancing the user experience through technology showcases the brand's commitment to innovation in the automotive sector. As the automotive landscape evolves, this patent signals a potential revolution in how we interact with and manage our vehicles.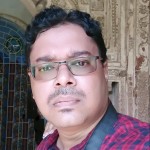 With a keen interest in tech, I make it a point to keep myself updated on the latest developments in technology and gadgets. That includes smartphones or tablet devices but stretches to even AI and self-driven automobiles, the latter being my latest fad.