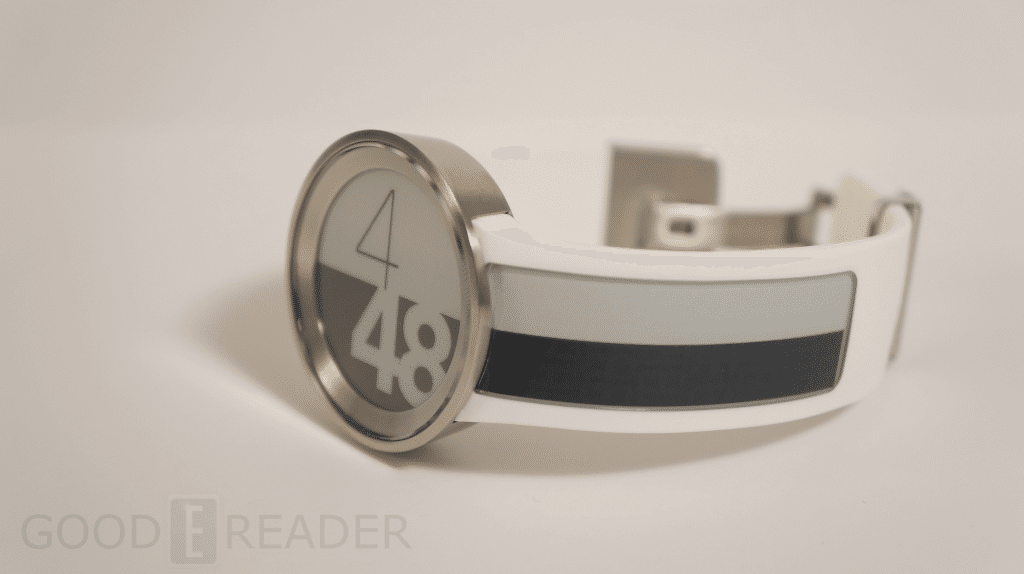 The Sony FES Watch U is a tour de force and offers tremendous customization and flexibility for someone who wants to stand out in a crowd. The watch is made out of E-Ink and has a number of pre-configured designs that allow you to change the watch face and the band. An Android and iOS app allows you to use the phone's camera to develop and edit your own designs.
Hardware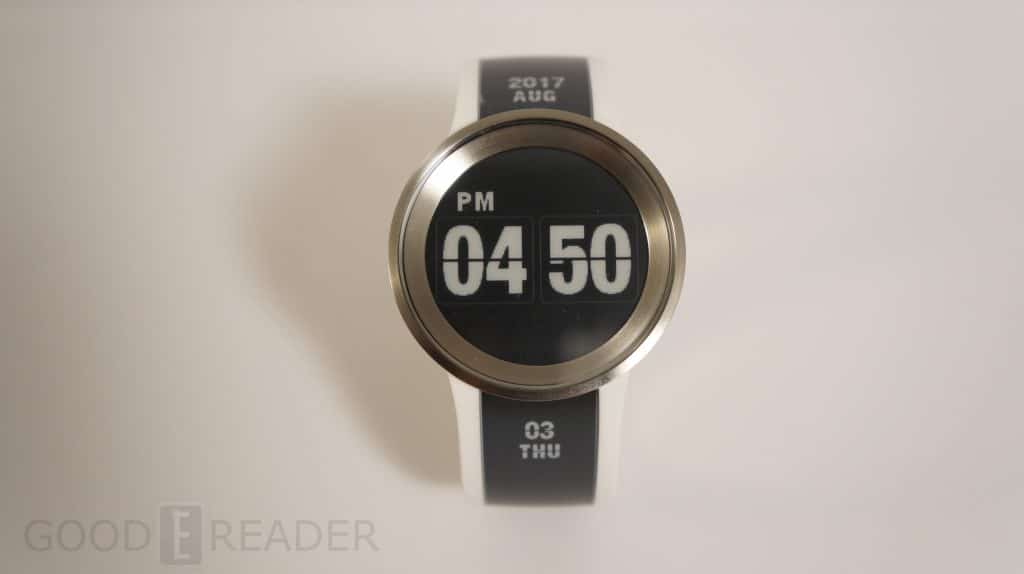 The Sony Fes Watch U has an E Ink Watch face that is made of E-Ink. The white and silver models employ Mineral glass and the premium black version utilizes Sapphire glass, which is practically unscratchable. There is a single button on the side of the face that you can tap once to display the date and time and tap twice to initiate the switching of themes. If you press and hold down the button, you can initiate Bluetooth pairing mode to connect to an iPhone or Android smartphone. Once you are connected, a little Bluetooth icon appears on the watchband and the current battery level.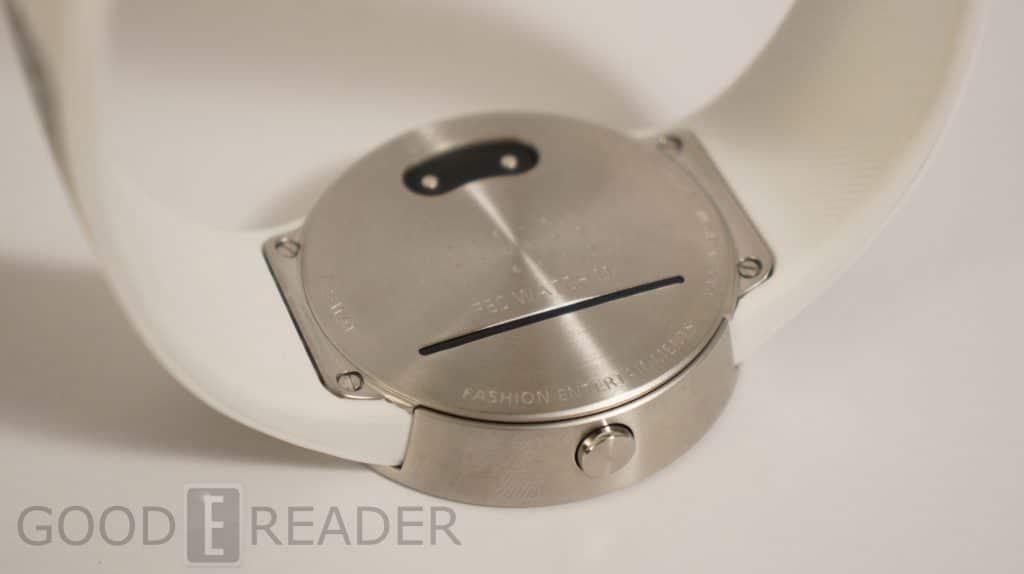 The back casing material is 100% stainless steel. The watchband has e-paper on the front facing side and the backside employs Polyurethane elastomer. This is a one size fits all model and has 12 little divots to suit any wrist size. Once you find the sweet spot you can press down to lock it into place and then press down on the metal bracket once it is on your wrist.
The Fez Watch U is waterproof, which means it carries an official certification rating of IPX 5 / IPX 7. You will be able to wear it in the shower or take it to the beach and not worry about ruining it.
There is internal memory that can store 24 different designs, although Sony has not disclosed how much physical storage that is available, my best guess is that it has 100MB. In order to upload more designs to the phone there is a Bluetooth mode. You have to hold down on the dial button for a few seconds and ensure that the Fes Watch U app is installed your iPhone or Android device. Once you transfer over new image files the Bluetooth mode will automatically shut off to conserve on battery life.
Sony has not disclosed what type of internal battery that the Watch U is employing, but they did say that it lasts for two weeks. In order to charge the watch, you have to use the little docking station that comes inside the box. The watch magnetically clamps down on the docking station and you need to connect the USB cable to a wall outlet or your compute to charge it. If the battery is completely dead it will take two hours to fully recharge.
The case size is 43mm, case thickness is 12mm, bandwidth is 23.5mm and it weighs 75G.
FES Watch U App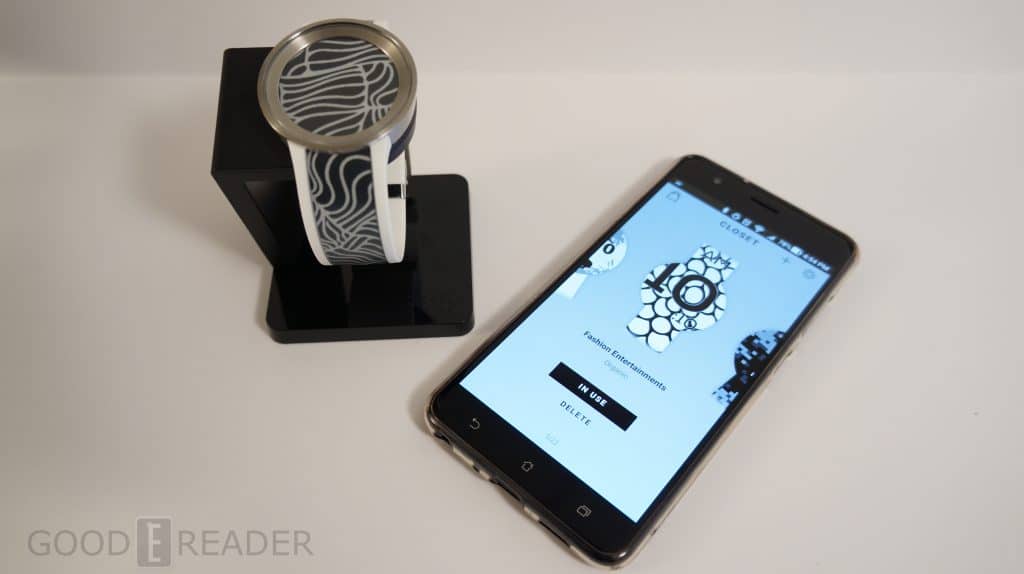 The second generation Fes Watch needs a dedicated app to upload new watch face and band designs. It is available in most international versions of the Apple App Store and Google Play. It is called FES Closet. You can browse around one hundred designs that have been made by users and vetted by Sony. Most of them are sub-par, but you should be able to at least find one or two that are appealing.
The app provides you with the ability to create your own designs using your phone's camera and a built in photo editor. You can drag and rotate images to create unique designs, using multiple images. Once your design is complete the next step is to determine how you want the time and date to look. You can put the date and time right on the watch band if you want and leave the face alone, this is useful if it is a picture of your baby or of yourself or a group photo. There does not seem like there is an easy way to upload your design to the cloud, for others to download.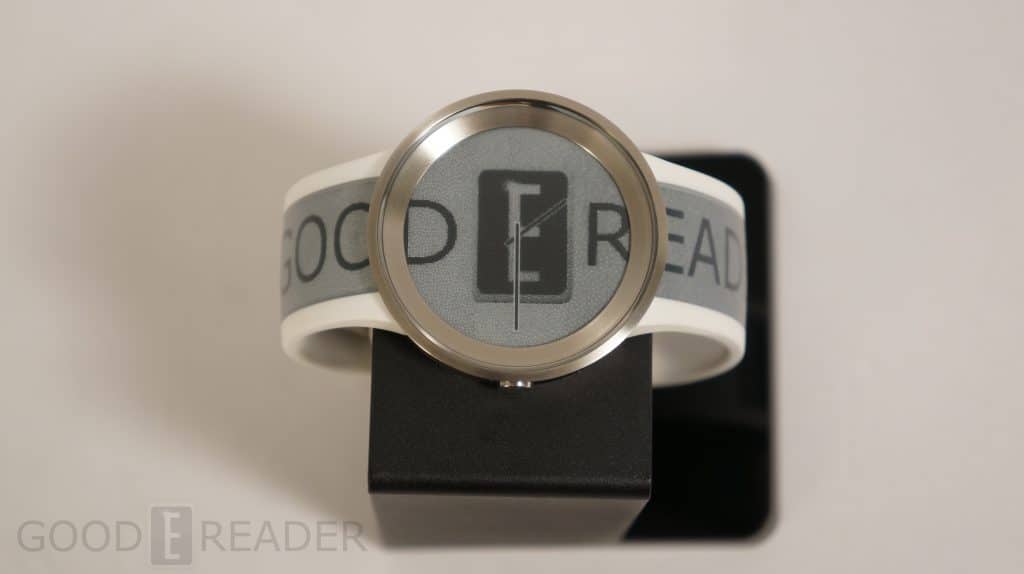 Any designs that are currently on your watch, new designs or designs you created yourself are stored in "the closet." This a dedicated area that shows you all of the themes and allow you to delete them from the watch, keeping it clean. When you upload a new design via Bluetooth, a small-timer window appears, providing you with an exact transfer period. I noticed that most designs take around 15-30 seconds; ones that are more complex take a minute.
Overall, the app is simplistic and does not offer many advanced features. I really like the ability to make your own themes using multiple images. There is no other E-Ink smartwatch on the market with this level of sophistication and customization.
Wrap Up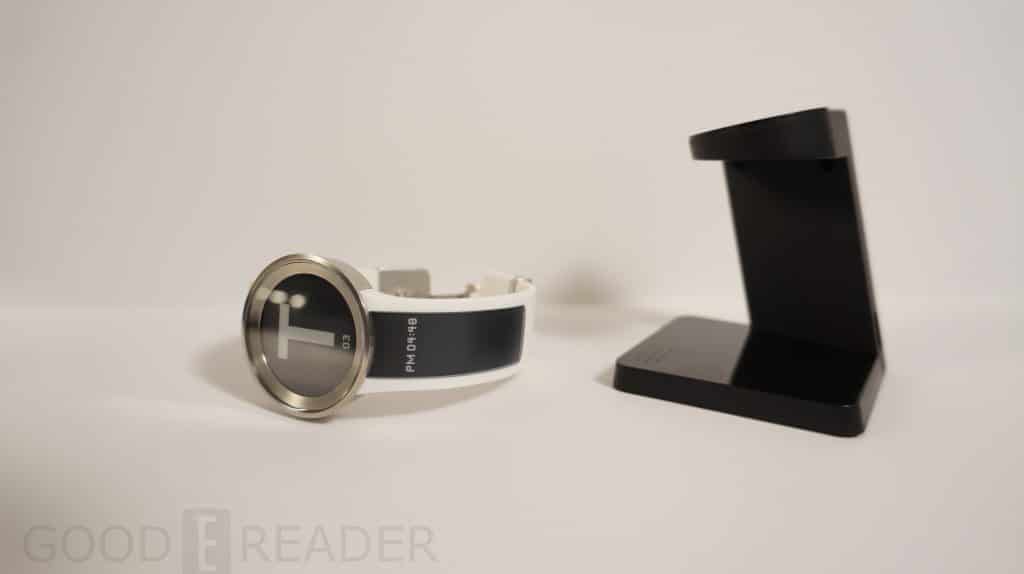 One of the downsides of the Apple Watch, Android Wear and the Pebble is that they literally need to be charged every single day. E-Ink only draws power when the images change, so once you have a design you like, only the date/time refreshes. You only need to charge the FES Watch U once every two or three weeks, about the same type of battery life as the Kindle or Kobo under normal use.
This watch can actually last a few months if you turn off the time on the watch, so there is nothing on the screen that refreshes. E Ink only draws power when there is a state change on the screen. There is a setting that allows you to turn the time off, and when you hit the button on the side of the watch, the time will be displayed for around a minute and then shut off again. I got around 4 months so far on a single charge.
The first generation FES Watch has a minimalist design, the e-paper watch face was just made of e-paper and did not have Bluetooth or the ability to download new designs. It used button cells that had to be replaced every couple of years. The second gen has a bezel and the watch face is made of glass, it has Bluetooth and a companion app. It also has a rechargeable battery.
In doing research for this review, I ran into a fair number of watch snobs from Japan that tried the product and did not like it. Some cited that the build quality was not up to par or that it felt flimsy. The Watch U is certainly not a super high-grade watch, but it will appeal to people who love E-Ink or want to make their own designs.
I have had many epaper watches over the years. I had two of the early generation Pebbles and had the Seiko Spirit E-Ink watch. The Seiko was amazing; the build quality was superb and used solar power to charge it up, many hard-core watch fiends loved this model.
The one thing I love about the Sony FES U is that it is so different from everything else on the market. You can customize the watch face and band with your own designs, but you can also download others completely free. I would totally throw this watch into my regular rotation if I did not have to send it back to an E-Ink Developer who sent me this loaner.
The "premium black" model costs 60,000 yen ($544), while the regular steel finish sells for 46,000 yen ($417) with a black or white strap. Both variants are considerably more expensive than the 29,700-yen original.
Rating: 9/10
Fes Watch U
Pros
One size fits all
Sapphire Glass
Create your own designs
The watch face and band utilize E-Ink
Minimalist design – not overly complicated
Cons
Relies on FES Closet App
Retails for $850
Only available in Japan
Battery Life is only ideal if customized
The white band can get dirty, quickly
Michael Kozlowski has been writing about audiobooks and e-readers for the past twelve years. His articles have been picked up by major and local news sources and websites such as the CBC, CNET, Engadget, Huffington Post and the New York Times. He Lives in Vancouver, British Columbia, Canada.