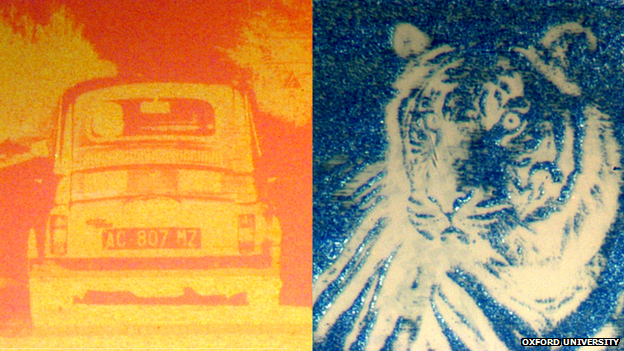 e-Readers and tablets have almost hit the glass ceiling in how they handle resolution. Pixel Density when reading makes a huge difference in the clarity and readability of fonts. New technology developed by researchers at Oxford might provide the future of e-reader tech with miniscule pixels half the width of a human hair.
The essence of the technology is miniscule layer of a phase-change material, that flips between two chemical states when hit with current.By sandwiching it between transparent electrodes, researches made pixels just 300 nanometres across. Within 5 years the screen technology should be ready for commercial prime time. Ushering in a new era of flexible, thin, high-resolution displays.
We didn't set out to invent a new kind of display,' said Professor Harish Bhaskaran of Oxford University's Department of Materials, who led the research. 'We were exploring the relationship between the electrical and optical properties of phase change materials and then had the idea of creating this GST 'sandwich' made up of layers just a few nanometres thick. We found that not only were we able to create images in the stack but, to our surprise, thinner layers of GST actually gave us better contrast. We also discovered that altering the size of the bottom electrode layer enabled us to change the colour of the image.'
The research suggests that flexible paper-thin displays based on the technology could have the capacity to switch between a power-saving 'colour e-reader mode', and a backlit display capable of showing video. Such displays could be created using cheap materials and, because they would be solid-state, promise to be reliable and easy to manufacture. The tiny 'nano-pixels' make it ideal for applications, such as smart glasses, where an image would be projected at a larger size as, even enlarged, they would offer very high-resolution.
One of the obvious benefits of this new screen technology would be in clearer, higher resolution fonts. Current E-Ink pixels are roughly 100 microns in size (for a 250 dpi display). 1 micron pixels would increase the size of the display buffer by 10000 times. Obviously new rendering engines would need to be developed to keep the refresh rate tremendously robust.

Michael Kozlowski is the Editor in Chief of Good e-Reader. He has been writing about audiobooks and e-readers for the past ten years. His articles have been picked up by major and local news sources and websites such as the CBC, CNET, Engadget, Huffington Post and the New York Times.