Everyone these days is focusing on electronic displays that go far beyond the e-reader industry. AI, blockchains, machine learning and the automotive industry are driving factors behind most of the new technologies that are cutting edge. SD Display Week is right around the corner and here are the top 5 trends that will be evident at the show.
Electronic School books – Educators, parents and governments want children to have access to knowledge from anywhere, at any time. While traditional books are great for learning math, they don't give the ability to view or learn from, say, a groundbreaking TED talk. China is taking a leading role in satisfying this thirst for education by enabling widespread use of eSchoolbooks –  more than 100 companies are pursuing this vision in the region. An eSchoolbook is essential to keep up with reading and learning, by maintaining access to the latest and best information.  Medical professionals have expressed concern about young children using devices with emissive displays, as it may harm their eyesight. Several device manufacturers already offer filters for blue light, and in Canada, some insurers are already offering free prescription glasses that filter blue light. Reflective ePaper is a potential choice for eSchoolbooks. The new ePaper 2.0 from Clearink has all the advantages of traditional ePaper, including low cost and power consumption, as well as outdoor usability – with the addition of video and color, which are must-haves for eSchoolbook applications.
Writing Surfaces – The world of eWriting surfaces has continued to evolve, with new products integrating established technologies in unique ways. For example, reMarkable's Paper Tablet touts a lag-free reading, writing and sketching experience for those who love paper, using an ePaper display unencumbered by an OS or apps. Ditto with the Sony Digital Paper DPT-RP1. Another example is QuirkLogic's Quilla, a digital alternative to flip charts and whiteboards. While fully equipped with displays, cameras, conference phones, etc., most modern conference rooms still use traditional white boards. Quilla facilitates team collaboration and interaction, regardless of members' location. Others jumping on board the move to digitize the whiteboard experience include Google, Cisco and Microsoft – all using LCD technology.
Electronic Signage – Indoor signs have traditionally been made of paper, plastic or metal, but LCD has been rapidly replacing them. An exciting trend in this market is flat-panel MicroLED technology. First developed in 2000, MicroLEDs offer bright, beautiful images while omitting the pixelation that occurs with standard LED displays. Samsung provided a glimpse of a MicroLED future at CES 2018 with "The Wall," its striking 146-inch display that enabled the display to virtually disappear against its background. Although not yet in mass production, MicroLED has the potential to compete with LCD and OLED for both indoor and outdoor signage, such as signs inside shopping malls and retail outlets, and other areas not previously targeted by LED technology. For low-power indoor signage, ePaper and especially color epaper also offers many advantages, delivering images that are clear and readable, but not so bright as to be distracting.
Wearables – No longer a fad, wearable technology is here to stay. Sensors play an important role in the wearable space, and are beginning to be designed into gloves, exercise wear, outerwear, and other garments by innovators like BeBop Sensors that offer fabric-based sensor technology. Of the wearable devices such as fitness bands and smartwatches currently available, most do one or two key things users want – typically, counting steps or monitoring heart rate -but they're increasingly incorporating more complex functionality. With a device that touches the skin, these can include tracking skin temperature, monitoring hydration by measuring skin salt levels, providing blood oxygen level via pulse-oximetry, etc. Because many readings still need to be confirmed by looking at one's smartphone, the argument to move all functionality to a smartwatch is becoming increasingly compelling, requiring a robust, flexible display that adapts well to a variety of temperatures and environments. China seems to have taken over the lead in this emerging market, with Xiaomi taking the leadership position in this space. Sunlight readability, low power and video capability are all desired in these applications, creating opportunities for existing and emerging display technologies.
Augmented Reality/Virtual Reality – The market for these technologies is growing quickly as new applications emerge. For VR to be fully immersive, the visual presentation must be exceptional, allowing users to truly "believe their eyes." To this end, high-resolution displays (the more pixels, the better) are being created to address users' needs. Haptic actuators and sensors are also being integrated into VR gloves to enhance the realism of the experience – broadening the technology's application beyond gaming. Some wide-ranging examples include car sales (test driving in different environments); real estate purchases (virtual property tours); travel opportunities for those with physical or other limitations; and virtual amusement park rides. In AR, Vuzix is one company already shipping product into different applications. Its AR smart glasses allow the user to see what's in front of him or her while providing a notification about a potential problem. This is helping transform the work environment for those in manufacturing, mining, construction, mechanical maintenance, and firefighting, to name a few.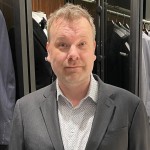 Michael Kozlowski has written about audiobooks and e-readers for the past twelve years. Newspapers and websites such as the CBC, CNET, Engadget, Huffington Post and the New York Times have picked up his articles. He Lives in Vancouver, British Columbia, Canada.