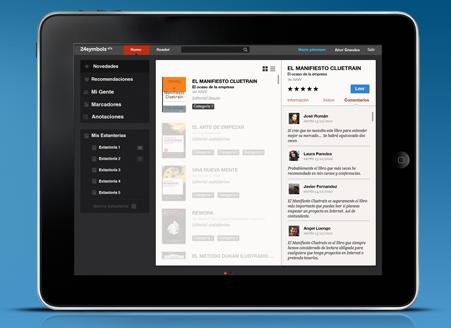 At BookExpo and the IDPF Digital Book Conference in May, we reported that 24symbols, a Spanish digital book subscription site, would be changing the way some people read ebooks. Using a Netflix-like subscription platform in which no books were actually downloaded to a computer or device, 24symbols would instead rely on Cloud-based content storage that allowed subscribers to access ebooks on any web browser-enabled device. Our video interview with Justo Hidalgo was posted here.
24symbols launched their service on June 30th, with levels of membership ranging from the basic, free-with-advertising model, up to a paid subscription that removed all ads from the display.
Now, however, 24symbols has seen the potential in their service and is developing an iPad app to be released within a week, as well as an iPhone and Android smartphone app down the road. By yesterday's launch, the site had prepared some 1000+ titles in the catalog, admittedly mostly from smaller presses, but it's a great starting point considering that the basic membership level is free. Another aspect to their membership that has been added is the ability to utilize off-line reading, though this is a premium feature only available to the paying subscribers.
According to an article by Laura Hazard Owen published on paidContent.org, "Publishers receive 70 percent of a book's revenue, and 24symbols keeps 30 percent. Revenue is based on the number of page views—i.e., the number of times an actual page of a book is read compared to the overall number of pages read across all titles. Publishers can include their books in both the free ad-supported area of the site and in the paid area or can limit them to either one of those…24symbols leaves publishers responsible for paying their authors royalties based on income from the site, and recommends that that royalty be 30 percent."
24symbol's website contains a PDF document outlining their subscription model.