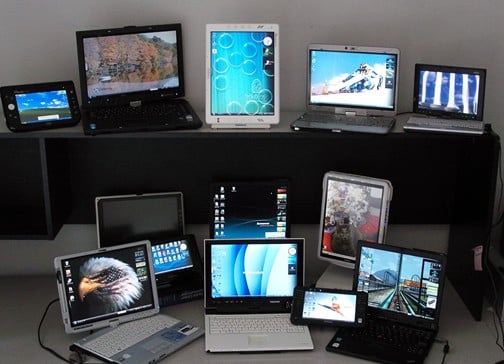 Tablet computers are by no means a new concept. They have been there before. That it failed to click or carve out a niche for itself is a different story altogether. But it seems Tablets are back in news once more. And this time, it's riding on the Apple wave. For the iPad that Apple has brought to the fore this Saturday has caught the fancy of everyone out there.
So let's have a closer look at this upcoming platform and see what it can do for you.
A handheld device – It would be inappropriate to call them mini laptops. They are branded as "slates" by computer manufacturers and mainly contain touch screen with size ranging from 5 to 10 inches. Their touch interfaces enable you to watch movies, browse the web, flip through e-books or play games. Most of the releases would be during the second half of this year from HP and Dell stable, but the most important launch is that of the now already famous iPad from Apple that has already started its sales journey from the 3rd of April after being first formally announced in January.

Fulfilling the need. Apple CEO Steve Jobs, during the launch of tablet PC, sat relaxed on an armchair and browsed the web and viewed a film on the iPad. In his view, the primary intent of slates is to bridge the gap between Mac Book laptop and the iPhone. Basically tablet PCs allow mobile reach to Internet content like games, newspapers, and movies. Phil McKinney, HP CTO also quoted that there is an innovative category of PC devices for buyers now which can be attributed to the aggressive growth of touch screens and mobile Internet.
What a fun. If you are missing on having a keyboard and lots of functionality typical of a laptop, why worry. You still have a better choice of reading books and entertainment through Tablet. As customers using Tablets need to be engaged with better options, the challenges of improving the tablet PCs are enormous and most companies are innovating to stay ahead as quoted by Vira Chen, working for a Taiwan-based PC maker.

For the moving professionals. Despite being regarded for entertainment, you can still use it for business purpose like making presentations while you are traveling, say on a plane. It is also handy especially when you pass through security check in comparison to a heavy laptop with its accessories. David Milman, CEO of Rescuecom is quite confident about its business utility in future. The tablet PC is fragile if you handle it rough and hence it needs to improve in its built.
Niche utility. Quoting positively about the Tablet PC, Steve Rausch, director of Information services at Gibson General Hospital in Princeton, Ind, mentioned that their physician staff would be very satisfied to work with iPad, which is similar to iPhones in weight, comfort and utility if it would be operated with their software. Currently the device operates applications from Apple's App store only and experts have the opinion that it is best targeted for specialized task like staff recording field data.
The inaugural issue of our Good E-Reader Magazine is out. Featuring all that you would like to know of Tablets, Slates, E-Readers or the most recent e-reader news, you sure will like every bit of it.
Also be there at our Good E-Reader Blog for more e-reader news.
Sovan Mandal is the senior tablet and tech corespondent for goodereader.com. He brings a international approach to news that is not just applicable to the North American market, but also Asia, India, Europe and others. Sovy brings his own writing flavor to the website and is interested in Science Fiction, Technology and Writing. Any questions, send an email