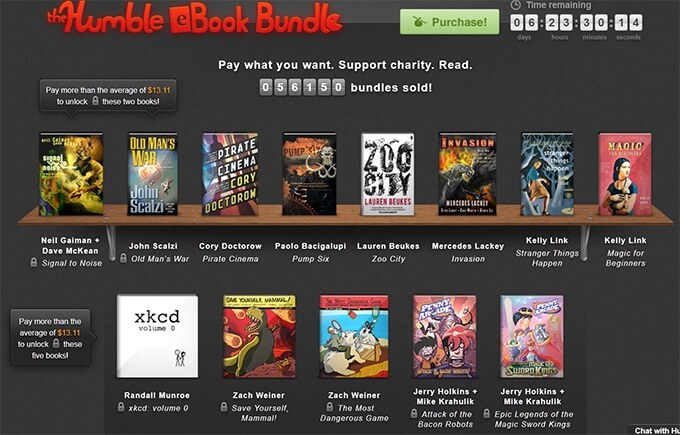 The first ever Humble Bundle for eBooks launched back on October 9th and received critical acclaim in the industry. Within the first week, almost 50,000 purchases have been made with the average donation being around $12.00. To sweeten the pot, 5 new ebooks have been added to the Bundle, bringing the total amount to 13!
The first books that have been available since October 9th included Signal to Noise – Neil Gaiman and Dave McKean, Old Man's War – John Scalzi, Pirate Cinema – Cory Doctorow, Pump Six – Paolo Bacigalupi, Zoo City – Lauren Beukes, Invasion – Mercedes Lackey, Stranger Things Happen – Kelly Link, and Magic for Beginners – Kelly Link. The new titles that were added today are xkcd: volume 0 by Randall Monroe, Save Yourself, Mammal! and The Most Dangerous Game by Zach Weiner, and a pair of Penny Arcade graphic novels by creators Jerry Holkins and Mike Krahulik, Attack of the Bacon Robots and Epic Legends of the Magic Sword Kings.
With the new titles added today, it really looks like Humble Bundle is balancing things out by offering ebooks and graphic novels. This ensures that no matter what type of e-reader or tablet you have, you will be able to get a wide array of content.
If you are not familiar with the Humble Bundle, when you buy into it, the money you spend goes to the authors or charity. The current list of organizations are the Electronic Frontier Foundation and Child's Play. When the new ebooks were added today, the Science Fiction & Fantasy Writers of America group was added as the last charity.