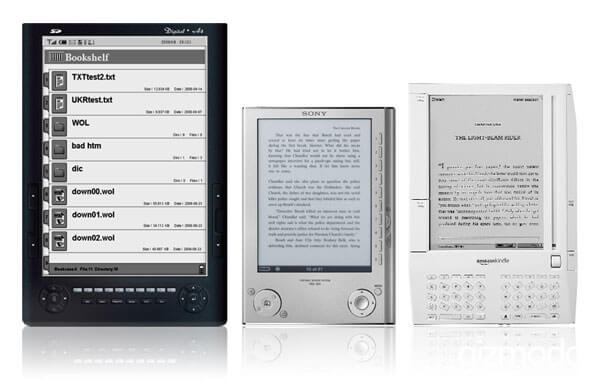 The snazzy new electronic book readers are the latest craze that has taken the reading world by storm. They are being lapped up by book lovers the world over and none wants to be left behind. However, before you put down your hard earned money for one of these smart devices, here are a few things that you should have a clear understanding of.
It is the Amazon Kindle that is the most well known of all e-book readers currently available. The Kindle range of e-book readers has been and continues to be the first choice among readers. Amazon is not one to sit on its laurels and the company is engaged in a constant endeavor to come up with products that incorporate the latest in technology and conforms to the highest quality standards. They are available in a wide price bracket that range from $250 to $489 and come in two screen sizes.
Make sure the screen size that you would be comfortable with. You can have a Kindle e-book reader with a 6-inch and a 9.7-inch screen. While a screen size of 9.7 inch may seem to be more tempting, do have a clear idea as to how you wish to carry around the device. For instance, if you want to be able to carry your e-book reader in your purse then the reader with a 6 inch screen may make for a better buy.
When you are comparing e-book readers of different make or model, find out where you intend to purchase your e-books from. Make sure that you are able to download books from a large collection that offers enough variety. Another important consideration to make is the cost you will have to incur each time you download a book. See to it that you don't end up buying an e-book reader that do not cost much upfront but can lead to significant expenses by way of downloading e-books later on. In fact, some manufacturers offer certain books for free!
Enquire about the battery life on the device that you are considering. Of course you won't like to have a device with which you have to be constantly worried of recharging instead of sitting and do some reading. Some readers remain operational for even a couple of weeks on just a single charge while for some, it is just a few days that they will last on one charge.
Make sure that you go through customer reviews before you settle down for a particular e-book reader. This way, you will have a clear understanding of who is thinking what about a product after they have bought it. These reviews let you have a clear insight of the device that you intend to buy.
Sovan Mandal is the senior tablet and tech corespondent for goodereader.com. He brings a international approach to news that is not just applicable to the North American market, but also Asia, India, Europe and others. Sovy brings his own writing flavor to the website and is interested in Science Fiction, Technology and Writing. Any questions, send an email