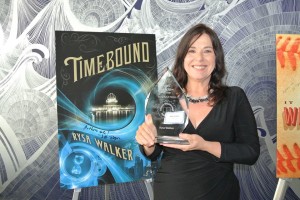 The Amazon Breakthrough Novel Awards got a bit of a facelift this year, with one winner being selected from each of the separate categories, a new feature for the awards. Following the selection of each winner, one grand prize winner was also selected. This year's grand prize winner, young adult category top author Rysa Walker, spoke to GoodEReader about her publishing journey and what this year's round of awards meant to her and potentially to authors everywhere.
"This has been an incredible year. I entered hoping I would get to the point where I just got the Publisher's Weekly review. I didn't think about much beyond that," explained Walker of the entry process. "The contest came by at a wonderful time."
Walker's young adult book, Timebound, was originally self-published last year and will now go on to be overseen by a team of people who will work to re-release the book this fall, along with the books written by Walker's fellow category winners.
"I self-published because the traditional publishing industry wasn't working for me. I tried for a year to get attention from an agent and in almost every case I didn't even get an email back from them saying why they weren't interested or even that they'd gotten my email with the attached file." Walker attributes this lack of attention from the fact that the agents would often reply wanting more information about her background, and discover that she had published non-fiction in her field and feared that pigeon-holing her as an author might be behind the lack of notice.
"I feel like I'm putting my baby in the competent hands of a nurturing nanny, leaving me more time to continue to write," said Walker of the process by which her book will now be published by Amazon Publishing's Skyscape imprint, addressing one of the reasons other hybrid authors have given for accepting a traditional publishing deal that does result in relinquishing a significant portion of the royalties to the publisher. Walker's advance, won as result of the ABNA awards, will afford her the opportunity to focus more on the planned novella and subsequent sequel.
Walker spoke about the benefits of this year's updated format for the awards event this year, indicating that this was the first year that all of the winners were brought together at a ceremony in Seattle for the announcement of the grand prize winner. Each of the category winners was awarded a $15,000 advance and a publishing contract with the correct imprint from Amazon Publishing.
"I'm so glad that it was this year that I entered, because I could look out at the people that I had just had dinner with and know that everyone was leaving a winner. Any one of their books could do just as well as or better than mine, because their books are going to be out there and they're going to have a chance to actually succeed."

Mercy Pilkington is a Senior Editor for Good e-Reader. She is also the CEO and founder of a hybrid publishing and consulting company.