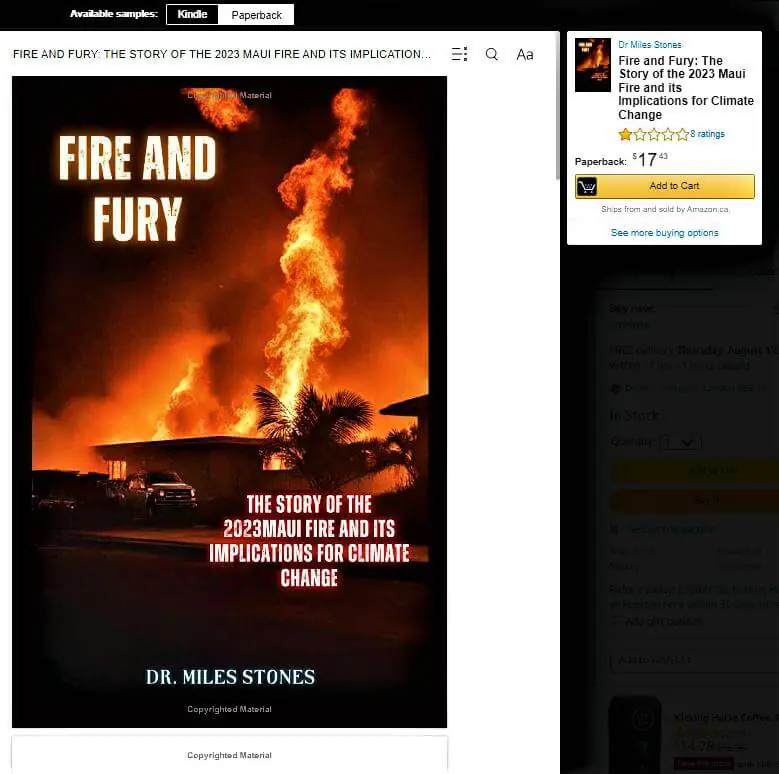 How could a book about the Maui, Hawaii fires be written, edited, published and up for sale on Amazon already?
About once a week I peruse Amazon for new books and releases. Imagine my shock when I came across a completed book on the August fires in Maui already up for sale? You know those fires… the ones still happening now? What on earth is going on?
This is Fire and Fury: The Story of the 2023 Maui Fire and its Implications for Climate Change. A book that claims to "chronicle the events of August 8-11." Except there's some huge Red Flags- the first being that it was published on Amazon on Aug. 10th.
Other Red Flags
Besides for a completely impossible publication date, the image on the left is a screen shot I took of the back of Fire and Fury. Notice how the numbers are blurred out? The shot on the right shows what these numbers represent and how they are supposed to appear in publication.
Fake Author really an AI?
This book and others on Amazon are written by a certain "Dr. Miles Stones". However, there doesn't seem to be an actual person associated with this name. I couldn't find Dr. Stones through any search engine, and the about-the-author section on the Amazon page simply reads, "I'd rather not say."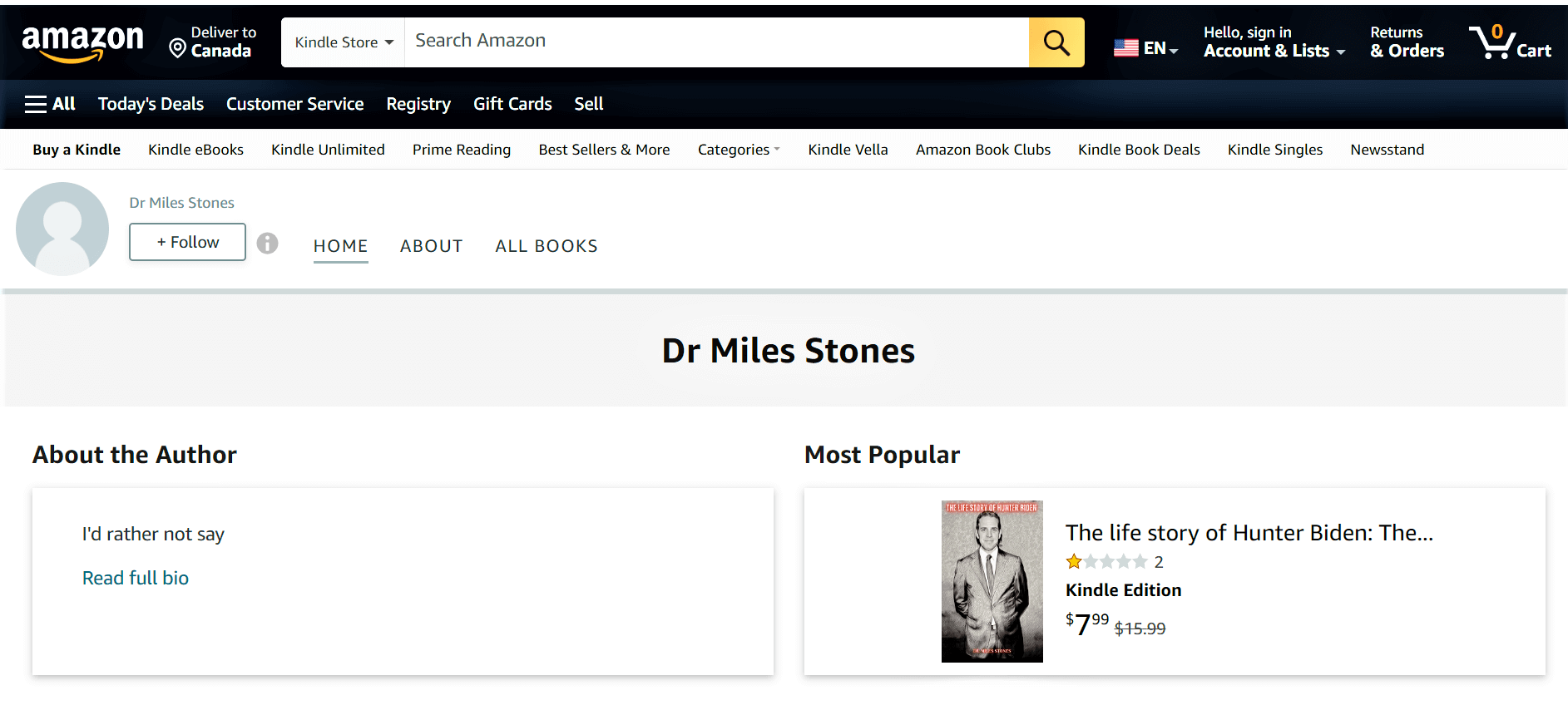 Whomever or whatever is using what appears to be a fake-name are presenting themselves as an expert on a variety of very timely, political, scientific and vital topics. By adding a "Dr." to the name it gives readers the false sense of an authority figure who has specific expertise which readers can trust.
In in an excerpt from the book, "Dr. Stones" says the fires claimed the lives of 6 people. According to today's news reports the fires have killed over 111 people so far and there are still over 1300 souls unaccounted for.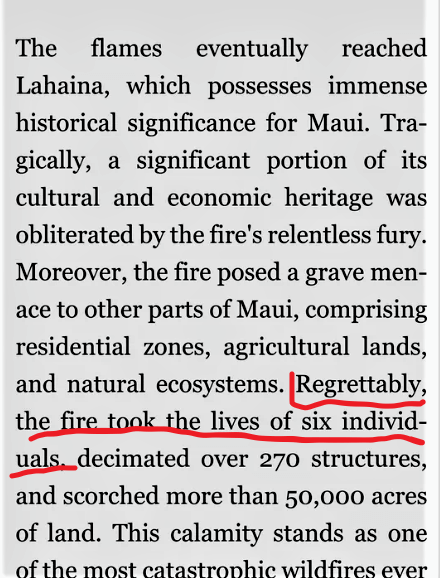 This is highly concerning as there are other books by this "author" on for sale on Amazon right now.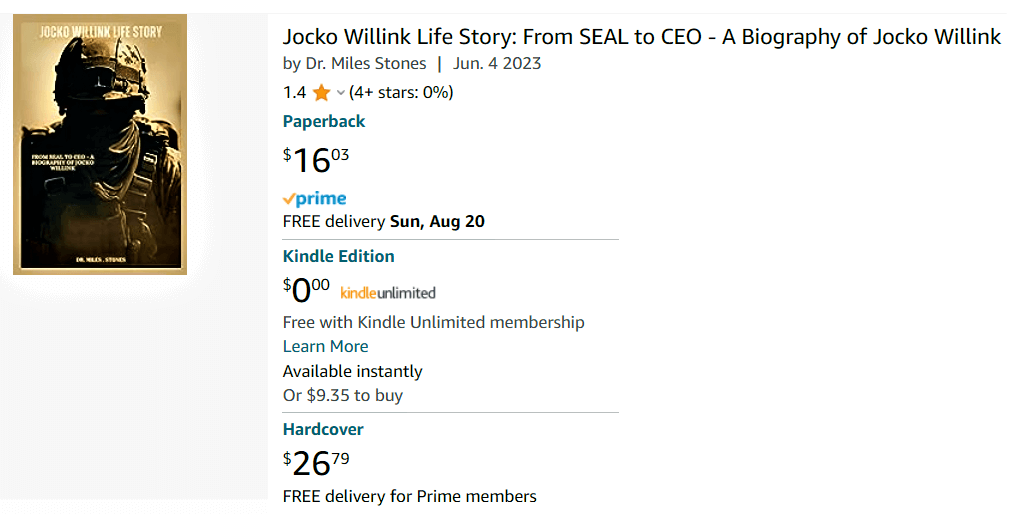 I took these screen shots last week when I noticed the book… now, on August 18th- you get this;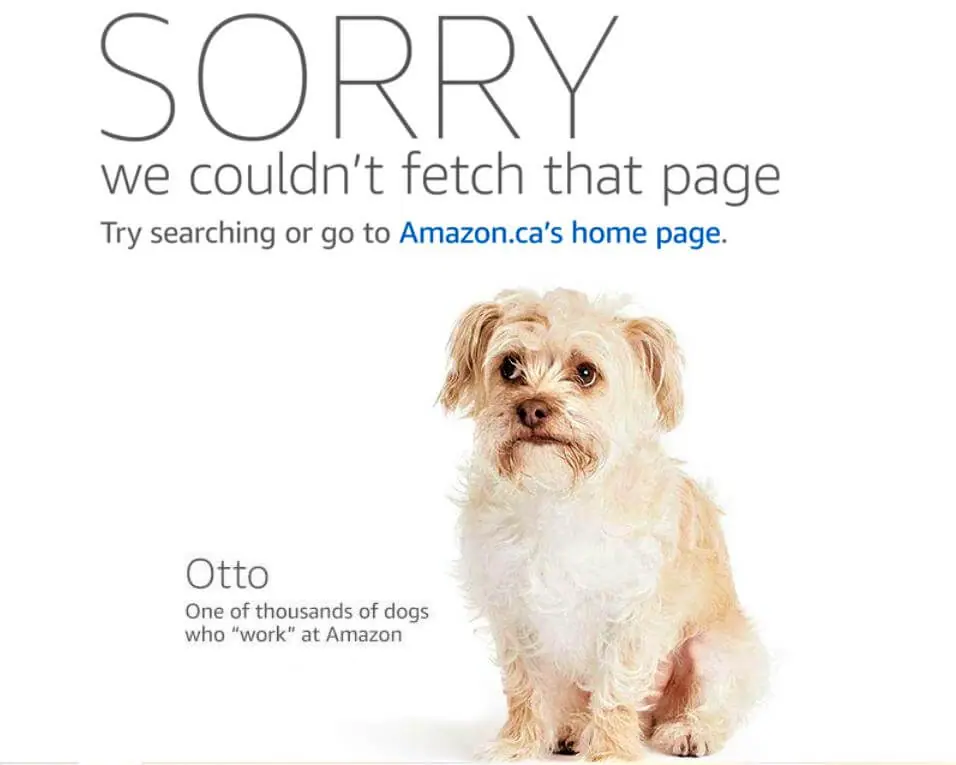 However, as of right now, you can still get access to the audiobook. Wait… no, that link also has problems it seems.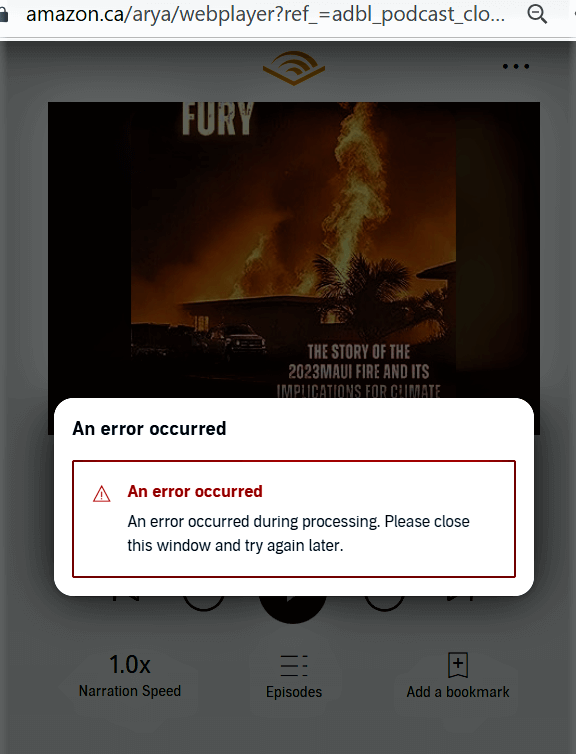 What does all of this mean?
If you are a real person Dr. Stones, I sincerely appologize for wondering and ask you to please step out of the shadows. My theory is that these books are being written by A.I. and passed off as a real author.
The larger issue here is the complete lack of checks and balances on Amazon's website. Amazon employs a hands-off approach when it comes to what goes on in its bookstore. As reported by the New York Times, there doesn't seem to be any checks for accuracy,  quality, or authenticity with what Amazon sells in its Bookstore. It doesn't seem that they have put any energy to overseeing the sellers who flock to their site.
That lack of accountability has resulted in a kind of open lawlessness on Amazon. Publishers, writers and groups such as the Authors Guild have all said that counterfeit books on Amazon have surged- and with very little checks in place, it's no wonder why.
Who's Legally Responsible?
In a New York Times article aptly called, What Happens After Amazon's Domination Is Complete? Its Bookstore Offers Clues they highlight a specific example where the lack of any oversight caused a major concern with real life and potentially disastrous outcomes.
The Sanford Guide to Antimicrobial Therapy is a medical handbook which recommends the specific dosage of drugs for treating a variety of ailments from bacterial pneumonia to infections. Scott Kelly, vice president of Antimicrobial Therapy, publishers of the manual, told The Times, "Lives depend on it. It is not the sort of book a doctor should puzzle over, wondering, 'Is that a '1' or a '7' in the recommended dosage?'"
But that's exactly what happened when a flood of counterfeit Sanford Guide to Antimicrobial Therapy textbooks were released onto the market through Amazon.
It seems that people are fed up and just earlier today we shared an article about various Interest Groups sending a letter to The Federal Trade Commission FTC to investigate Amazon. The letter Accuses Amazon of creating a bookselling monopoly which has dominated almost every aspect of the book market and that Amazon's practices are against, "The open access to the free flow of ideas (which are) essential to a well-functioning democracy."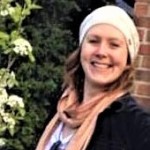 An avid book reader and proud library card holder, Angela is new to the world of e-Readers. She has a background in education, emergency response, fitness, loves to be in nature, travelling and exploring. With an honours science degree in anthropology, Angela also studied writing after graduation. She has contributed work to The London Free Press, The Gazette, The Londoner, Best Version Media, Lifeliner, and Citymedia.ca.