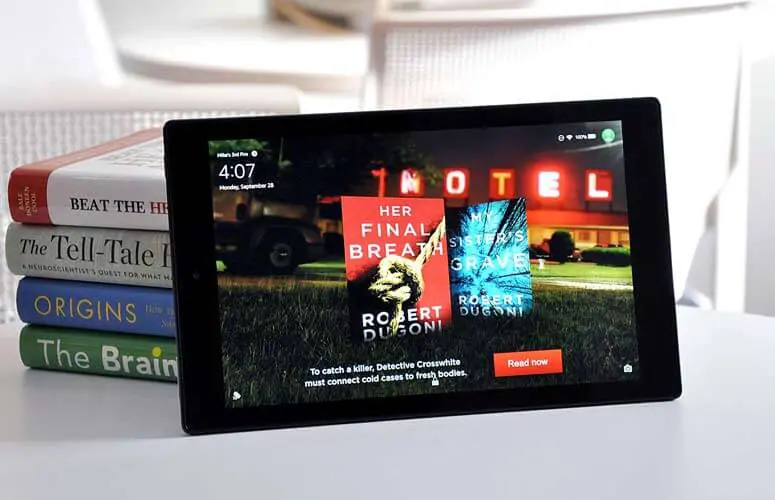 Amazon released their first 10.1 inch tablet a few months ago and people who owned prior models of the Fire tablet will notice some sweeping changes. The old carousal is gone, and the main UI looks a bit cleaner, making it easier to shop for apps, audiobooks, e-books and other digital content. The overall specs are fairly poor, but the price is right. Should you invest in this tablet?
Hardware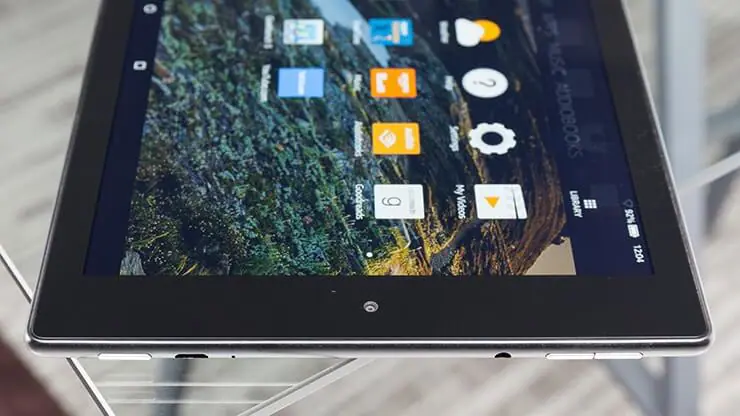 The Amazon Fire HD 10 has a resolution of 1280 x 800 underneath the hood it is running a 1.3 GHZ MediaTek MT8135 Quad Core processor with PowerVR Rogue G6200 graphics, 1GB RAM, 8Gb or 16GB internal storage, a pair of cameras (5MP and 1MP), Bluetooth, and Wifi. The sound quality is quite respectable with the Dolby Audio system, which actually gives you better sound than most other tablets on the market, including the iPad.
One of the big drawbacks of this new 10.1 inch tablet is the overall clarity of the screen and the ability to play true HD content. The Fire HDX 8.9 model that came out last year was significantly better in this department with a resolution of 2560 x 1600 pixels with 339 PPI. The other thing that suffered on the new model was the audio experience.
I have always been very bullish about the sound quality on the entire line of Fire tablets, but the larger ones always seemed to feature bombastic audio. Amazon is one of the only companies to have a partnership with Dolby, so the speakers emit louder sound than virtually any other tablet on the market. Last years 8.9 HDX was likely the pinnacle of sound, but the Fire HD 10 pales in comparison. The audio experience is still quite good, but last years model was way better.
The Amazon Fire HD 10 has a 5-megapixel camera on the back and a VGA one on the front. It's basically the least you'll see in any brand-name phone or tablet these days.
On both sides, you'll get better performance from your phone. Unless you have a really bad, really old phone. Of course, the Amazon Fire HD 10 will still be better for video chat than a 4.5in phone no matter how good its selfie camera is. You're just not likely to end up wanting to frame any photos you've taken with the tablet. The intense processing used to deal with the tiny, low-res sensor just makes your photos look quite unnatural.
I think most people will really dig that this is one of the first Fire models to have an SD Card. You can upgrade it to 128 GB, but keep in mind the Amazon e-reading app will not read e-books from the SD card. You will primarily want to use it to store your music and video collections.
Normally when new tablets come out, each model is incrementally better than the last. Amazon seems to be bucking this trend with their 10.1 inch tablet, which is truly mind boggling. I think what they are trying to do is offer something that is really cheap ($229) so you can lock yourself into the Amazon walled garden, without having to spend the same type of money as you would on an iPad.
Software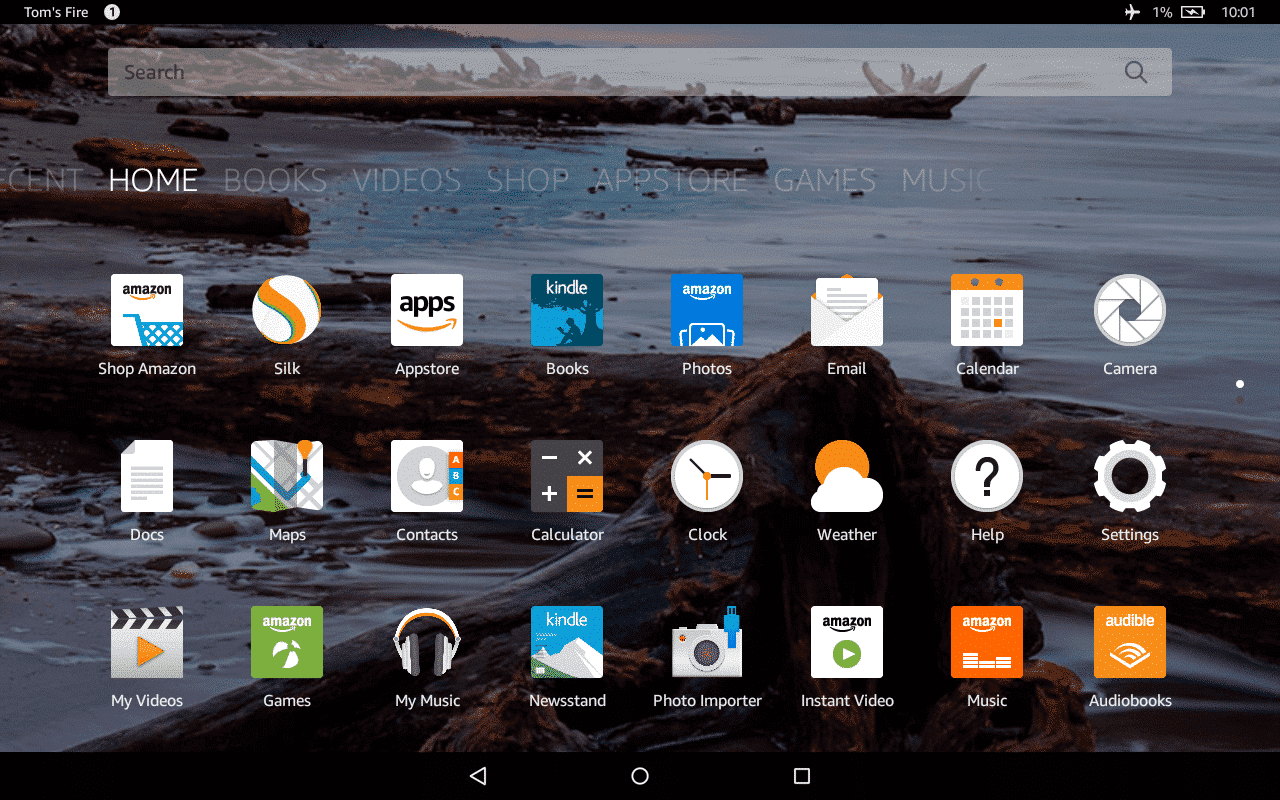 The Fire HD 10 is one of the first tablets to feature the new Amazon OS called "Bellini." It introduces an updated user interface that provides the best entertainment experience on a tablet, making it easy to access your favorite apps or discover new content. The new home screen includes dedicated content pages for books, games and apps, video, music, audiobooks, and periodicals—each page presents an engaging layout akin to the beautiful pages of a magazine and presents your recent content as well as personalized suggestions for new entertainment. If you subscribe to services like Prime, Kindle Unlimited, or Audible, you can easily discover new content that you can access at no additional cost.
The updated UI is likely my favorite aspect of this tablet. If you click on e-books, there is a little shopping cart and it takes you directly to the Kindle store, the same thing applies to apps, audiobooks and digital newspapers. In the past, all Fir tablets shared a common shopping button, which wasn't very initiative. I think Amazon now recognizes that it is unlikely that their average customer buys everything from them, so if you just use your Fire to listen to music and buy e-books, you only need to visit those two independence storefronts.
Amazon pioneered the concept of pre-buffering webpages in advance with their Silk browser. It basically recognizes the sites you visit on a daily basis so pages take less time to load. Amazon applied the same technology to their Prime Instant Video platform. It is called "On Deck" and it automatically keeps your Fire tablet current with popular Prime movies and TV shows, as well as Amazon Original Series, so you always have something good to watch. Importantly, On Deck only uses the available storage on your tablet, opportunistically in a special shadow mode. When you download something, On Deck automatically makes room for your selected content—there's no hassle of needing to clear out space yourself. Basically On Deck knows what shows you are watching, and if you start to binge watch a few television series, it will download the next few so you don't have to wait for everything to buffer.
One of the big new features that the Amazon PR machine has been endlessly hyping is Blue Shade. Amazon explained the essence behind Blue Shade, stating that it "uses specialized filters to limit exposure to blue light. It also offers warm color filters and the ability to lower the display brightness to an ultra-low level for comfortable nighttime reading—even in a dark room," Amazon said in an emailed statement. "Customers can also fine-tune the color settings to their personal preference, with the device intelligently adjusting the color filtering so that at any color or brightness, the blue wavelength light is always suppressed."
"Studies have shown that evening exposure to blue light from tablets may suppress our bodies' production of melatonin," Amazon said in its press release, "which can prolong the time it takes to fall asleep, delay REM sleep, and reduce the level of alertness the next morning." Blue Shade is supposed to fix that issue.
In reality, Blue Shade is a gimmick. As you can see from our video review below, it is impossible to read e-books or magazines with this mode active. You basically get the equivalent of trying to read a tablet in direct sunlight, it is nearly impossible. I think Amazon needs to go back to the drawing board on this, or simply bundle those special screen protectors that stop blue light from emitting.
Content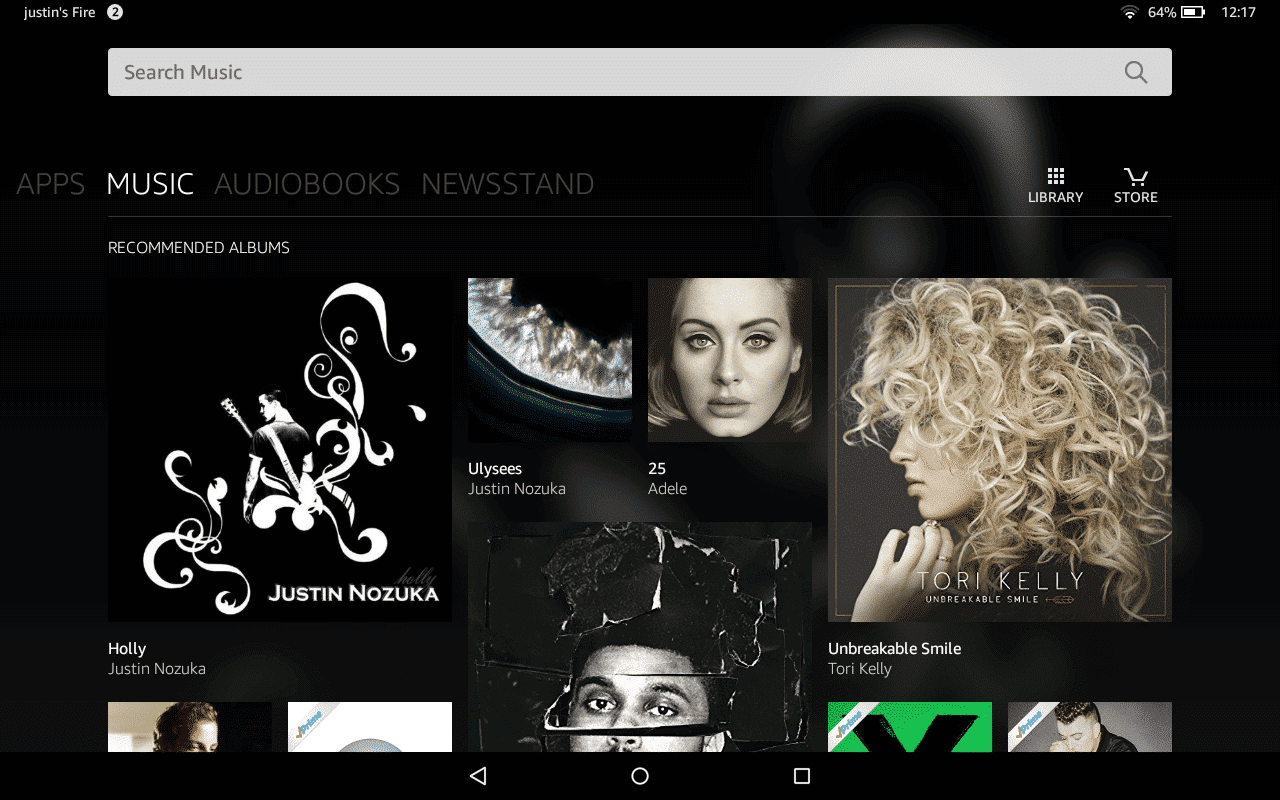 Lets be honest, the main reason why you want to invest in a Fire tablet is the expansive Amazon ecosystem. The experience is especially good if you are a paying Amazon Prime Member.
Prime members get Amazon Prime Video, which includes free streaming movies and TV shows as well as original shows like recent Emmy winner Transparent. Amazon even lets you download movies and watch them in a 48-hour offline window. I tried this out with Hercules. It took around 20 minutes to download over Wi-Fi, but then I was able to watch it on the train without being connected to the Internet. When the 48-hour window expired, I had to connect to the Internet to continue watching my local copy.
Prime Music has a catalog of over one million tracks, contributed from Warner Music Group and Sony Music – as well as from large independent labels.The largest label in the world, Universal has not contributed any material. With millions of music tracks to choose from, it can get overwhelming when you try and discover new music. Amazon Prime Music has a few hundred "Prime Playlists" created by Amazon's editorial team, grouped by genre (Pop, Alternative & Indie Rock) as well as context (Happy & Upbeat, Party Time & Entertaining, Work, Study & Reading and more) Most of the playlists have older tracks on them and new ones will take six months from their release to become available on the new Amazon service.
Amazon continues to experiment with ways to make reading better, if not more fun. The latest reading twist is the aptly called Word Runner. It's a built-in speed-reading interface for the Kindle Reader app that shows you one word at a time. It starts slowly and gradually speeds up (still slowing down a bit on tougher words) unless you hold the screen to, in essence, hit the brakes. I've been experiencing single-word speed reading tools since I was in grade school so I kind of enjoyed this. Not sure why Amazon hid it under an inconspicuous menu that you can only access by tapping the screen. That same menu has X-Ray for Kindle reader and Word Wise, which shows definition hints about challenging words.
Wrap Up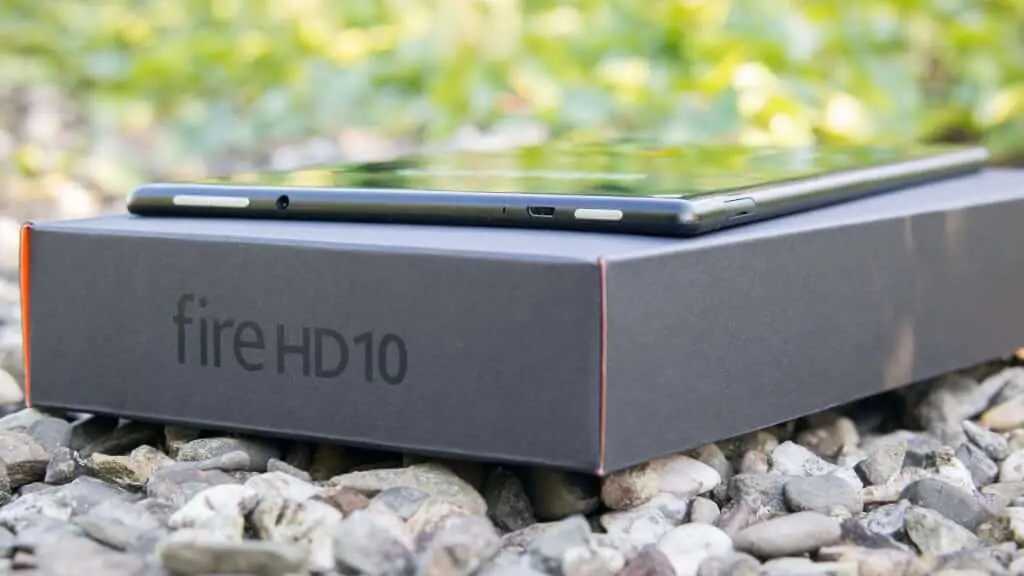 The Fire HD 10 is only $229, which is fairly cheap compared to most other devices on the market. One of the pitfalls is if you live outside of the United States. I live in Canada and I can buy e-books, magazines, newspapers and audiobooks. Even with a Prime membership I cannot buy or watch any of their movies or television shows, which is a large reason why you would buy an Amazon tablet. It is like buying an iPad and not being able to use iTunes.
PROS
Sound quality
The shopping experience
Proprietary Amazon features; Wordwise and X-Ray
Large screen to consume content
Affordable
Free six month subscription to the Washington Post
Cons
Poor resolution
A downgrade from last years HDX product line
Cameras are sub-par
Unwieldy in portrait mode
Rating: 6.5/10
Michael Kozlowski has been writing about audiobooks and e-readers for the past twelve years. His articles have been picked up by major and local news sources and websites such as the CBC, CNET, Engadget, Huffington Post and the New York Times. He Lives in Vancouver, British Columbia, Canada.