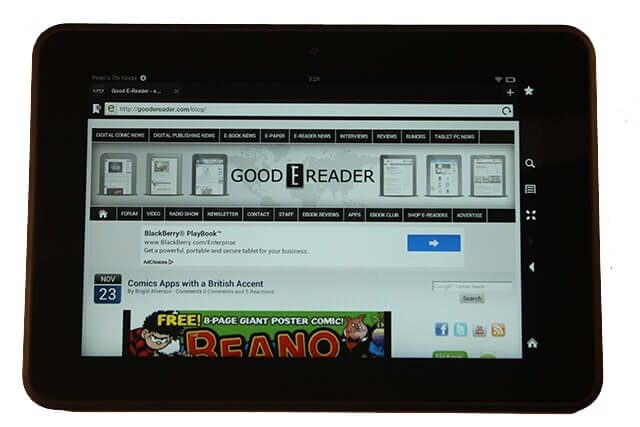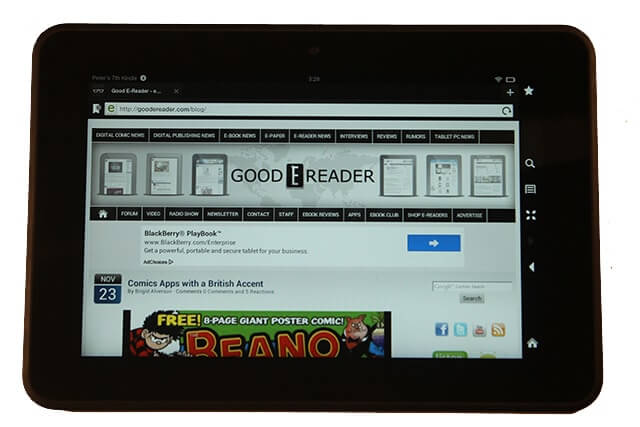 Amazon has released its first 8.9″ tablet and all prior models were of the seven inch variety. The company has scored a major win with a very high resolution display and enhanced hardware. Its form and function gives users a very unique experience and should give the Nook HD+ and iPad a run for their money.
Hardware
The Kindle Fire HD 8.9 features the highest resolution touchscreen display panel Amazon has ever produced. You are looking at a very respectable 1920 × 1200 pixels, compared to the 1280 × 800 showcased in the Kindle Fire HD 7. The enhanced colors really make more graphic-heavy content very vibrant. The screen is actually flush with the bezel because of the Gorilla Glass they use. Most tablets have a small dip from when the bezel hits the screen. Kindle is very unique because its easier to utilize the touchscreen for a longer duration.
Underneath the hood is a OMAP 4470 processor 1.5 GHZ dual core processor. It has 1 GB of RAM and comes in 32 or 64 GB of internal memory. There is no possibility to enhance your storage via an SD card, so make sure you buy the one that suits your needs. Most purchases from Amazon and most apps are stored in the cloud these days, so you don't need to bog your device down with videos and television shows. You can use Dropbox for your videos or just watch them via Amazon Instant Video.
The Kindle Fire HD 8.9 is the only model that offers 4G/LTE internet access. The cost is fairly respectable at a one time fee of $49.99. This gives you enough bandwidth to buy most book content at 250MB of data per month. If you break it down, you are basically paying $4.16 a month. If you decide to opt in for the higher priced 4G model, Amazon throws in a $10 credit for its app store with that. You can use that credit to buy apps, games, and other paid content. One of the drawbacks is after the first year you need to deal with AT&T directly. If you hit your 250MB limit you're just cut off until the next month starts.
Most users will want to just opt into the more affordable wi-fi model. One thing Amazon has done really well is to incorporate dual-band wi-fi into the Fire HD line. This ensures you get stronger connections to your local network or when you are out. Amazon claims its wireless internet gives you 40% faster speeds than the iPad.
Bar none, the Kindle Fire HD 8.9 has the most vibrant sound out of any tablet we have ever reviewed. It has 4 speakers on the back and they creep up to the sides of the tablet. This is useful because the tablet is often used lying with its back down, which would muffle other device's speakers, but you still get great audio with the Fire. The entire HD line has Dolby Surround Sound technology built into it, and it takes movies, music, and audiobooks to a completely different level. One thing we noticed in our testing is that the Kindle Fire HD 7 sound is WAY louder than the 8.9. You can check out our YouTube channel for a side by side comparison.
Avid media hounds can celebrate with the inclusion of the Micro HDMI that is built into this model. This allows you to stream out 1080P quality content directly to your television or media hub. The Nook HD+, iPad, and Kobo ARC do not have the HDMI compatibility, so this would be a no-brainier for people that are media centric.
Battery life is fairly solid, with over 11 hours of continuous reading. Certainly it does not come close to the two months you would enjoy in a dedicated e-ink device, but it is respectable. It charges up in only a few hours via the official Amazon charger, and a little bit longer via USB.
The Kindle Fire 8.9 does not have many buttons on it, and it lacks the dedicated home-button that is a staple point in most tablets. Instead you have Android driven User interface that allows you to navigate around the device. Other physical keys include volume and power. There is also a front facing 1.3 MP web cam, that you can use with popular video conferencing programs. There is no rear facing one at all, which is not really missed.
Make no mistake, the Kindle Fire HD 8.9 is fairly expensive. The wi-fi 16 GB is $314, while the 32 GB edition is $384. If you want the 4G/LTE iteration, you are looking at a $499 for the 32 GB and $514 for the 64 GB model. The basic version is still drastically more affordable then the Apple iPad.
In the end, this tablet is amazing. The Nook HD+ is the closest competitor of the HD 8.9 with a resolution of 1920 x 1280 vs the 1920 × 1200 of the Kindle. They are fairly close and it comes down to the core software features that really separate this device from the pack.
Software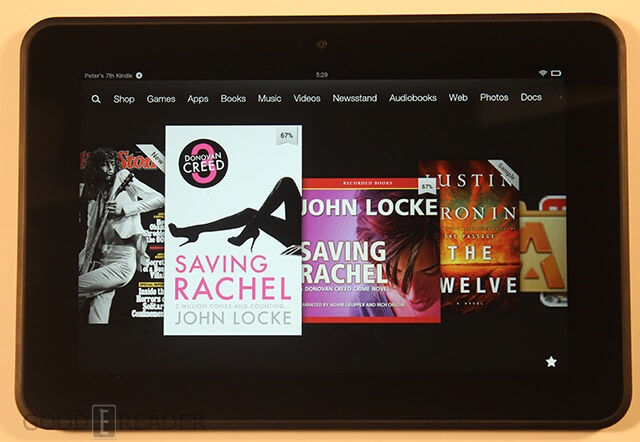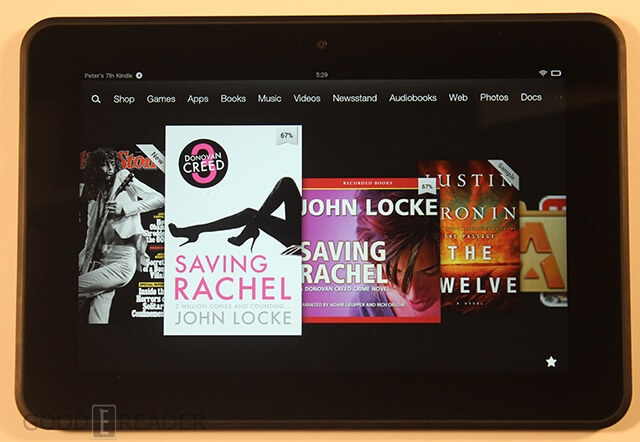 The Amazon Kindle Fire HD 8.9 is running one of the latest versions of Google Android 4.0. You would never know it, though! The company has developed its own custom user interface that it has refined consistently for the last few years. The main home-screen is a very expansive carousel that has all of the latest apps, games, books, and other content you recently purchased or downloaded. This keeps all of your main icons easily accessed by utilizing the touchscreen. Of course, you can long-press on any icons and remove them. I noticed that when we loaded in our own apps, the icons tend to look pixelated.
Most versions of the Kindle ship with Special Offers. This is evident when you are on the standby screen or your navigation bar. Amazon will remove these advertisements if you want, for a one time fee of $25.00. They are really not that obtrusive, but discerning people do have the option.
The main draw on the Kindle Fire HD 8.9 is the expansive ecosystem of content. Amazon has one of the best developed content distribution systems in the world. It has over 1.3 million ebooks, magazines, and newspapers available by major publishers. It also offers self-publishing books by indie authors, Kindle Singles, Kindle Serials, and tons of Prime benefits. Amazon Prime is basically a program that you pay $75.00 a year to get free shipping. You also get free movies every month with Prime Video and can also borrow one free ebook a month, too. If you do tons of business with Amazon, this may be the way to go, but USA citizens tend to reap the most benefits.
When you access the store on the Kindle Fire HD, you don't have a unified store experience like you get on the Kobo Arc or Nook HD. Instead of a main store, you have various sub-stores that tend to have unique layouts. The main consistencies are with the black background and panoramic icons. I love how Amazon really utilizes the screen real estate very well by giving you a ton of content, and you just need to gesture left and right to view more.
I find the main "Store" just gives you a few text based options to access various facets of the ecosystem. Tapping on the options brings up audiobooks, games, books, and other content. When we placed the Fire HD into the hands of a few, not so tech-savvy friends, they figured everything out fairly quickly and commented that the layout was fairly intuitive.
Amazon may have one of the best app stores around, with thousands of apps to choose from. The company runs a daily promotion where it gives away a paid app for free! This keeps people visiting back on a daily basis to see what type of deal they can grab. One of the main benefits is that you are not exclusively locked down into dealing with Amazon. The Fire HD allows you to install your own apps! You can download our own Good e-Reader App Store via the Silk web-browser and then put in Kobo, Barnes and Noble, Sony, Google Books, Aldiko, Moon+ Reader, Marvel Comics, and whatever else you like. Barnes and Noble is famous for severely limiting customers to only dealing with B&N's app system and disallows third party sideloading.
Many people are increasingly buying tablets and using them as family devices. Amazon has released Kindle Free Time, which allows parents extensive controls over the daily usage. The main menu for Kindle FreeTime displays a carousel with large icons for every user in the house. You can select Manage Content, Daily Time Limits, Manage Child Profiles, More, and Exit options below. Manage Content allows you to set exactly what content is available for that profile, choosing from books, videos, and apps that are already loaded on your Kindle. Daily Time Limits allows you to set a time limit for either Total Screen Time or Content Activity Time, which allows control over specific content type. One of the more annoying factors is everything you do on the main profiles asks you for passwords.
Amazon Silk is the internet browser that the company employs for anything you do online. It is fairly different from your standard browser because it caches into the device's memory the websites you visit most often. Amazon has a very elaborate network of servers and its own cloud platform that other companies use to make their websites load faster. Using this technology, after around a month of use, Amazon can load all of your favorite sites so that they will load up to 60% quicker. This is fairly useful for extensive sites that have a lot of graphics.
I really like the big screen with the Fire HD 8.9! It might be a departure from Amazon's seven inch traditional format, but I find this better. You can hold it farther away from you and still enjoy watching videos or reading a book. The extra screen real estate works wonders with the main UI and would be an excellent investment for people who have vision problems.
Reading Experience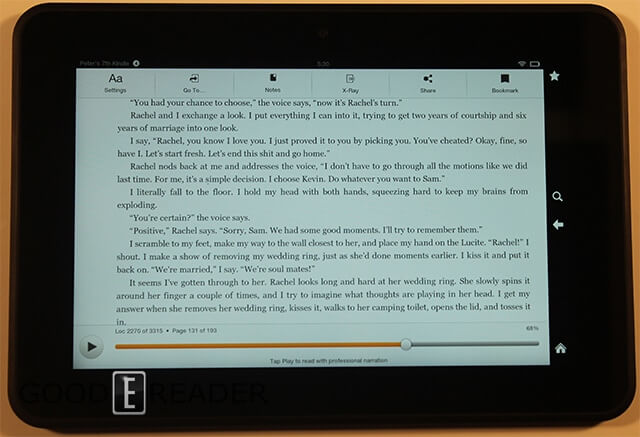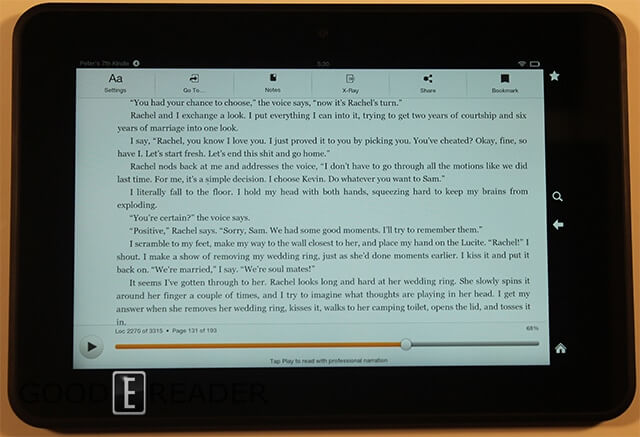 The Fire HD 8.9 may be billed as a multimedia device, but it is really marketed as an e-reader. The main Kindle store has millions of free books and you can even load in your own that you download from the internet.
There are some really compelling benefits to buyig your digital books from Amazon, such as Immersion Reading. This brings new harmony to ebooks from Amazon and Audio Books from Audible. It basically allows readers to synchronize a Kindle text with the Audible audio version of it. While you are reading, the ebook is highlighted as the audio track moves along, making it easier for the reader to follow along. One of the more useful ways you can employ this is by reading a book and listening to the audio version at the same time. People learning new languages could also tremendously benefit from this and don't forget kids' ebooks.
Whispersync for Voice is another new option that, in essence, allows you to read the ebook at home and then pick up where you left off on the audio version. "The ability to seamlessly switch back and forth between reading text on any Kindle and listening to the same title in audio on your smartphone — and always pick up where you left off."
Amazon has developed amazing synergy with its Audible division. They are the only company to offer audiobooks as a part of its store. This should be very compelling to people who like to listen to them in the car and read them at home. Both Whispersync for Voice and Immersion Reading are two things that no other company in the world does. I know lots of people who walk their dog and listen to an audiobook. The entire syncing process is applicable to your Android Phone with the Audible app installed.
X-Ray is a feature that was first implemented in the Amazon Kindle Touch but bears mentioning because of its practical usage on a tablet. It allows you to see all of the main characters in a book and visually see how many times they are referenced. You can click on a character's name and get a condensed list of every time someone made reference to them or the character talked. This is perfect for those who tend to juggle many books at once, or may come back to a read a few months later. It gives you a better sense of what is going on.
When you are reading a book, you have various ways you can augment the text experience. You can change the margins, line spacing, background color, size of the font, or font type. There is a ton of flexibility to make sure the book looks the way you want. If you have vision problems, you can have the Kindle narrate the book for you! The one drawback is that the computerized voice gets old quickly.
Newspapers look very different from the ones you grew up with. Amazon handles newspapers as autonomous apps. This makes every single issue look different and they have no consistency. When you are reading an article, you can click on the picture and get a rotating slideshow. You can also click on the title of it and pull up a pure text version. You can then augment the text the same way as you would an ebooks, except you can't pinch and zoom. I am not a huge fan of the way newspapers look on Amazon and would suggest loading in Press Reader. This is a better program because you preserve the layout of your local newspaper, complete with adverts, classifieds, comics, crosswords, and more!
Magazines look very slick and come complete with animated page-turns. The extra large screen makes content like this really shine in portrait mode. You can tap on the screen and see all of the pages in the magazine for quick navigation. You can click on the title to strip away all of the styling of the magazine and get a pure text experience.
I get emails all the time from users who always ask about the best tablet for PDF documents. Most six and seven inch devices don't do a very good job because of the limited screen size. The Kindle Fire HD 8.9 handles these kind of documents like a boss! If you load them in portrait mode, you can easily see all the text, not to mention pictures in vibrant color. You can pinch and zoom to find that sweet reading spot and the whole process is easy because of the higher processor. We loaded a 150 MB PDF document, The Dungeon-masters Guide, and the Fire handled it fluidly. No real delays in swiping it fast or turning pages. The increase in resolution on this unit really makes graphic heavy content really shine.
Our Thoughts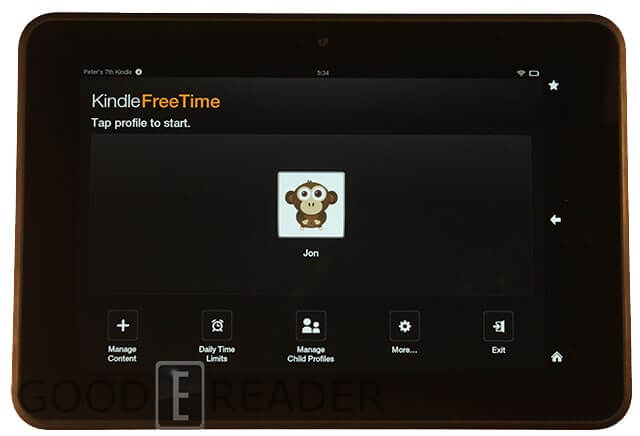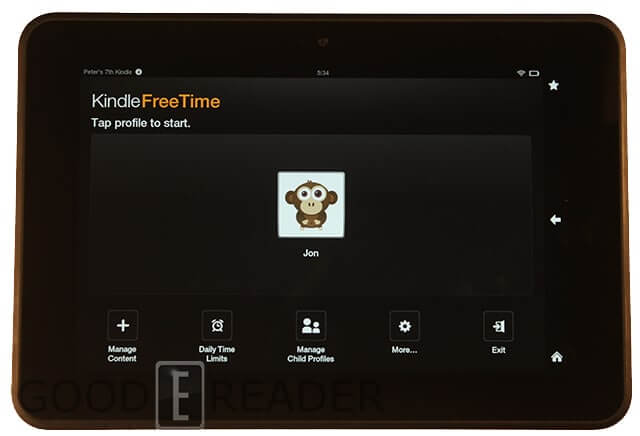 The Kindle Fire HD 8.9 as a dedicated e-reader does one of the best jobs in the business. The store offers a copious amount of newspapers, magazines, books, audiobooks, and other content to keep you permanently glued to it. The large screen is more suitable than the seven inch Kindle Fire and I like this unit better than the Nook HD+.
The Dolby Surround Sound is one of the best hardware features that take audio content to a completely different level. Most companies use SRS TrueMedia or just basic Mono/stereo speakers. The Kindle destroys every other tablet we have EVER reviewed in terms of sound.
Amazon receives a ton of flack for its predatory pricing and dealings with major publishers. This results in lower book prices on average and more people publishing in its store than any other. You only have to look at the metrics of people who self-publish with Amazon vs Barnes and Noble or Kobo. There is really no contest and this results in a better selection with more benefits to your average user.
The Kindle Fire HD 8.9 is mainly applicable to USA users and select other countries. If you live in Canada, you don't have access to newspapers, videos, apps and a myriad of other content. Your best solution is to purchase a Visa Giftcard from the USA and let us help you find a USA Billing address. This will let you buy anything you want except videos. Shop e-Readers sells these cards at very low prices, so it's worth your time to check out if you don't live in the United States.
I really recommend this tablet over the Kindle Fire HD 7. The increased screen size makes it fairly comparable to the Apple iPad and is more geared towards reading. If you are looking for an e-reader with multimedia functionality, take a long look at this.

Pros
Dolby Surround Sound
Whispersync for Voice, Immersion Reading, and X-Ray
Deep and Expansive ecosystem
Gorilla Glass
High Resolution
Long Battery Life
Cons
User Loaded Apps Tend to look Pixelated in the Carousel
"Customers Also Bought" Gets in the Way on the Main Menu
Lots of Hoops to Jump through If You Don't Live in the USA
Newspaper Selection Lacks
Rating: 9.5/10
[cincopa A4MAKB7szRqD]

Michael Kozlowski is the Editor in Chief of Good e-Reader. He has been writing about audiobooks and e-readers for the past ten years. His articles have been picked up by major and local news sources and websites such as the CBC, CNET, Engadget, Huffington Post and the New York Times.