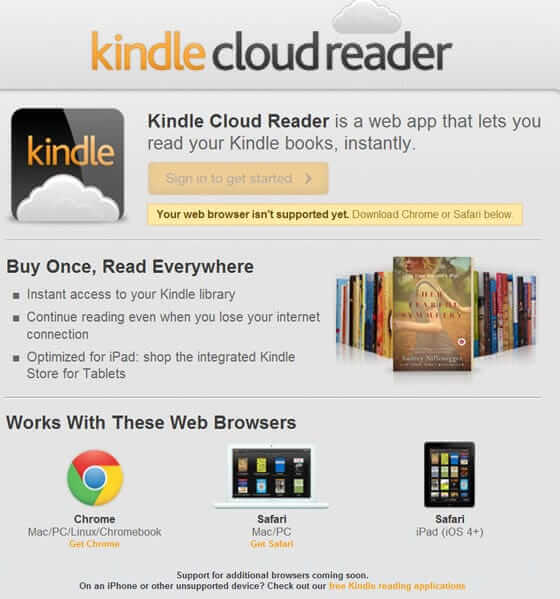 Today Amazon rolled out a brilliant Cloud Reading application that lets you buy books and store them in the cloud, or sync them with your Amazon Device. This is a game changer as it allows you to send books directly to your iPad for offline reading.
The new Amazon Cloud Reader application is available worldwide where Amazon is supported and you can check it out at read.amazon.com This new application is great, but takes up a fair amount of cache memory, around 50 MB worth. This changes depending on how many books you have on your Amazon account.
When you access the Amazon Cloud book system it allows you to tap into the Amazon bookstore. Books you purchase are stored in the cloud and accessible on any device with an internet browser. This is perfect for gadgets like the Blackberry Playbook that allow you to read the book within the application itself! This may prove a boon for HP Touchpad users living outside of the USA, where Amazon put a restriction on who can even install the beta app.
Within this application you get a ton of customization options that allow you tailor your book experience. You can adjust your font size, margins, bookmarks and even a color mode for nighttime reading.
I encourage everyone with an Amazon Kindle or who uses the ecosystem to deliver content. This is especially useful to people who have iPads and find they cannot buy books within the application anymore. You can gravitate towards using the HTML5 based Cloud App to purchase books and read them within the application. If you want to just buy books you can still have them synced to any of your Amazon devices via Whispernet and syncing.
Amazon is not the only company who developed an application to help bypass the recent iOS restrictions on selling books within the application. Kobo announced last month they were doing something similar and are taking care to release the new application properly. The one thing I like about the Kobo Cloud Based application is the fact it plays nice with social media and their Reading Life reward based system.
[showhide type='pressrelease']Introducing Kindle Cloud Reader
 Read over 950,000 Kindle books in your web browser – no download or installation required
 Based on HTML5, Kindle Cloud Reader optimizes for the platform you're using and automatically stores your latest book locally for offline reading
 Instant Books – no waiting for a download, start reading the book immediately, offline or online
SEATTLE – August 10, 2011 – (NASDAQ: AMZN) – For over two years, Amazon has been offering a wide selection of free Kindle reading apps that enable customers to "Buy Once, Read Everywhere."  Customers can already read Kindle books on the largest number of the most popular devices and platforms, including Kindles, iPads, iPhones, iPod touches, PCs, Macs, Android phones and tablets, and BlackBerrys.  Today, Amazon.com announced Kindle Cloud Reader, its latest Kindle reading application that leverages HTML5 and enables customers to read Kindle books instantly using only their web browser – online or offline – with no downloading or installation required.  As with all Kindle apps, Kindle Cloud Reader automatically synchronizes your Kindle library, as well as your last page read, bookmarks, notes, and highlights for all of your Kindle books, no matter how you choose to read them. Kindle Cloud Reader with its integrated touch optimized Kindle Store is available starting today for Safari on iPad, Safari on desktop and Chrome at www.amazon.com/cloudreader.
"We are excited to take this leap forward in our 'Buy Once, Read Everywhere' mission and help customers access their library instantly from anywhere," said Dorothy Nicholls, Director, Amazon Kindle.  "We have written the application from the ground up in HTML5, so that customers can also access their content offline directly from their browser.  The flexibility of HTML5 allows us to build one application that automatically adapts to the platform you're using – from Chrome to iOS.  To make it easy and seamless to discover new books, we've added an integrated, touch optimized store directly into Cloud Reader, allowing customers one click access to a vast selection of books."
Features of Kindle Cloud Reader include:
–         An immersive view of your entire Kindle library, with instant access to all of your books
–         Start reading over 950,000 Kindle books instantly within your browser
–         An embedded Kindle Store optimized for your web browser makes it seamless to discover new books and start reading them instantly
–         New Kindle Store for iPad is built from the ground up for iPad's touch interface
–         Your current book is automatically made available for offline use, and you can choose to save a book for reading offline at any time
–         Receive automatic software updates without the need to download new software
–         Select any book to start reading, customize the page layout to your desired font size, text color, background color, and more
–         View all of the notes, highlights, and bookmarks that you've made on other Kindle apps or on Kindle
–         Sync your last page read across your Kindle and free Kindle apps so you can always pick up where you left off
Kindle Cloud Reader is available for Safari on iPad, Safari on desktop and Chrome starting today.   Kindle Cloud Reader on the iPad is optimized for the size and unique touch interface of iPad.  Without even leaving the app, customers can start shopping in the Kindle Store and will find a unique and immersive shopping experience built specifically for iPad's Safari browser.
Kindle Cloud Reader will be available on additional web browsers, including Internet Explorer, Firefox, the BlackBerry PlayBook browser, and other mobile browsers, in the coming months.
Amazon.com customers can start reading their Kindle books immediately using Kindle Cloud Reader at www.amazon.com/cloudreader.
About Amazon.com
Amazon.com, Inc. (NASDAQ: AMZN), a Fortune 500 company based in Seattle, opened on the World Wide Web in July 1995 and today offers Earth's Biggest Selection. Amazon.com, Inc. seeks to be Earth's most customer-centric company, where customers can find and discover anything they might want to buy online, and endeavors to offer its customers the lowest possible prices. Amazon.com and other sellers offer millions of unique new, refurbished and used items in categories such as Books; Movies, Music & Games; Digital Downloads; Electronics & Computers; Home & Garden; Toys, Kids & Baby; Grocery; Apparel, Shoes & Jewelry; Health & Beauty; Sports & Outdoors; and Tools, Auto & Industrial. Amazon Web Services provides Amazon's developer customers with access to in-the-cloud infrastructure services based on Amazon's own back-end technology platform, which developers can use to enable virtually any type of business. Kindle, Kindle 3G, Kindle with Special Offers, Kindle 3G with Special Offers and Kindle DX are the revolutionary portable readers that wirelessly download books, magazines, newspapers, blogs and personal documents to a crisp, high-resolution electronic ink display that looks and reads like real paper. Kindle 3G, Kindle 3G with Special Offers and Kindle DX utilize the same 3G wireless technology as advanced cell phones, so users never need to hunt for a Wi-Fi hotspot. Kindle is the #1 bestselling product across the millions of items sold on Amazon.[/showhide]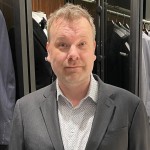 Michael Kozlowski has written about audiobooks and e-readers for the past twelve years. Newspapers and websites such as the CBC, CNET, Engadget, Huffington Post and the New York Times have picked up his articles. He Lives in Vancouver, British Columbia, Canada.