Amazon's massive staff layoffs include a number of Comixology staff according to an internal memo which was leaked to twitter. On Jan 20th 2023, Publishers Weekly shared and article stating "Staff immediately affected by the layoffs were reportedly locked out of work accounts, and were unable to access information about the terms of their severance. While some Comixology staff members were have already been laid off, others were given notice that their positions would be eliminated by the end of summer."
On Jan 18th Scott McGovern, Comixology Program Manager confirmed the news;


Comixology is a popular platform for comics, manga and graphic novels which include a large range of both independently published original works, as well as large selections of stories from big publishers. Comixology offered a lot of initiatives to support indie creators, including a long running program called Comixology Submit. This program helped newer creators navigate the entire creation process, thus allowing them to release their final polished product on the platform.
When Comixology launched in 2007, digital comics were still underscored and not as valued as the traditional print versions. Many retailers were concerned that digital format would kill print comics, just as online news sources lead to the vast reduction in tradition print newspapers.
Amazon acquired Comixology in 2014, and according to The Beat's Heidi MacDonald  "It turned out that digital was additive and people liked paper – and though Comixology was viewed with suspicion for years, quietly and patiently, they became a respected member of the comics community, and a solid sales platform." With that steady growth and acceptance of digital content, Amazon chose to expand Comixology adding it to its Kindle app in 2022.
It's amazing how much can change in only a few months.
Rewind to the spring of 2022 when David Steinberger, former CEO and president of Comixology, Amazon's digital comics marketplace, announced he was leaving Comixolgy to launch a brand new Amazon-wide initiative. Steinberger described this change as "a tough decision," in his Twitter post, and highlighted that his role leading a new Amazon-wide initiative "is too good an opportunity to not take," and that he is "ready for a new entrepreneurial challenge." At that time, there weren't many details about what this "exciting brand new initiative" would be… but surely it wasn't supposed to be hiring and firing Comixology staffers from Amazon?
As such, it's not surprise that the recent announcement of massive layoffs – indicating a sinking of the Comixology brand as a part of Amazon – was received with shock and sadness by readers and staff members alike.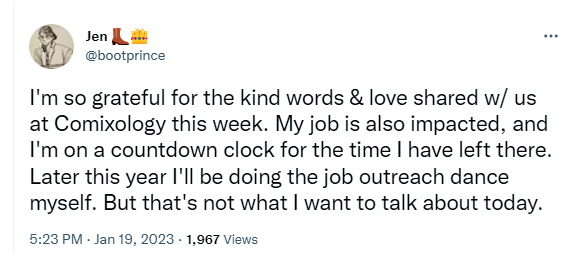 According to CNBC  Amazon is citing "slowing sales growth, rising expenses and a worsening economic outlook" as reasons for the layoffs.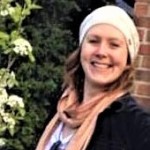 An avid book reader and proud library card holder, Angela is new to the world of e-Readers. She has a background in education, emergency response, fitness, loves to be in nature, travelling and exploring. With an honours science degree in anthropology, Angela also studied writing after graduation. She has contributed work to The London Free Press, The Gazette, The Londoner, Best Version Media, Lifeliner, and Citymedia.ca.