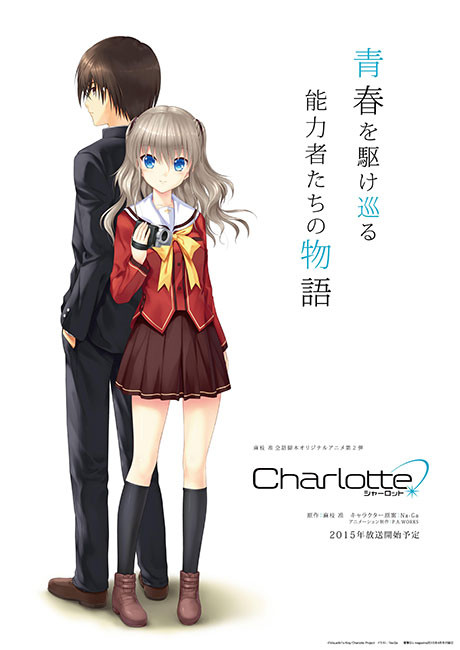 In December of 2014, Studio Key of VisualArts announced a new project coming up in 2015. Charlotte will be based on an original story by Jun Maeda (AIR, CLANNAD, Angel Beats!). P.A. Works will be animating the project, and Na-Ga will be providing the character design. This will be the first time the team has worked together since Angel Beats back in 2010, and we're very excited for the outcome! Charlotte's release is in celebration of Key's 15th anniversary.
This past weekend, the official Charlotte website has updated with a new key visual featuring our two protagonists with special abilities. Yu Otosaka and Nao Tomori. Though very little information has been released, if you were a fan of Key's visual novels or their anime adaptions, which are always beautifully animated, well scripted and very emotional, then be on the look out for Charlotte!
Want to keep up to date with further updates? Then head on over to the official website for Charlotte
Thi Lathi Chao is a graduate from Vancouver Fine Arts College and reports for Good e-Reader on all of the latest anime and manga news. In her off hours, she is enamored with playing games, drawing and writing short stories.