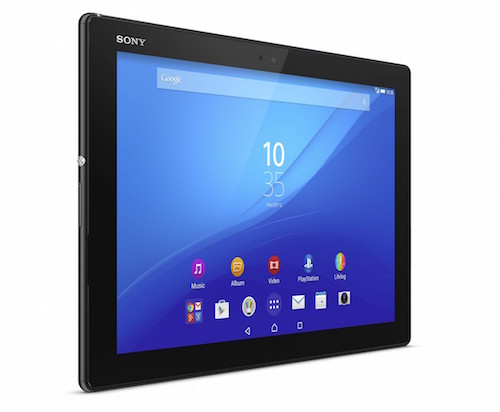 Sony has been making a lot of changes lately, not the least of which being the new Xperia Z4 tablet the company announced at the Mobile World Congress this year. Designed to compete with Apple's iPad Air 2, the Xperia Z4 is designed to do a lot more: in light of the VAIO laptop line being discontinued, Sony needs a tablet with the power and persuasion to engage business customers.
The Xperia Z4 comes equipped with a 10.1-inch display, 2K resolution, Qualcomm Snapdragon 810 octa-core 64-bit processor, connects to the world using 389g Wi-Fi / 393g LTE, has 32GB of internal storage, uses a long-life 6,000mAh battery (with STAMINA mode still available, that auto-magically turns off background processes when you aren't using them), and measures at an amazingly thin 6.1mm. It's also true that the tablet will work with your PlayStation 4 Remote Play, but Sony also maintained my favourite feature from Xperia tablets past: it is waterproof (so not to worry if you spill that Super Big Gulp during your next epic gaming session)!
In an attempt to bring more value to the deal, Sony has also added a Bluetooth keyboard and the Microsoft Office productivity suite to their Android tablet. Unfortunately, initial reviews for the keyboard are entirely underwhelming: many of the most frequently used buttons have been made too small (such as the tab, backspace, and right-side shift keys), and the keys in general offer an unpleasant and hollow tactile response (which makes users less likely to turn to the keyboard for long-term use).
While the Xperiz Z4 runs Android Lollipop, there are customizations in place, including a Windows-style Start Menu type app launcher –which may serve to make the average business user more comfortable with using a mobile operating system in their day-to-day corporate ecosystem.
My general feeling is that the Xperia Z4 will fail as a laptop replacement, but will serve as a stylish choice in the Android tablet mobile device space.
Jillian Koskie is an experienced software developer, content writer, project manager and usability design expert. With over 17 years in these roles, Jillian has enjoyed applying her skill-set to assist clients and users across a wide variety of sectors including: legal, health, and financial services. Combining these professional opportunities with a love of technology, Jillian is pleased to contribute articles, opinions, and advice to numerous news outlets, websites, and publications.