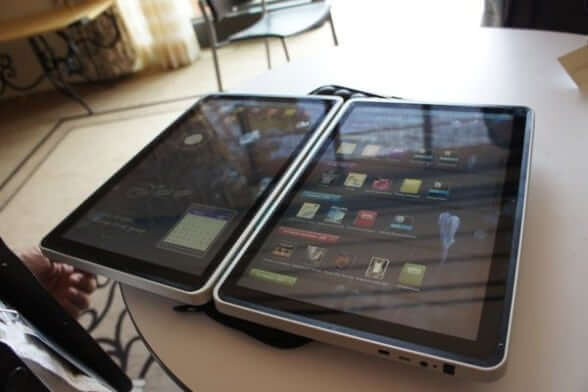 The education market is huge and many technology start ups seek to capture fame and fortune aiming devices exclusively at high-schools and higher learning institutions. We have seen many companies such as Entourage and KNO fail to successfully penetrate not only schools, but the consumer market in general. So we have to ask the question, are Dual-Screen tablets cursed?
I am not saying that witchdoctors, shamans or voodoo priestesses had anything to do with the ability for dual-screen tablets to fail in the market-place, but something is amiss. Entourage had their Edge and Pocket Edge, Kno had their giant dual screen tablets and Microsoft had the Courier. All of these tablets either failed to get off of the launch pad or did not do so well in the market. Today we will look at some of the reasons why dual-screen tablets and e-readers for some reason cannot do so well in the retail sphere.
Entourage Systems had been in business for a few years, and since then their company had 2 reductions of staff in 1 year. Even now the company is still going through a reorganization process. The company originally developed a 9.7 inch e-paper screen coupled with a 10.1 inch LCD touch screen. One side was e-ink while the other was an Android touchscreen tablet. They followed up roughly a year later with the Entourage Pocket Edge. The Pocket Edge was a bit smaller and easily transportable. It featured a 6 inch e-ink touchscreen display and a 7 inch Android Tablet. The main premise behind these devices was that they folded up like a book. This not only protected the screens but allowed you to swivel the device folding it up in various positions. They had web-cams and a microphone to record lectures and great note taking abilities. Recently the company had suspended manufacturing of these devices and closed their app store. So what went wrong?
Entourage Systems tried to form partnerships with the Blackboard Alliance Program which facilitates technology into the education system. They also successfully wooed The Douglas Stewart Company, a leading distributor and marketer of computer products, consumer electronics and school supplies, to exclusively serve the education market and boost interactive learning for school systems' students, faculty, and staff. They also got their hybrid device into specific schools like the Creative Career Academy.
Entourage then opened a student store online that you could purchase textbooks on a myriad of subjects from science to English to anthropology. It did not do so well, so the company decided to add works of fiction such as bestseller authors like James Patterson. The books found on the Entourage Student store and eBook store were higher than market value found on other sites such as Barnes & Noble and Amazon. They also opened their own Android App store, where you could download some common applications like Facebook and Twitter. The App store was a tremendous disappointment and many users installed alternative Android Markets such as Slideme and AndAppStore.
My feeling is that Entourage failed with its two devices because of the prohibitive cost ($499 and $399) the weak Android Market, the overpriced eBooks, and the outdated version of Google Android. The Entourage community mentioned among other extenuating factors that their was no brand identity with the dual-books. They were not able to offer schools a big enough discount on bulk orders in order to get them interested enough to pull the trigger and place a big order. The tablets were also not disability friendly, which was one of the largest issues. One of the reasons why the Kindle E-Reader, Nook, and other popular e-readers fail to successfully penetrate the educational system is because of their inability to work with people who have vision deficiencies. You might not think that a few students with vision problems can influence the vast majority, but you are wrong. Many institutional bodies in America will not put e-readers in the public classroom because of lobby groups saying the devices alienate handicapped students, and they do have a point. Although you can use audio books and navigate some of the menus with Text to Speech it is not enough. Since Entourage had failed to make their devices compliant with vision impaired students it had a hard time getting into the public educational system, which just left the private system. The private market instead went with a few trial orders, but were not enough to sustain the company.
The educational gambit for Entourage was not what they expected, even though it basically was the selling point of the entire ecosystem. So they continued to support the casual consumer or independent students who purchased the device on their own to bring to school. This play did not work out to the company's satisfaction either. They did not enjoy any kind of retail distribution chain to place their e-reader in a physical store. If you aim a product directly at customers you have to allow them to make an impulse buy. Speaking of which, they had little to no advertising and no press releases to taut new features or functionality.
If you look at the Entourage Official forum in the last 2 years there is a total of 4 posts in the Middle and High-School area and 17 in the Higher Education Area. This speaks volumes that the forums dedicated to these scholastic endeavors are a barren wasteland.
The next tablet on our cursed list of educational tablets failing to successfully enter the higher education market is the KNO tablet.
Kno had developed two giant dual screen tablets that managed to get to pre-order stage and even shipped a few out before they called it quits. The first one was a 14.1 inch screen tablet! Yes, you heard us right: two dual 14.1 inch full color screens! The Kno is a Tegra 2-powered dual 14-inch tablet running on a custom Linux build. Both screens are a tremendous 1440×900 resolution and accept multi-touch and stylus inputs. Each screen will be just over half an inch thick, and it will weigh about 5.5 pounds. It will also feature a 16 GB Flash storage. Finally it has a built in accelerometer to flip between normal mode and landscape mode at the drop of a hat. It was priced at $999.99 and the single screen model was said to be around $599
"According to the not-for-profit College Board's 2010 report, the average college student spends approximately $1,100 a year on book and supplies," said Kno co-founder and CTO Babur Habib, in justification of the tablet's price. "Kno can reduce that cost while bringing education into the 21st century, providing students with a far superior learning experience than they have today."
The main idea behind the Kno, similar to the Entourage Edge is to be aimed specifically at students and to substitute your textbooks. The company already has publishing agreements with Pearson, McGraw Hill Education, Cengage Learning, and Wiley, who have agreed to put their textbooks onto the device. The textbooks will be interactive with video and hyperlinks.
The main company founder and spokesman Osman Rashid had experience in the educational game. He was the founder CEO of Chegg. Chegg is the innovative textbook rental company that has saved more than $200 million dollars for millions of college students at practically every campus in the U.S. He continues to serve as Chegg's Chairman. After leaving Chegg, Rashid founded Kno, Inc. in May 2009. Since 2009 the company closed out 3 rounds of investment captial. They got 30 million dollars, 46 million, and 10 million dollars, with that much money in start-up captial and an history in Digital Textbooks, what went wrong?
The company had little to no experience with hardware and manufacturing as the major selling point. They did not make successful inroads with getting their tablet sold to schools and instead tried to get students to buy the device directly. Considering the Kno Dual Screen tablet cost $1000.00, it was out of reach for most students. They also took a large amount of pre-orders and never delivered a product. Their PR department was despondent and never returned phone calls from customers who ordered the device. To make up for the abysmal customer service and PR department they came up with the zany idea for a 'Student Ambassadors Program.' Kno would have given big discounts for students who enter and are accepted into the program. The Student Ambassador Program allows students to get access to the brains of the Kno executives, attend exclusive webcasts, entrepreneurship lessons, and create social media campaigns. These campaigns would be used by Kno to further market their devices. Sounds to me like cheap labor.
Eventually the Kno Tablet and Textbook program were both officially scrapped last January. What is in the future of Kno? They are going to be building iPad applications and other applications for Android.
What is the future of Dual Screen devices in the educational market? The Microsoft Courier had a slim chance to enter the scene but was eliminated, ditto with Entourage and Kno. It seems to me like expensive half-baked attempts to enter the educational sphere without making their product disability friendly is a recipe for disaster.

Michael Kozlowski is the Editor in Chief of Good e-Reader. He has been writing about audiobooks and e-readers for the past ten years. His articles have been picked up by major and local news sources and websites such as the CBC, CNET, Engadget, Huffington Post and the New York Times.