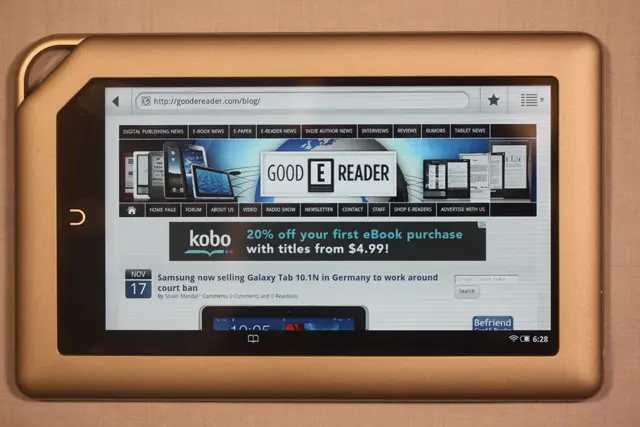 Welcome to another Good e-Reader Exclusive Review Video! Today we check out the latest and greatest from Barnes and Noble, the Nook Tablet. This is the latest generation Nook Color 2 and we show you the entire device from hardware, to software.
The Nook Tablet features a 7 inch Capactive LCD display with a resolution of 1024×600 pixels. It is running underneath the hood a dual-core 1 GHZ CPU Processor, accompanied by 1 GB of RAM. Internal storage is 16 GB which is double the Nook Color and you can expand it up to 32 GB via the Micro SD Card.
This Tablet is a solid second offering by Barnes and Noble and refines the entire experience from hardware to software. This video shows you visually the entire e-reader and you can get a sense on how the store is laid out and new bundled apps that come with the device. Streaming media is prevalent more then ever before with the inclusion of Netflix and Hulu+! One of the most exciting new features is the "Read and Record" which gives you the unique ability to narrate your own kids books.
Peter Carotenuto is a graduate of the Vancouver Film school and is extensively involved in the local Film Industry. He is an accomplished actor and has been in many of the Vancouver based movies and made for television shows. Peter is the head of the Good e-Reader media division and is responsible for all of our video editing and production. You can e-mail him at peter@shopereaders.com