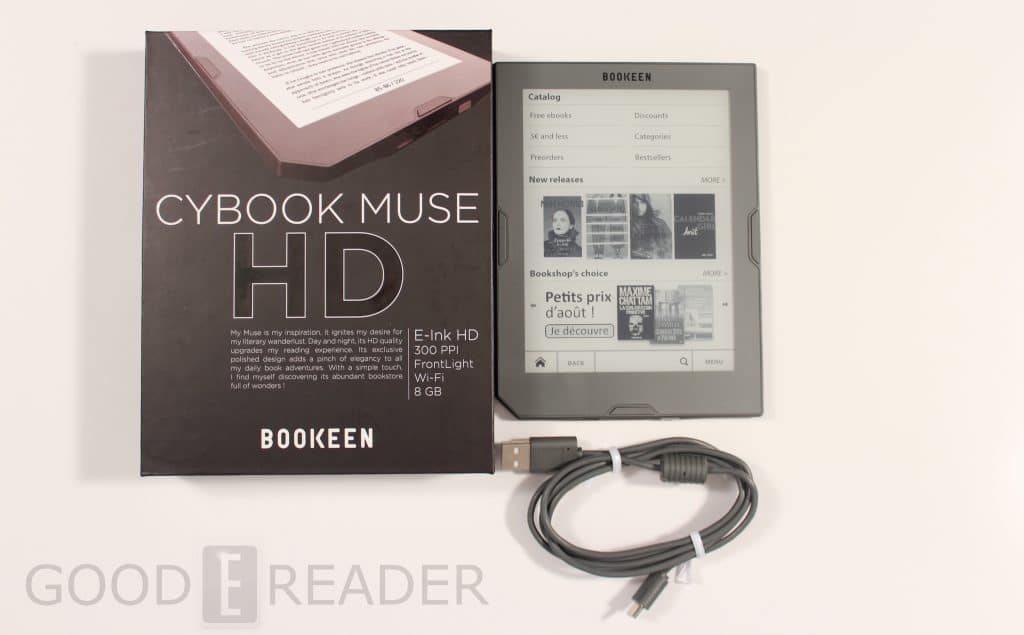 The Bookeen Cybook Muse HD was originally released in late 2016 and is widely considered their best e-reader. Screen quality is superb primarily due to the E Ink Carta screen and 300 PPI. It has a ton of software not found in any other e-reader on the market.
Hardware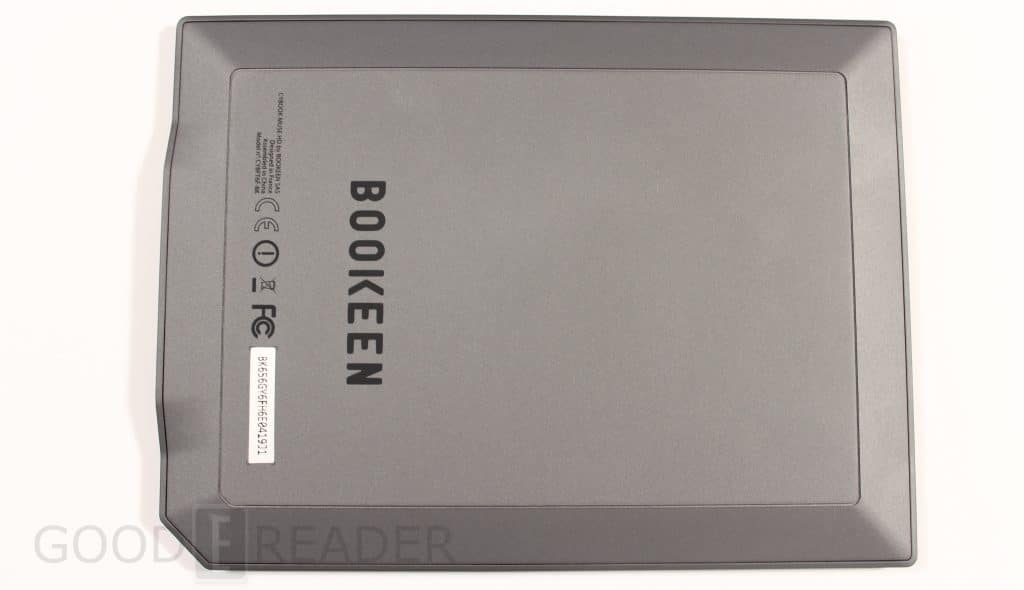 The Cybook Muse HD features an e-ink Carta display with a resolution of 1448 x 1072 with 300 PPI. The screen is completely flush with the bezel, which makes interacting with the touchscreen a solid experience. The built in frontLight will allow you to read in the dark and it has 20 different levels of intensity. I noticed that the lighting system provides even light distribution across the entire screen and the light is white and vibrant. It does not have a blue hue like the lower cost Cybook Muse does. Underneath the hood is a Cortex A8 1GHz processor and 8GB of internal memory. If this is not enough, you can expand it further via the SD Card up to 32GB.
Bookeen is maintaining a common design standard when it comes to their latest generation e-readers. It has a round edge on the bottom right hand corner, which makes it distinctive. This e-reader also has a dedicated home button and physical page turn keys.Advanced settings lets you remap the page turn buttons for those of you that are left handed or want to read digital manga.
What I like about the home button is that it is not a softkey or a capacitive like many other e-readers on the market. It some hefty weight to it, which makes it satisfying to press down and hear an audible click. It also serves a dual purpose, if you press and hold it down you initiate the front-lit display. If you just quickly tap it, it brings you back to the main home screen.
The Cybook Muse HD is not waterproof nor does it have any games or apps. There are no cloud reader, RSS or an internet browser. It is an e-reader first and foremost and does not rely on any gimmicks. It has a dedicated French bookstore, which makes sense because Bookeen is based in Paris. There are over 50,000 e-books currently available and there is a mix of free and paid content.
The European e-reader scene is populated with cookie cutter look alikes. The vast majority of companies buy white labeled devices from Boyue or Onyx and use their software. Bookeen has always done their own design and wrote their own software and then contract out the manufacturing to China. This is why they use All Winner CPU's instead of Freescale. Bookeen really impresses me with their willingness to try new things, they were the first company to employ inertial scrolling. This is where you scroll down on the touchscreen and it will continue to scroll down a bit once you remove your finger.
Software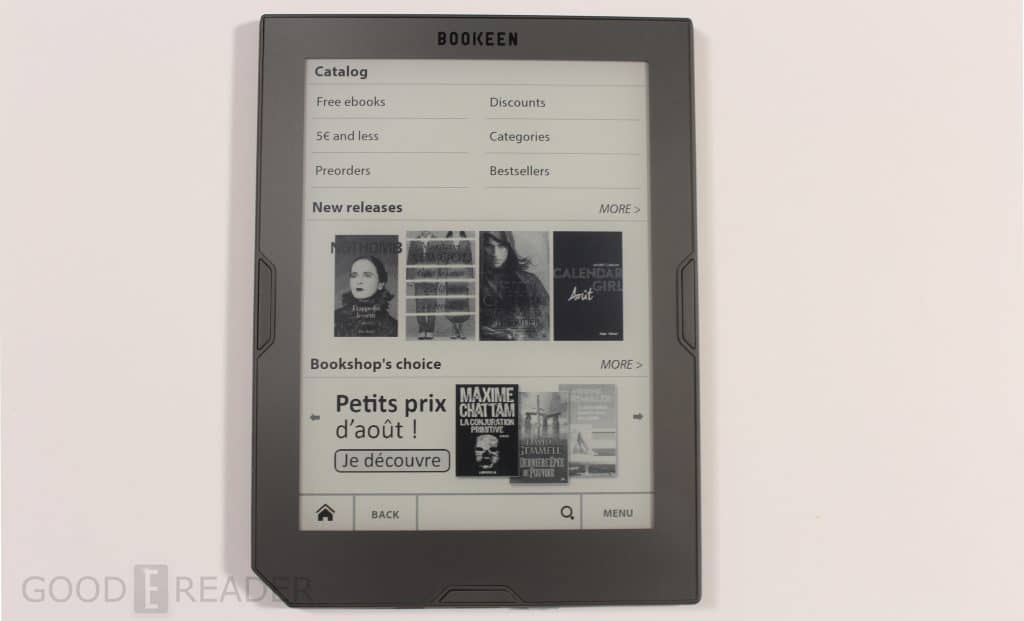 Bookeen uses a Linux based operating system, whereas most other European companies have firmly embraced Android. Linux is more robust and stable, but offers the least amount of flexibility for users to craft their own experience.
The main UI has three different elements to it. The home screen has the book are in the process of reading at the top and lists what page you are on the percentage read. There is a carousel underneath that which lists all of the books that are in your library. You can use the touchscreen to navigate or the physical page turn buttons. At the bottom is an image that brings you to the Bookeen Bookstore. If you tap on the home button you bring up some quick options, that allow you to open the library, bookstore or settings menu.
There are some advanced settings that are worth mentioning. There is a feature called Two Finger Tap which changes the orientation of the e-reader from portrait to landscape. You simply put two fingers on the screen and make a screwing motion. You can even use it a few times to go to reverse portrait and reverse landscape. You need to turn this feature on if you like to switch orientation with any regularly because this device does not have a built in accelerometer or gyroscope. There is also six dictionaries that are installed by default, but the Bookeen website has a bunch of others. We did a tutorial on the company's Nolim e-reader that shows you how to sideload in hundreds of others. Bookeen has told Good e-Reader that you can copy DRM-Protected e-books purchased from other bookstores onto your Muse HD. You simply need to download Adobe Digital Editions and make an account.
Browsing around the e-reader is quick and robust. The wireless internet turns itself off after a period of inactivity which helps you get the most of the battery. You can get around four weeks of reading on it before you have to charge it with the accompanied USB cable.
Reading Experience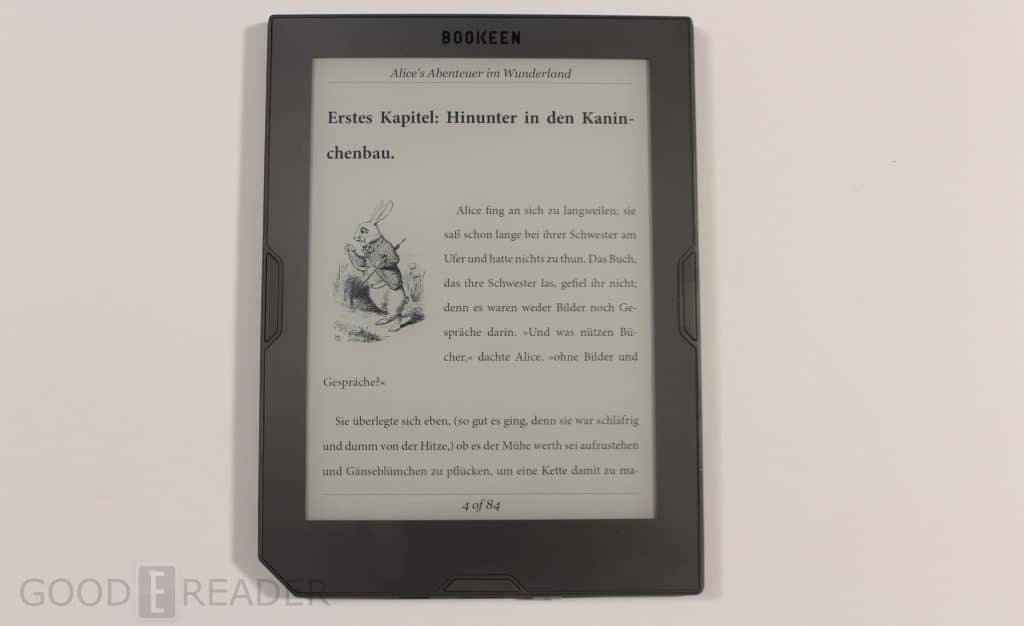 Once you find a font you like and change the font size, reading is a pure joy on thee Muse HD. You can quickly turn a page using the touchscreen or the manual page turn buttons. Since it is using E Ink Carta it has full support for E Ink Regal, which is an underlying technology that eliminates ghosting and a huge performance upgrade.
There are 100 Books that are preloaded on the Muse HD and most of them are in English. You can tap on a word to look it up in the dictionary or highlight many words and make highlight or an annotation. If you hold down your finger in the middle of the screen you can bring up some reading options. Here is where you can choose from eight different fonts or change the font size. There is also the ubiquitous options to change line spacing, margins or publishers defaults.
There are a few advanced reading features that you should be made aware of. There is a nighttime reading mode which changes the background to black and the text to white. In conjunction with the front-lite it works as a good high contrast mode. There is also an all bold option, similar to the Amazon developed font Ember Bold.
One of the downsides of note taking is that an entirely new screen loads, which does not allow you to view the books. When you are editing your fonts only the first 3 sentences of the book are visible, everything else is overlapped by the UI.
All of your books are contained in your library. This is where you can change the layout from grid to a list view. There is also an option to sort by author, title or publishing date. You can make your own collections by creating a new folder. The library experience is fairly lacklustre, you cannot really do anything advanced.
Wrap Up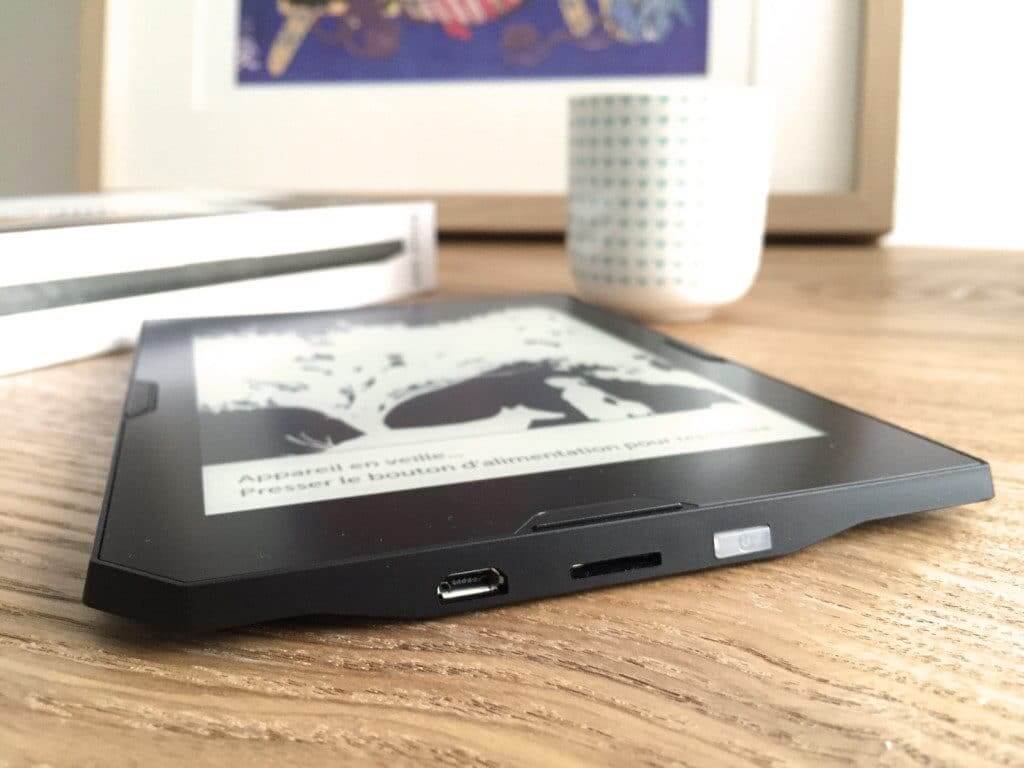 The Cybook Muse HD is designed to compete against the Kindle Paperwhite, Kobo Touch and the Tolino Shine. This e-reader is primary designed to appeal towards people who want to consume French bestsellers or royalty free public domain titles. You can access the bookstore in any country in the world, which is solid for people in French immersion programs.
If you do not speak French as your primary language you can still sideload in your own PDF files or EPUBS.  Some people might be drawn due to the high contrast mode or the BOLD fonts for people who are older or have vision problems.
PROS
Affordable
Resolution and PPI
Screen is flush with the bezel
Physical page turn buttons a and home button
CONS
Library menu is basic
Notes, Annotations and Highlight menu system is full screen
Too many advanced options, may alienate new readers
Rating: 7/10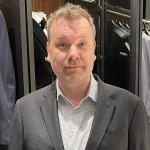 Michael Kozlowski has written about audiobooks and e-readers for the past twelve years. Newspapers and websites such as the CBC, CNET, Engadget, Huffington Post and the New York Times have picked up his articles. He Lives in Vancouver, British Columbia, Canada.