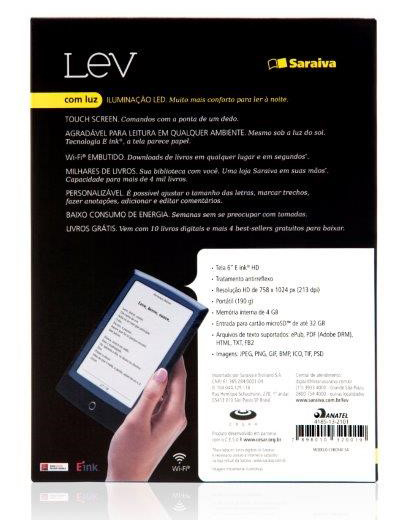 Bookeen has announced a new partnership with one of the largest bookstores in Brazil. Saraiva is launching the Saraiva Lev and Saraiva Lev Luz that will connect to their integrated online bookstore.
The Cybook Odyssey and Cybook Odyssey HD are the two new devices that will be repurposed and rebranded for the Brazilian launch. Both are really solid and sell moderately well in Europe. Both of these e-readers were designed with with the ability to key in a link to the bookstore of your choice in the settings menu. By default both of them will connect up to the Saraiva digital bookstore.
Saraiva is mainly known as a bookstore that specializes in educational material. They are one of the largest schoolbook and textbook companies and provides  solutions for primary and high schools, as well as digital content for the educational market, such as distance learning, cooperative learning and library subscription services.
Saraiva currently offers 15,000 eBook titles in Portuguese and 250,000 in other languages. One of the most popular ways that people have consuming the content  is via the Saraiva Reader app for Android and iOS. It was originally launched in 2010 and has had over 1.6 million downloads.
The Cybook Odyssey HD, rebranded as the Saraiva Lev Luz, is likely the better of the two e-readers. It features a six inch capacitive touchscreen display with a resolution of 1024×758 pixels. It uses the same type of XGA technology found on the Kobo Glo and Kindle Paperwhite. You can read in the dark with the built in frontlight and unlike an LCD display this e-paper is better on the eyes. Underneath the hood is an 800 MHZ Texas Instruments Cortex A8 processor and 128 MB of RAM.
Michael Dahan, CEO at Bookeen: "We are delighted to partner with Saraiva, a true leader in reading. We brought our experience and technology in a very constructive collaboration. With this launch, I believe Saraiva provides the best e-reading solution on the market and Saraiva customers will discover in the stores how the Saraiva Lev offer is competitive."