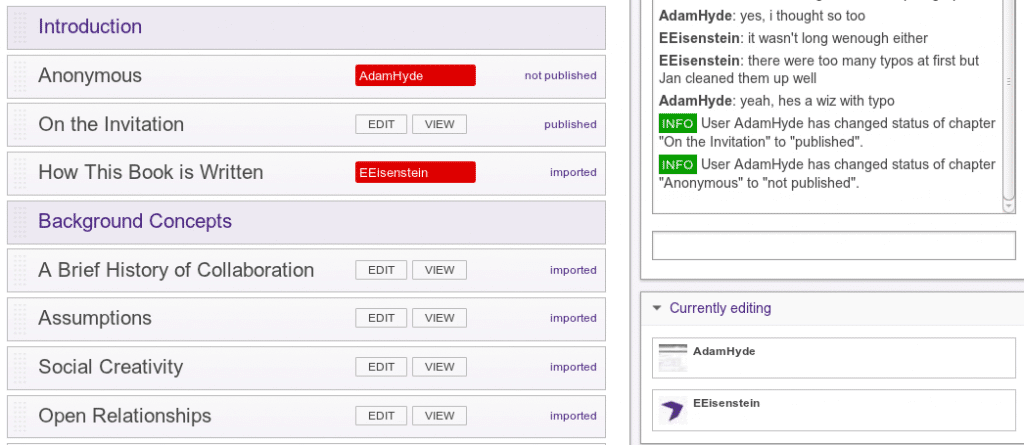 Booktype has just launched its free, open source platform for writing and publishing print and digital books. Why is it different from Apple iBooks Author or other platforms? It's built for collaborative writing, is open source and free, can push to all channels including print, and it allows anyone to build an entire platform and community around writing, editing, and publishing.
This new project is flying under the Booktype banner, but the parent company's name is Sourcefabric. The parent has been building open source tools for media organizations since 1998. Newscoop (open content management for newspapers and magazines) and Airtime are other free products currently on the market (each is downloaded over 10,000 times a year) and two further products will further extend the range of tools in 2012, including Superdesk, a digital workflow tool for newsrooms and Booktype.
The project lead is Adam Hyde, a well-respected expert in online publishing who has been exploring online technologies and methods for communities to collaboratively produce content for over 10 years. Most recently in this area he has founded FLOSS Manuals—a community of some 3000 individuals developing Free Manuals about Free Software. Booktype has evolved from Booki, a popular open source project for writing, editing, and publishing books online and in print.
So what exactly is Booktype? Adam Thomas told us in an exclusive interview that "The Booktype interface allows for simultaneous editing, live chat and internal messaging that allows notes, citations, urls, text and pictures to be easily exchanged between contributors, dramatically speeding up the production process. Booktype is also an out-of-the-box community platform. Users can create profiles, join groups, watch books, chat live and keep track of book activity. Working examples include http://www.booki.cc/ a community of over 2000 users writing books on anything from cooking to computer code."
A crowd-sourced ebook authoring toolkit sounds very unique and I imagine many people clammering at the opportunity to collaborate with their friends and write together. How does this effect revenue sharing and actually selling the book? Who owns the rights? Adam explained it as " Booktype allows to publish books under whatever license the author or multiple authors agree on. Once the book has matured to become public, it can be pushed directly to online print on demand platforms like lulu.com or the authors can take the book to any publisher they want. They can start their own publishing company and distribute the book themselves, too. ISBN numbers can be assigned inside Booktype. Regarding 'selling the book' it is important to note that using Booktype, no author is tied into a specific distributor or format. Booktype is the place where the book is being made. How and where it is being sold is entirely the decision of the authors. Books generated in Booktype are platform independent and free."
Finally, what services does Booktype offer your books? Well, it's up to the authors. Adam wrapped up the interview with saying "Booktype opens up publishing to allow people to sell books on whichever platform they feel suits them best. In the instance of iBooks, as with most ebook stores, they would need an account, an ISBN number and need to push the book through the submission process. Books can be pushed to lulu.com and archive.org from within the Booktype interface. Other services would require you to export the book and then upload – we're working hard to make this process simpler and more direct."