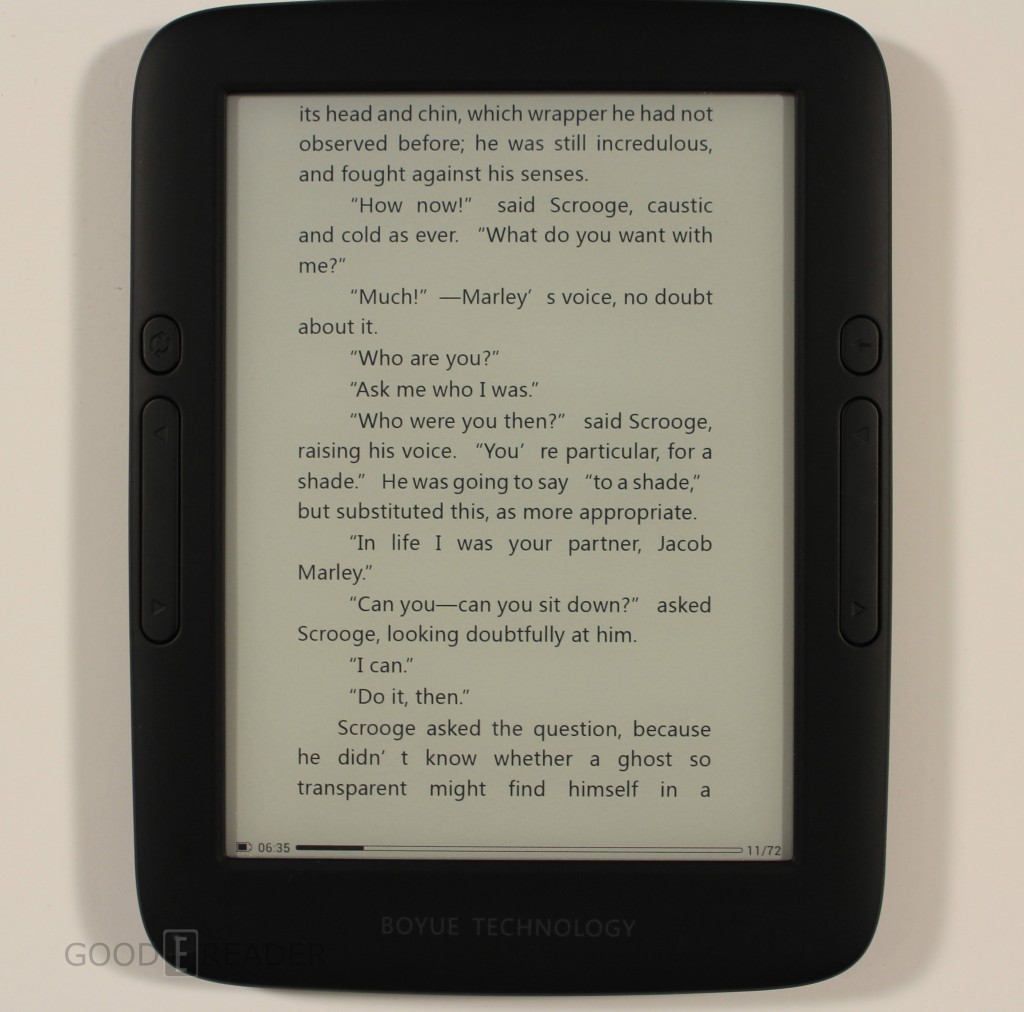 Boyue primarily markets their T62 e-reader in China, but it is tremendously relevant for residents in North America and Western Europe. The big selling factors of this device is that it runs Android 4.2.2, which means you can install your own apps. It also has a 3.5mm headphone jack so you can listen to music while you read or partake in audiobooks. How does this reader stack up against the competition and is it worth the money?
Hardware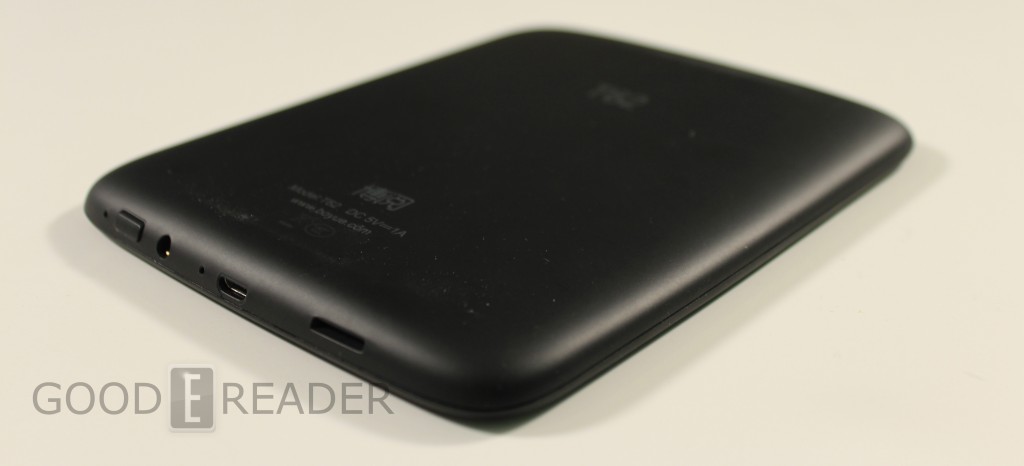 The Boyue T62 features a six inch e-Ink Pearl touchscreen with a resolution of 1024×758. The screen size and resolution is fairly standard when it comes to the overall e-reading experience. e-books, PDF files and manga tend to look good.
Underneath the hood is a dual core 1.0 GHZ processor, 512 MB of RAM and 8 GB of internal storage. Android does take up a fair amount of memory, which is why there is more storage than your average e-reader. If you need more, it does have support for up to 64 GB via a MicroSD card.
One of the big advantages of this e-reader is the fact it has a 3.5mm headphone jack to listen to music and audiobooks. The built in stock player is not really indicative to a solid audio experience, so you will want to download a more customized solution. One of the default e-reading apps called iReader actually has iVona text to speech, so you can have the books read aloud.
Many e-readers issued by small companies tend not to have a great lightning experience. The front-lit display allows you to read in the dark and many models that we review tend to have artifacts and dark smudges. I am proud to report that the Boyue has even light distribution and while not on par with the Kindle Voyage, is very respectable nonetheless.
Boyue claims that this e-reader has a 50% better battery than the first generation T61 and blows away its competition, such as the Icarus Illuminia HD and Energy Sistem PRO.
Many people read e-books as they are commuting to work. If you are on the bus, subway or any other method of mass transit you are often holding the e-reader with one hand. The Boyue not only has a touchscreen but also page turn buttons on the left and right side of the screen. This allows you to hold it in one hand easily and turn pages.
In the end, this e-reader gives you tremendous value for your money. You have to order it online and it retails for around $140.00. This reader will really appeal to people not looking to be locked into dealing with one specific ecosystem and wants the freedom to install whatever apps they want.
Software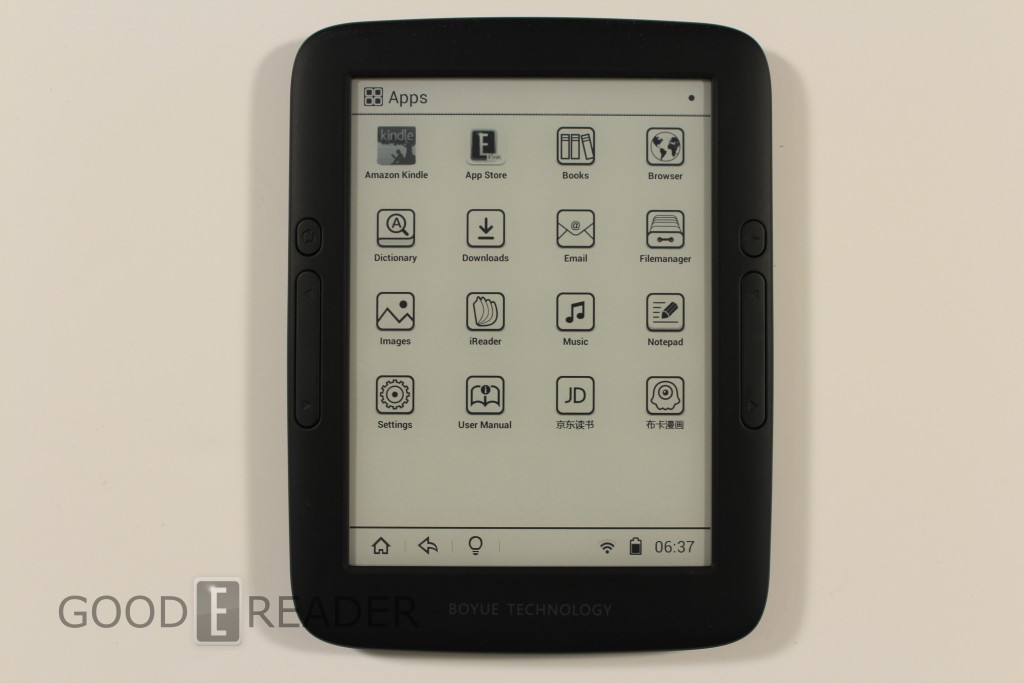 The big trend in 2014 was e-readers embracing the Android ecosystem, rather than Linux. The Boyue has Android 4.2.2, which is fairly modern and gives users a ton of flexibility to run apps that are compatible with it.
There are no pre-loaded books that come with this device, instead it gives you a ton of free avenues to download e-books, graphic novels and manga. One is a cloud based reader that allows you to read books online, and the other gives you over 12 different services to tap into, such as Weibo Manga to download free content. Over the course of the review, we found that everything was basically free.
If English is your primarily language you may not be too enamored that all of the default e-reading apps are basically just giving you Chinese content. This is not really a problem, because you can download a file manager app, such as ES File explorer and uninstall anything you don't want.
There is no built in app store on the Boyue and users will have to hunt around the internet for the apps they want. Alternatively, you can download the Good e-Reader App Store for e-Ink, the first app store designed exclusively for e-readers like the Boyue.
Overall, apps are hit and miss. Anything that involves a lot of page turn animations tend to be clunky, such as Amazon Kindle. The ones that tend to work the best is Moon+ Reader, Aldiko, Repligo Reader, and Kobo.
Reading Experience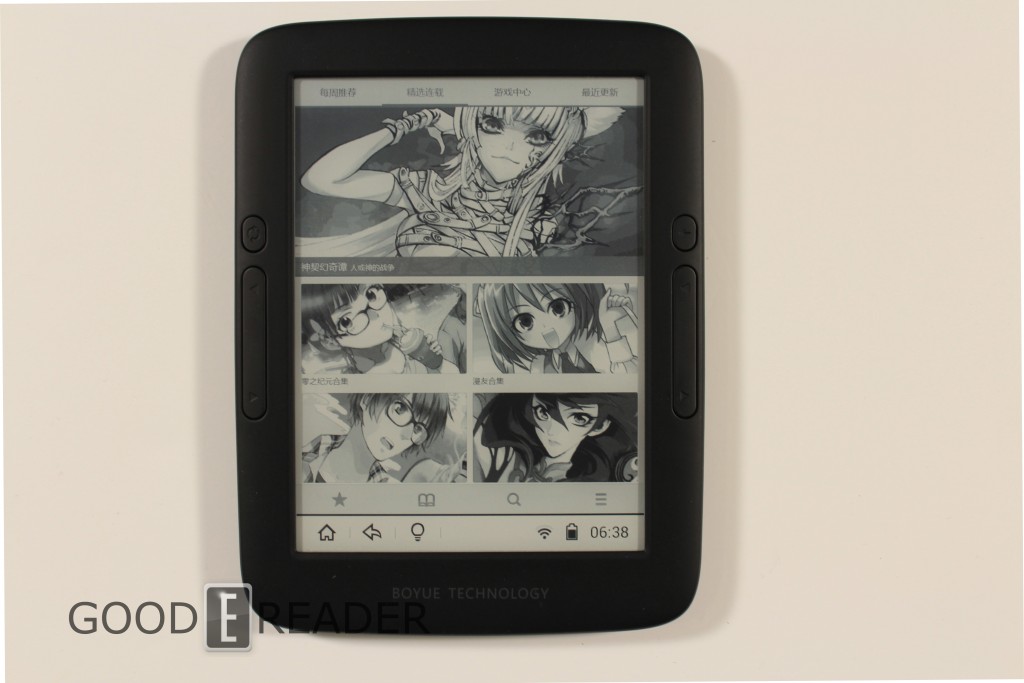 The Boyue was designed to read a multitude of e-book formats right out of the box. It currently supports EPUB, PDF, FB2, MOBI, TXT, RTF, HTML, HTM, CHM, RTF, DOC/DOCX, XLS/XLSX, PPT/PPTX, PDB, DJVU, DJV, ZIP, RAR, 7ZIP.
The stock e-reader app is not tremendously well designed, it does allow you to change the margins, font size and font type. I found its not really intuitive to augment your options, mainly because you have to jump across three different menus to change anything.
Reading PDF files with the default app is a bit if a nightmare. Pinching and zooming makes me wonder if this aspect of the program was designed by a sloth/turtle hybrid. When you pinch and zoom it tends to do it frame by frame and takes around 30 seconds for it to render properly. Ideally, if this e-book format is important to you I would suggest ANY other PDF app.
When you download a custom e-reading app you can't use the manual page turn buttons, instead you have to rely on the touchscreen. Apps are hit or miss, some work well, some don't at all. It all comes down to if an app was designed to use a lot of animations, you won't really get a great experience.
Wrap Up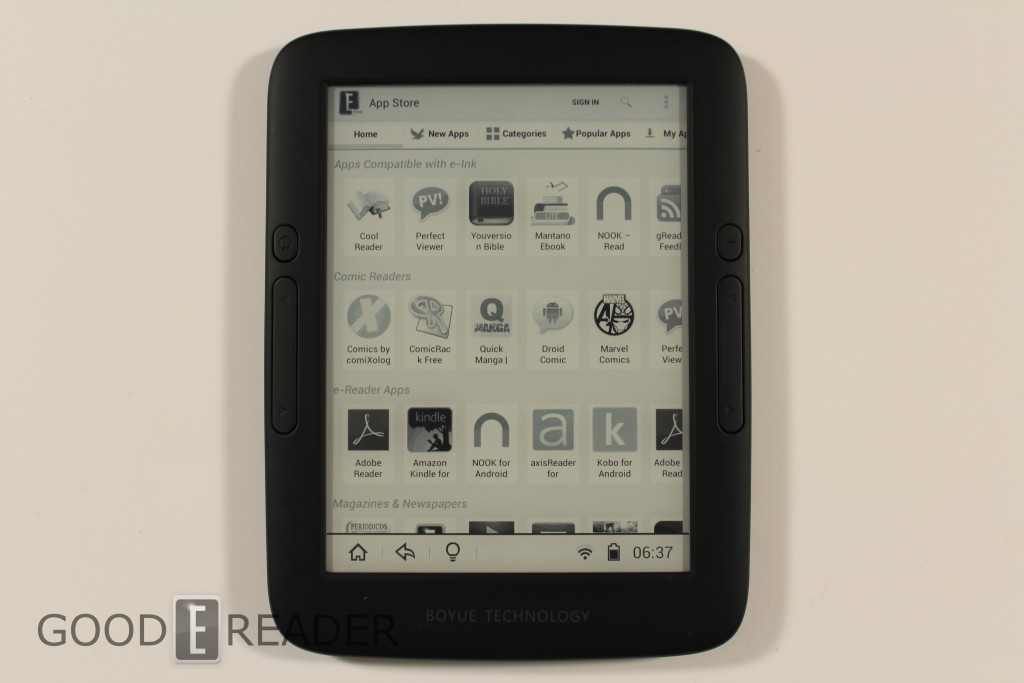 Honestly, I haven't really heard of Boyue until recently. Many of the people affiliated with the company have been commenting on our Youtube channel and Blog, really hyping their product. I wasn't really sure that I would like this device, but I did.
Hardware wise, this e-reader uses the same shell and UI as the Icarus Illuminia HD, Energy Sistem PRO and a myriad of others. The only thing that is different about this model is the dual core processor and the 3.5mm headphone jack.
I would recommend this e-reader to mid level and advanced users who know how to side load in their own apps and have experience with Android.
PROS
Android 4.22 = Install your own Apps
Audio Support
Solid Hardware
Lots of Free content
Manga and e-books look great
CONS
PDF experience is slow and sluggish
Poor Retail availability
Default apps leave something to be desired
Rating: 7.5/10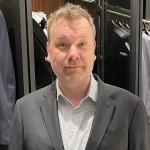 Michael Kozlowski has written about audiobooks and e-readers for the past twelve years. Newspapers and websites such as the CBC, CNET, Engadget, Huffington Post and the New York Times have picked up his articles. He Lives in Vancouver, British Columbia, Canada.