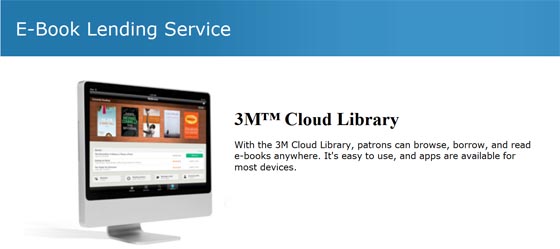 The 3M Cloud Library System initiated a trial with Penguin to bring ebooks to the Brooklyn Public Library last October. This was meant to be a test for Penguin to formulate a digital strategy that made sense for both libraries and the bottom line. Today, Heather McCormack, the Collection Development Manager at 3M, confirmed that all libraries who do business with her company will have full access to the Penguin Catalog.
When Penguin ran its trial in New York there was some key terms that were established that allowed patrons to borrow digital books. Library patrons were allowed to access ebooks remotely using e-readers or tablets with the 3M Cloud Library official app. There is a ton of Penguin titles currently available, but there is a six-month delay from when the book is first released. Every title a library purchases can be loaned as many times as they want, but the books expire after one year. Popular books normally have to be purchased in bulk, to ensure that more than one copy is available to be borrowed at any given time.
3M is developing new back-end technology that will make Penguin titles easily renewed via the Catalog Acquisition Tool. This should be available for library administrators in early 2013. Right now, when a Penguin book expires from the system, the staff has to place a fresh order, instead of hitting a renew button.
The addition of Penguin titles should be benefit patrons who want access bestselling authors, such as Zadie Smith, T. D. Jakes, Harlan Coben, Nevada Barr, Stephen King, T. C. Boyle, Patricia Cornwell, and Lauren Willig. You won't be able to read any of these books with Overdrive, which tends to be the most popular digital lending service in the world.
One of the best aspects of this deal between 3M and Penguin is the pricing on the ebooks. It seems that most titles are priced between $9.99 and $15.99, with most of the books over $20 being nonfiction or omnibus editions of fiction series. This is a far cry from Random Houses pricing, where libraries were charged up to five times the going rate from trade.

Update: Tom Mercer, the Digital Marketing Manager for the 3M Cloud Library, told Good e-Reader exclusively that, "We are excited to provide access to Penguin content to all of our customers and we've had numerous positive responses from our libraries. This is another major milestone for the 3M Cloud Library."