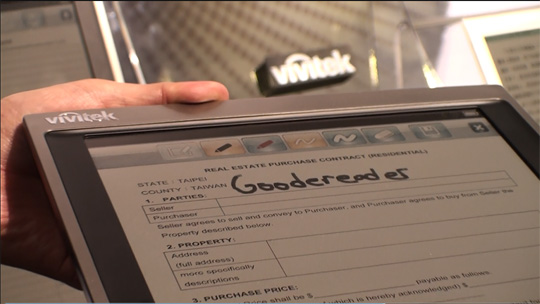 Bridgestone and Vivitek for the last year have been working in a new kind of technology called QR-LPD, that is directly competitive to e-readers using e-ink. At CES this year, the two companies were in attendance and had in their booth 3 different e-readers employing this new technology. They had a 8.2 inch e-reader
, a 13.1 inch and a massive 21 inch full color e-readers called the e-pad.
QR-LPD is the new screen technology that have been created by a joint partnership by Bridgestone and Vivitek, it stands for Quick Response Liquid Powder Display. Its basically screen and a logic controller system for electronic readers that promote a low power consumption while displaying 4096 colors. One of the big new factors in this technology is the .08 seconds page update and supports different types of page refreshes. It can do partial page updates, full page updates and supports touch screen and Stylus interactions. The screen technology can support 8 inch all the way to 21 inches and does around 4 levels of gray-scale. Like Pixel Qi the big selling points to clients wanting to employ QR-LPD is the ability to read it in direct sunlight.
We had a great tour by both the Senior Manager of business development Rich Luh and General Manager of Display Solutions Jeff Fu both walked us through some of the 3 new e-readers they had developed and provided us with some key incites on their overall business strategy to employ these devices in the real world.
The first e-reader we checked out was the e-Pad 8.2 inch e-reader which had a resolution of 960X768, which is amazing for a full color e-reader. Not only is the resolution amazing but it displayed 16 different shades of gray along with showing off 4,096 colors. For memory storage it had 4 GB of iNand and can be upgraded via MicroSD up to 32 GB. The battery being used was a 1,590 mAh 3.7 inch Lithium-ion and had an Micro-USB 2.0 port, headphone jack and a speaker.
The next model was a 13.1 inch e-Pad which targeted vertical applications in a Linux environment. This unit as well featured a QR-LPD screen technology with 16 levels of gray-scale and over 4,096 colors. It has a screen resolution of 1600X1200 pixels for mono panel and 800X600 for the color panel. Storage capacity is around 4 GB and has a MicroSD slot if you want to upgrade your memory up to 32 GB. Connectivity for this device has a fair number of options with integrated WIFI, and 2G/3G options. Finally, it has a feeble mono speaker, headphone jack and a stylus to interact with the touchscreen interface.
The final model is one of the largest e-reader displays we have ever seen, at a whopping 21 inch model with a resolution of 2,560 x 1,920 pixels for the mono panel and 1,280 x 960 for full colors. It also has 4 GB of internal memory with MicroSD support up to 32 GB of memory. For internet connectivity it has 3G/2G options along with built in wireless internet access.
Some of the technology we saw looked to be in fine shape, it was the most responsive technology for touch screen interaction we have ever seen in a e-reader. The page turns in ebooks was very fast and robust, and did have a number of screen options to further integrate and refine the touch screen navigation.
It did have its share of quirks from our experience, the e-readers all suffered a tendency to have to double tap the screen with the stylus in order to make the machine responsive. It did for some reason always went into a sleep mode after a few seconds of not interacting with the device. This could probability be addressed in a future firmware update.
Now, this technology and the e-readers they showed to us looked near complete and had full apps and features built into it, but Jeff Fu told us, that these devices were more or less proof of concepts and that they were selling the technology and building Linux based applications for vendors and businesses. Some of the touch screen applications we saw displayed were for high finance, real estate and inventory control and management. They even had a few really small electronic color LCD screens that they said they had sold to many grocery stores to display prices and updates in prices occurred through a central inventory computer. They also mentioned that all of the e-reader technology would be licensed and that they were not releasing the e-readers themselves. Considering how much effort went into the development of the new screens, it should not be too long until someone places an order for a few thousand units and brands them as their own.

[cincopa A8OAkaKytKO6]

Michael Kozlowski has been writing about audiobooks and e-readers for the past twelve years. His articles have been picked up by major and local news sources and websites such as the CBC, CNET, Engadget, Huffington Post and the New York Times. He Lives in Vancouver, British Columbia, Canada.